Alumni win big at Creative Arts Emmys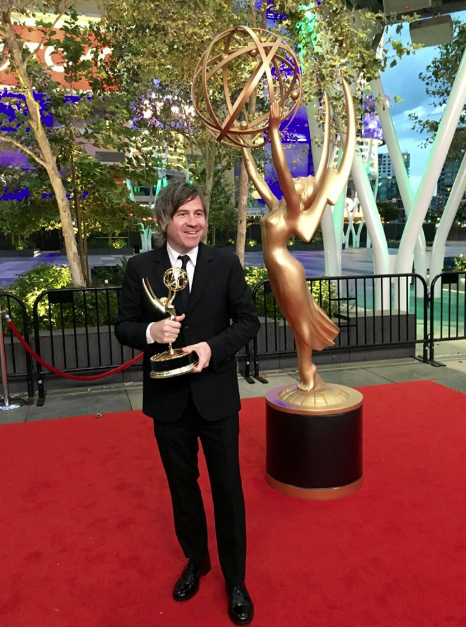 Art director Joe Celli '91 said he makes a concerted effort not to get his hopes up at awards shows, since he has lost more than he has won. But over the weekend, Celli won his fifth Creative Arts Emmy Award for his work on NBC's Hairspray Live!, something the performing arts graduate said he didn't expect while at Emerson.
"I never thought I'd be working in the capacity that I am, period, nevermind [as] an Emmy nominee," Celli said.
Between the Creative Arts and the Primetime Emmy Awards, nine Emerson alumni earned 14 nominations. While the Primetime event evaluates the top series, actors, writers, and directors, the Creative Arts Emmys showcases the best behind-the-scenes work in categories like choreography, makeup, sound editing, visual effects, and editing.
The Creative Arts ceremony, which took place last weekend, will be broadcast on FXX on Saturday Sept. 16, a day before the Primetime Emmy Awards are presented live on CBS. Both ceremonies take place in the Microsoft Theater in Los Angeles.
Three alumni, including Celli, won Creative Arts Emmys this year. Eric Drysdale '93 won for Outstanding Writing for a Variety Special as a writer on Full Frontal With Samantha Bee Presents Not The White House Correspondents' Dinner; David Klotz '94 won for Outstanding Sound Editing for a Series as the music editor for Stranger Things; and Celli won for Outstanding Production Design for a Variety, Nonfiction, Event or Awards Special.
Three of Celli's five wins have been for his work on the Academy Awards. Celli said that after working on so many awards shows, attending them sometimes feels like work, even as a nominee. He said that the viewers don't get to see the best part of the Oscars.
"There's a real energy where all these celebrities are getting up a in the middle of the commercial to chat with their friends or perhaps do business–who knows," Celli said. "But it's always great fun to just sit there and sit back and watch that."
Celli said that not every member of the art department gets their name on the Emmy, but that they are just as deserving of praise.
"Equally important are the guys on the crew who are constantly busting their ass for me and always make me look good and never get appreciated or thanked," Celli said.
Music editor Klotz was nominated for two Emmys for his work on Stranger Things and American Horror Story: Roanoke. He now has 12 nominations.
"It definitely doesn't ever get old. I'm gonna miss it when I stop getting nominated," Klotz joked. "I'll be really sad."
On Sunday, Klotz took home his fourth Emmy, two of which were for his work on Game of Thrones. He said that although a project's success is exciting, it doesn't affect how he views his work.
"I feel lucky that I've landed on shows that have turned out to be great, but it doesn't change anything else really," Klotz said. "Some shows get more attention than others, but that doesn't change anything as far as the job goes."
Klotz said as a visual and media arts major, he originally intended to pursue screenwriting. But when he moved to Los Angeles after graduation, he followed his passion for music and found a career as a music editor instead.
"I had no idea that I would be here," Klotz said.
This was the second year that the Television Academy split the ceremony between two nights in order to avoid a long runtime. Klotz, who has been to the event many times, said the length has historically been his least favorite aspect of the ceremony.
Celli said his favorite aspect of award shows is being able to spend time with his contemporaries in a non-work setting.
"It sounds so cliché, but it's true," Celli said. "We get to hang out with our colleagues in ways that we don't normally often get to do."
The other Emerson alumni who secured Emmy nominations are Jay Leno '73 and David Swift '09, for producing Jay Leno's Garage on nbc.com; Randy Barbato '82, an executive producer of RuPaul's Drag Race; Jay Bienstock '87 and Brittany Martin Porter '10, executive and senior producers respectively of The Voice; and Opus Moreschi '00, head writer for The Late Show  with Stephen Colbert. Barbato, Bienstock, Porter, and Moreschi will find out if they've won at the Primetime ceremony broadcast live on CBS on Sunday Sept. 17 at 8pm EST.