'It's a gateway drug': The Beacon celebrates its 75th anniversary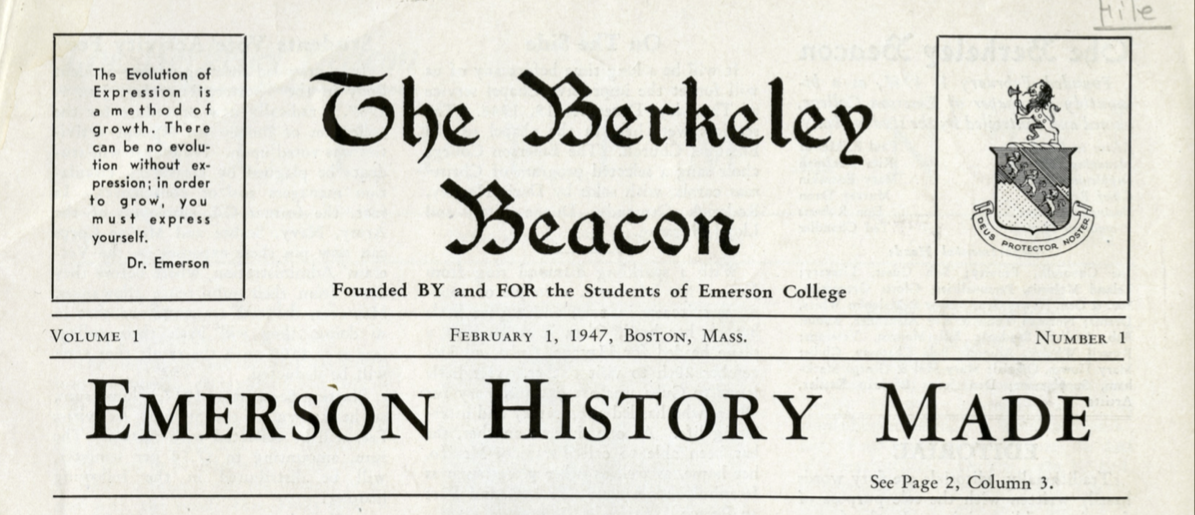 Seventy-five years of The Berkeley Beacon. 
The Beacon has been Emerson's only student-run independent newspaper since its first edition of Feb. 1, 1947. It has continuously published print editions since its inception—making it one of the oldest organizations at the college—yet, in those seventy-five years, has evolved into a bigger beast than your average "college newspaper."
In its first four-page spread, The Beacon was headlined by the campus visit of Hollywood starlet Janis Paige, as well as a celebratory letter from then-President Boylston Green. 
"With its ability to feel the pulse of the community life from day to day, a college newspaper is the most valuable means possible of solidifying student opinion, of interpreting the varied facets of college life, and of establishing and fostering college spirit," Green wrote. 
The Beacon has changed drastically since 1947, but its commitment to covering the issues at Emerson has remained true.
In 1968, The Beacon played a role in igniting the first student demonstration at Emerson following a Dean's mistreatment at the college.  It helped express the college's dissent for the Vietnam War via an open letter to President Richard Nixon, exposed numerous inaccuracies in a college report intended to help secure institutional accreditation and even broke a story on the college's lack of action regarding an on-campus sexual assault. 
The Beacon's pursuit of the truth helped expose the actions of then-President Allen Koenig, whose controversial attempts to relocate the college to Lawrence, Mass. ended after the faculty vote of no confidence. 
"People were telling me I wasn't going to graduate after walking into [Koenig's] office and asking the secretary for his tax returns," said Kim Meadows, a former Beacon staffer, in an emailed statement to The Beacon. "They wouldn't release them, but of course, I went after them anyway." 
Meadows said that Beacon staffers "worked tirelessly to make sure we got the story right." Writing a story exposing Koenig's "dubious interactions" with developers in an attempt to sell some of Emerson's properties, Meadows said she focused on his compensation package—noticing it was larger than most presidents at other Universities in the area. The reporting and writing process proved to be difficult, with faculty and staff not wanting to talk, scared of losing their job, but the story was printed and published. 
After the expose was published, The Beacon office received a phone call. Though he didn't identify himself, Meadows said the voice was Koenig—who said "Well, you were fair," and hung up the phone. 
For many students, The Beacon presented a trial by fire. It foreshadowed the storied careers of aspiring journalists, from CBS Evening News anchor Morton Dean '57 to Pulitzer Prize-winning Boston Globe editor Brendan McCarthy '04. Rachel Layne '90, a former Bloomberg reporter—and, once upon a time, The Beacon's editor-in-chief—said her years spent at the paper were "invaluable." 
"We covered some crazy, tough, important issues and had a blast," she wrote in an email. "I'm proud of the work I did there, including taking the paper from twice monthly to weekly and growing the staff to about 75 from less than 25."
Dan Bigman '92 used to edit the pages of Forbes and The New York Times. Yet it was The Beacon, he said, that was his "gateway drug to journalism."
"It was just a wonderful, magical newsroom," he said. "We had the blessing of real stories to cover, from the inane plan to move the college to Lawrence, Mass., to a murder on Charles Street, to votes of no confidence in the school president—and that was just my freshman year." 
Recent years have proven equally as eventful for The Beacon, if not more so—for better and for worse. 
In 2020, the COVID-19 pandemic forced The Beacon, like many other institutions, to radically restructure its operations. It shut down its print publications for the first time in its history, temporarily moving to remote operations while still publishing online daily. 
Later that summer, The Beacon published a story centering a white student's perspective during the Black Lives Matter movement. The article, tied with organizational mistreatment of non-white staffers and a long history of problematic reporting on diverse issues, caused a storm of controversy. Almost 20 staffers left the paper in a mass resignation, and relations with several on-campus organizations were seriously damaged. 
Since then, The Beacon has taken a series of measures to amend these wrongs, such as implementing mandatory bias training every semester and creating an advisory board full of professional journalists to provide feedback on articles pertaining to sensitive topics. 
In October 2020, the paper published an investigation into Emerson's COVID-19 reporting process, which caused a change in college policy. Its coverage of the 2020 presidential election garnered an EVVY Award, as did its "Baring It All" magazine edition, which told the stories of student sex workers. 
For many alums, The Beacon's relentless commitment to boundary-pushing was central to their experience.
"We were all just thrilled with the idea of crashing deadlines and working every day and staying up all night to get the paper out," Bigman said. "School seemed very secondary—it was very secondary—to life at The Beacon."
Charlie McKenna, Dana Gerber, and Domenic Conte contributed to reporting.