Farewell Column: If this is it, it's been a hell of a ride
The Beacon has given me an outlet to learn, to grow, and, frankly, to grieve.
When I was looking to transfer out of my tiny liberal arts college in Yellow Springs, Ohio—a town east of Dayton with a population just shy of Emerson's student body—I ranked the potential schools using a few categories:

1. The size of the city. 2. The proximity of the campus to good dumplings. 3. The strength of their student newspaper.
Emerson had A's in all of these categories, but I was especially interested in the newspaper. The Berkeley Beacon, from what I could see, was a serious student newspaper, and I desperately wanted to be a part of it. As co-Editor of the paper at Antioch College, I fell in love with student journalism, even though all we published was a measly bi-quarterly paper with no in-house style guide. I wanted to move on to bigger and better things, and Emerson seemed like the best place to do that.
When I came to Emerson, I went to one organization's information session. I made a beeline to one table at the Org Fair—after being stopped several times by eager upperclassmen promoting Greek life.
The Berkeley Beacon was the only student org I was interested in joining. 
I never in my wildest dreams—and I have wild dreams—thought that I would be doing the things I did with The Beacon. I never foresaw calling an Uber from 172 Tremont at 2:30 in the morning on a Wednesday, having just finished the paper (after working an opening shift at my coffee shop). To say I was tired would be an understatement, but I did it, and I loved every second. We all did.
I never imagined, after Chris, Stephanie, and Jakob burst into the newsroom one fateful Wednesday night in November, delegating stories and laying out the print edition the day the Marlboro College merger was announced, that I would be making more trips to the small Vermont campus than I can count. I never dreamed of having a beat, having contacts and sources, and writing story after story about a potential merger that no one saw coming. 
I've written over 50 stories for this paper over my two years here, and each one has been a dream come true. This paper has given me an outlet to learn, to grow, and, frankly, to grieve.
In December of 2018, my father died after a short but tumultuous battle with Guillan-Barré, a fairly rare disorder where the body's immune system attacks its own nerves. In less than a month, he went from feeling tingling in his extremities to being paralyzed from the neck down and laying in a hospital bed, tubes and machines galore. Always the overachiever, my father had the worst case of the disorder his doctors had ever seen. He died the day after Christmas—my father was a staunch atheist, so this is a little funny—and two weeks later I was back in Boston. 
With no solid coping mechanisms (aside from the bar cart at my apartment and the cigarettes in my coat), I threw myself into my work. Not my schoolwork, but the Beacon work. I covered the Boston Women's March on Jan. 19—just over three weeks after his death. In February, I wrote a story about students dealing with the crisis in Venezuela. In March, I covered a climate strike at the State House, and on April 8—the day before my father's birthday—I wrote about Gov. Charlie Baker signing into law a ban on conversion therapy for minors. We beat The Globe on that one. In the same month, we published a paper with my byline and a photo I took on the front page when the housing portal crashed.
I remember holding the paper in my hands as I walked to class—with plenty of others stuffed in my bag for family and friends—and desperately wanting to show my dad. My dad didn't care what I did, as long as I did it well.
Since then, I've been involved in or written countless—okay not countless, 27 to be exact—stories about the Emerson-Marlboro merger. We've gotten plenty of flack for our coverage from both sides of the deal, but find me another news organization that has covered this with the depth that we have. I dare you. An old friend told me that, as a journalist, if you aren't pissing somebody off, you're not doing your job. And I think that's true.
During my time at The Beacon, I've done things that I couldn't have fathomed when I transferred here. I couldn't have possibly imagined that I'd be writing this column from quarantine in my Cambridge apartment. No one could have. We all thought we'd have more time. To write, to print, to say goodbye.

When the college announced it would be closing the campus, I was in the newsroom. My colleagues and I had just a few seconds to process what was happening. Tears were shed, hugs were given, but then came the fun part: the news. We burst into action like a well-oiled machine revving to life, sending photographers to the streets and making phone calls as fast as we could dial the numbers.
And that's what I'll always remember about this paper. Regardless of what you think of us—as people, as students, as a newspaper—we care a hell of a lot about bringing the news to you. It's our (unpaid) job, and we're damn good at it.
If all goes well, I'll be in Washington, D.C. in the fall, interning at whatever news organization will hire me. I have to leave The Beacon, the family I built, the friends I've made, and the masthead I've worked so hard under. Who knows if the D.C. program will happen, but if it does, and this is it, it's been a hell of a ride. This paper has been there for me when I needed it most, and I'm forever grateful to every person I've ever worked with in it. And if the D.C. program gets canceled, well, I know where Chris lives, and I'll be asking for my old job back.
Leave a Comment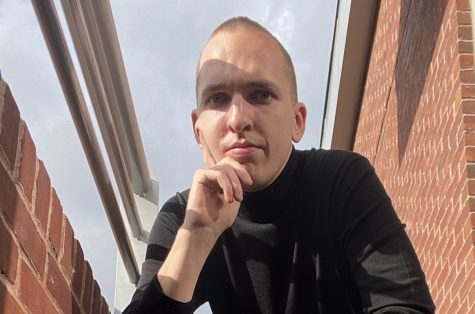 Jacob Seitz, Staff Writer
Jacob Seitz is originally from Central Ohio and resides in Cambridge. He is currently a staff writer at The Beacon, having previously served as Assistant Express Editor. He was previously Assistant Editor of The Record, the student newspaper at Antioch College in Yellow Springs, OH. He has covered The Women's March, The Straight Pride Parade, and has reported on the Massachusetts State House for the Beacon. He led The Beacon's coverage of Emerson...