Beloved mentor and financial administrator dead after battle with cancer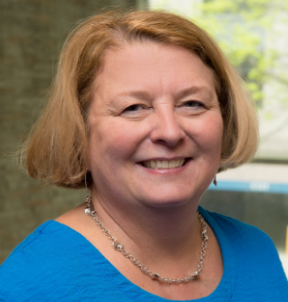 Vice President for Administration and Finance Maureen Murphy walked into the fall 2016 Media Art Gallery and witnessed a scene that looked straight out of a David Bowie music video.
Models dressed in latex and covered in glitter and sparkles posed for a photographer as late Professor Joseph Ketner welcomed guests into the newly opened gallery. Beside Murphy stood Provost and Vice President for Academic Affairs Michaele Whelan, who was under the impression that her and Murphy would stand in a corner to observe the photo shoot.
"[Ketner] asked us to join the madness," Whelan said. "I was about to refuse, but [Murphy] took me by the arm and kind of dragged me into it. I was brushing glitter off of myself for the rest of the day. It was all in the spirit of collaboration and she really believed in that."
Murphy, 64, passed away on Dec. 12 after an eight-month-long battle with ovarian cancer, according to an announcement from President M. Lee Pelton. Murphy is survived by her husband Dennis, her son Brendan, her daughter Kelsey, and her granddaughter Rhoda.
"None of the transformative growth and successes that Emerson has enjoyed over the past several years would have been possible without Maureen's sage stewardship of the college's resources, nor without her good counsel," Pelton wrote in the letter.
Murphy's immediate family could not be reached for comment.
As vice president for administration and finance, Murphy managed all facilities and buildings, the college budget, payroll, and other Emerson-related finances.
She worked in higher education for more than 30 years in institutions such as Brandeis University and New York University in Abu Dhabi before starting at the college in 2010.
Whelan said she knew Murphy for over 20 years, having worked at Brandeis University together. She said Murphy was uniquely talented at connecting with people and making them feel heard and used this to improve relations between the academic and business sides of the college.
"Usually the biggest conflict in an institution is between the head of the academy and the financial department. We want to spend the money and they're trying to save it. But Maureen and I got along brilliantly," Whelan said. "She started a new era of collaboration between finance and academics."
Associate Vice President of Finance Robert Butler said he met Murphy at Brandeis University in 1994 when his accounting firm worked with the university. Throughout the years they continued to collaborate, both at Brandeis and then at Emerson when Butler became the associate vice principle of finance in spring 2018.
When Murphy left the college on sick leave, Butler said they continued to have weekly phone conversations, discussing everything from small meetings to budget issues. He said she was just as much his mentor as she was his boss.
"She was going to pass a lot down to me, as a mentor. That was something I was really looking forward to," Butler said.  
Butler was not the only person Murphy mentored.
Vice Chancellor of Finance and Operations at University of Massachusetts Lowell Joanne Yestramski said she knew Murphy for over 30 years since they both worked at an auditing and financial consulting company at the same time.
When Yestramski made the transition from working at a private company to working in higher education, she said Murphy was the one to help teach her about the industry.
"I learned so much just by watching her in action. She was a great leader and at the same time a personal friend for all those who were her business acquaintance," Yestramski said. "Sometimes it's hard to be both a leader and a personal friend to your colleagues, but she did it perfectly."
Senior Executive Administrator, and Murphy's personal assistant, Mary Beth Pessia, said Murphy taught her many things since first meeting her in 2000. Pessia said Murphy counseled her on different aspects of financial management,  like how to analyze and interpret various financial reports.
"She was the best boss I could have hoped for. She pushed me. As she grew, I grew. As she took on more responsibility, she decided that I needed to take on new responsibilities with her," Pessia said in an interview. "She was my boss, my friend, and my mentor."
One of Murphy's big projects at the college was the renovations to the Little Building, which has been under construction since 2017. Pessia said that the dorm building was visible from Murphy's office in the top floor of the Ansin building and that Murphy had been looking forward to seeing it without any scaffolding or construction.
"From the moment she came here, she wanted to turn [the Little Building] into something better," Pessia said. "I hope the students who end up living there know and appreciate all the hard work that was put into it."
Pelton announced in his letter that the college plans to hold a celebration of Murphy's life in the spring 2019 semester—however, no official date has been made.
Murphy's family held a wake on Dec. 20 in Somerville. The family requested that, instead of flowers, donations may be made to the Ovarian Cancer Research Alliance in Maureen's memory.