Bright Lights announces spring 2022 lineup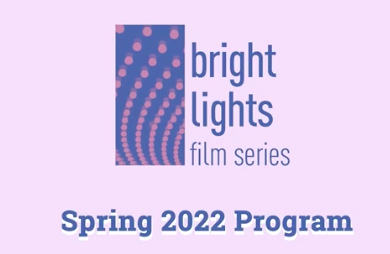 Bright Lights Film Series recently announced their spring-2022 lineup, returning to in-person screenings on Jan. 27 for Fanny: Right to Rock. 
This season features 12 films, each premiering every Thursday at 7 p.m. until April 21. Bright Lights' screenings are free to all Emerson members and the general public. In an effort to foster community through film, the Department of Visual and Media Arts is holding discussions with directors and Emerson faculty after viewings.
Fanny: Right to Rock (Jan. 27) — Directed by Bobbi Jo Krals, this documentary focuses on the first all-women band to release an LP with a major record label. Founded by two Filipina-American sisters joined by other teen girls, the rock group Fanny fought barriers of gender, sexuality, and race. Seemingly erased from rock music history, the band reunites 50 years later under a new record deal. Co-founder and guitarist June Millington will take part in a post-screening discussion. 
Lamb (Feb. 3) — A new age horror film directed by Valdimar Johansson, takes place in Iceland where a couple finds an unusual newborn in their sheep barn. When they take her in, strange things start to occur that call her back to the wilderness. The A24 film is a dark, atmospheric folktale. Emerson professor Sarah Zaidan will lead the following discussion. 
The Wolf of Snow Hollow (Feb. 10) — Directed by Jim Cummings '09, this dramatic comedy explores the fears of a small town when dead bodies begin to appear after every full moon. While Officer Marshall deals with the stress of insomnia and caring for his family, he tries not to give in to the rumors about werewolves. A discussion with director, writer, and actor Cummings and producer Ben Wiessner '08 is to follow. 
Bulletproof (Feb. 17) — This documentary dives into the strategies used to prevent school violence in America and its intricacies. Paralleled are the happenings of a school's everyday life with precautionary measures taken to ensure safety. The film reflects on these events and the U.S. culture of violence. Director Todd Chandler will be taking part in the post-screening discussion. 
Spencer (Feb. 24) — Starring Kristen Stewart as Princess Diana, the film directed by Pablo Larrain explores the tragic and cold relationship Diana had with Prince Charles and the royal family in the wake of Charles' affair as well as Diana's mental health struggles. As Christmas time comes amidst the whirlwind of rumors surrounding the affair, Diana pushes to make the festivities different this year. 
Faithful (March 3) — Over the span of 20 years, director Annie Berman profiles some of the biggest fans of pop culture icons like Princess Diana, Elvis Presley, and Pope John Paul II. The film shows some of their collected and cherished pieces of memorabilia, which defines their most devoted fans. Berman's identity becomes intermixed with the film as time goes on and a discussion with her is to follow. 
Tahara (March 17) — When a former Hebrew school classmate commits suicide, two best friends, Carrie and Hannah, are given a chance to work through their grief through their faith. However, after Carrie's world is turned inside out, the girls get distracted by teenage social status, desire, and fluctuating faith. A discussion following the screening of the drama, directed by Olivia Peace, will be led by Emerson faculty. 
Inhabitants: An Indigenous Perspective (March 24) — The film follows five Native American tribes across forests, grasslands, deserts, and coasts while they restore land management traditions, which have been disrupted by centuries of colonization. These traditions are essential in today's climate crisis. Directed by Costa Boutsikaris and Anna Palmer, the documentary sees Native communities restore ancient relationships. Post-screening discussion if applicable
C'mon C'mon (March 31) — An emotionally stunted radio journalist travels across the country to interview kids about their world perspective and concerns about the future. He is suddenly put in charge of his nephew who travels with him, shedding a new light on emotional stakes for the journalist. Directed by Mike Mills, the drama stars Joaquin Phoenix. A discussion with Emerson faculty will follow. 
Golden Arm (April 7) — A baker, Melanie, starts in the comedy as she gets sucked into taking her friend Danny's spot in an arm-wrestling competition. To win the big prize, she must compete against the reigning champion. Director Maureen Bharoocha will take part in the following discussion. 
Rebel Dykes (April 14) — Directed by Harri Shanahan, the documentary focuses on a 1980s London group of women who share interests of sex, politics, and the arts. The story follows their influence around the world as activists, artists, and performers. A post-screening discussion will be facilitated by film scholar Rox Samer and historian Rachel Corbman. 
Flee (April 21) — In an animated documentary, director Jonas Poher Rasmussen tells the true story of his high school friend Amin and his journey as a refugee from Afghanistan. Amin deals with a 20-year-old secret that raises tensions in his life that he created with his soon-to-be husband. Emerson professor Yasser Munif will lead the discussion. 
Tickets to attend each film screening go on sale the day of the event. Follow their Instagram, @brightlightsemerson for updates.