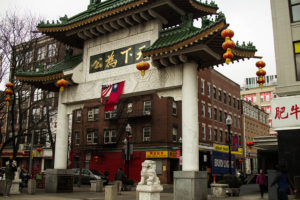 This is an ongoing series dedicated to exploring the college's impact on neighboring communities.
Sophomore Stacey Wong grew up going to Chinatown for dim sum every Saturday and advocated for the Asian community in high school.
At Emerson, she said students still don't see the neighborhood as a place where people live, work, and play, even though she lives closer to its residents than ever before.
Chinatown is a historic district adjacent to Emerson's campus. Wong said she hears peers at Emerson regard the neighborhood as a place to catch a bite to eat rather than a cultural hub.
"I think the only time I really hear people talking about [Chinatown] is when they want cheap food," she said. "They only talk about dumplings and stuff, they don't really know about … what it's like over there, what kind of Asian-Americans live over there, or just the whole essence of being in a community."
Jeena Hah, youth programs manager for the Asian Community Development Corporation, said students should look to Chinatown as an active community rather than a tourist destination. She said Emerson does not play a part in the preservation of the neighborhood's quickly eroding borders.
"Cultural erosion and things like that happen when there's change in the long-term physical landscape," Hah said.
In 1987, Emerson began its move from Back Bay to the Theatre District next to Chinatown. Hah said Emerson's new student orientations should include information about its neighboring community and about the residents who live there. She said in 2015 Tufts University and Medical Center, which take up one-third of the district, began incorporating walking tours of Chinatown into four out of five of its graduate programs.
Vice President for Government and Community Relations Margaret Ings said her office and the Office of the President funds multiple institutions in Chinatown, such as the Greater Boston Golden Age Center, which serves Asian elderly in the community. She also said the college offers financial assistance to the Chinese New Year Parade and other annual events.
"We really have become a member of the community," Ings said. "It's the one thing I wanted to have happen when I first came here … to establish relationships with each and every [community] group that was already in existence and see how they felt about an institution of this size coming into this area."
Assistant Director of Off Campus Student Services Jeff Morris said his office does not tell students about the culture of Chinatown before their apartment search, instead focusing on things like rental procedures and affordability.
"I would say there's definitely less students living in Chinatown, and if you're living in Chinatown, it's the population that can afford Chinatown," he said.
In 2009, Tufts University found that out of all Boston neighborhoods, Chinatown is at the highest risk of gentrification, the process of more affluent people entering an area and driving up the cost of living.
Tufts Medical Center doctor Chih Chen said he was able to live nearby work in Chinatown five years ago on a small salary but has since moved. He said the area is becoming more of a restaurant business district than a place of cultural attraction.
"The college benefits more than the local people," he said. "The prices [for food in Chinatown] are so low, [the Chinatown employee's] salary is so low."
According to a study by the Asian American Legal Defense and Education Fund, higher education institutions are large contributors to Boston's Chinatown gentrification. The study also stated the white population doubled between 2000 and 2010, while Asians make up less than half of the residents.  
Junior Lanhua Ma, an international student from China, lives in an apartment building in Chinatown less than a half-mile radius from Emerson. Ma said she and other Emerson students who live in the building pay anywhere from $1,500 to $1,600 a month.
"It's very close to the campus," Ma said. "It's very easy for me to get ingredients, and if I don't have time to cook, grab some dim sum. And the price compared to other restaurants is cheaper."
Some businesses in Chinatown believe college students help keep their doors open.
Kevin Miao, an employee at Kung Fu Tea in Chinatown, said about 80 percent of their customers are college students.
"It helps the community out," Miao said. "And most of them are international students."
Carmen Chan, a director at Boston Chinatown Neighborhood Center, considers the Chinatown-Emerson relationship friendly. She encourages more initiative from students in the form of internships to improve the community. Chan said she saw two Emerson interns in the past three years at BCNC.
"The students of Emerson are very creative," Chan said.
Chan said the college also contributes through ArtsEmerson, which offers space and collaborates on artistic programming for the Center.
Executive Director of ArtsEmerson David Dower said his office incorporates the Asian diaspora in Chinatown by hosting events like the Asian American Film Festival and working with the Asian American Resource Workshop, another community center in Chinatown.
"We know we're at the beginning of building a [relationship], and we're looking forward to continuing partnership in building it," he said.