New Chinatown library welcomes Emerson students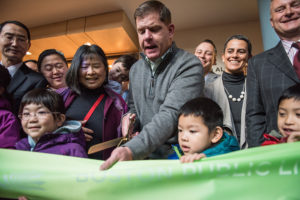 The head of the Boston Public Library branch in Chinatown said he encourages Emerson students to use the new space and resources just as much as neighborhood residents.
Housed on the ground floor of the Chinatown Trade Center at 2 Boylston St, the branch is a four-minute walk from campus—and the neighborhood's first library in more than six decades. Allen Knight, Chinatown's branch librarian, along with Mayor Marty Walsh, celebrated the opening of the library with a ribbon-cutting ceremony with residents on Feb. 3.
Previously, the closest library for Chinatown's residents was the BPL at Copley Square, an 18-minute walk from the current Chinatown branch, according to Google Maps.
In an interview, Knight mentioned several resources available for students, like a quiet communal space, more than a dozen laptops, and free wifi. Students with a BPL card can also go online to order items from other BPL locations to the Chinatown branch.
"I know you like to use your school library, but [if] sometimes you wanna get out of there … you can definitely come over here … we're accessible," Knight said.
Assistant Director of Off-Campus Student Services Jeff Morris wrote in an email that he is not familiar with any sort of involvement with the college and the new library.
"I'm sure we will post about the Library in some form once it is up and running, but we will most likely not be making a concerted effort to encourage students to attend on a regular basis," Morris wrote. "With the amount of space that students don't use on campus as it is, we are trying to market our own on-campus spaces first and foremost," 
Most of the branch's staff is fluent in both Mandarin and English to help curate books, newspapers, DVDs, and periodicals in both languages from a selection of 2,500 items.
The branch will act as a temporary location for the next three to five years while the city works to establish a permanent location in the neighborhood, according to an article in The Boston Globe
Fulfilling a promise made during his 2013 campaign, Mayor Martin J. Walsh said he was excited to see the library finally come to fruition.
"I'm excited to be here, to join you for this milestone. It's been something this community has been looking forward to for a longtime," Walsh said at the library's ribbon cutting ceremony.
Emerson may not be pushing students to use the library, but Knight said the library is a resource for everyone—resident or student.  
"We want [students] to consider this as their neighborhood library," Knight said.
Students interested in getting a library card can visit the branch's circulation desk with valid photo identification.  
Correction, Feb. 15: A previous version of this story did not include that Jeff Morris wrote Off-Campus Student Services might post about the new library once it is up and running or that he wrote the college was not involved with the new library. 
Correction, Feb. 20: A previous version of the article spelled Jeff Morris's name as Jeffery Morris.