Safety, job security top staff concerns for the fall
Emerson staff members are grappling with safety risks and the threat of job insecurity, as the college proceeds with a reopening plan that brought much of the community back to Boston. 
Hundreds of full or part-time staff returned to their jobs in the middle of August, with the majority working remotely. Most staffers now work from home to reduce the amount of people on campus at any given time. But those working in-person—service or maintenance employees, for example—face an exponentially greater risk of contracting the virus from close-contact interactions with students. 
"Obviously, the big thing that staff are super concerned about is getting sick while being on campus," Staff Union Chapter Chair Dennis Levine said in a Zoom interview. 
Those concerns, so far, are not without merit. Total enrollment is up from last year, and around 83 percent of Emerson students attend hybrid classes today. Eleven COVID-19 test results have come back positive since testing began on Aug. 6.
Coordinator of Electronic Resources and Reference Librarian Daniel Crocker said he feels comfortable coming to work on campus despite the ongoing worries for his health. 
"I'm more concerned about making sure that everyone else stays safe," Crocker said. "I'm hoping the plans are smart enough that we will be okay, but I am expecting at some point that there's going to be a second wave."
Staff that directly interact with students, like the Equipment Distribution Center, facilities management, and dining hall employees from Bon Appétit, work small, staggered shifts to prevent crowding in workspaces. 
"One of the guiding principles that the administration is going by is they don't want any more than 10 to 15 percent of all staff union and non-union [members] on campus," Levine said. "They want to try and make it as much of a ghost town as possible." 
Some departments, however, are not able to function without staff on campus. The Media Technologies and Production Department, for example, requires more hands-on employees because they distribute equipment and supervise on-site studio spaces for students. 
The college said they work with older and at-risk staff members on a case-by-case basis to establish proper accommodations. Some may be given permission to work remotely, while others could be scheduled for non-standard shifts that begin at unconventional hours to limit contact with other people.
"We're all concerned, but I think the school has done some smart things," Levine said. "Will it reduce [the spread of COVID-19] 100 percent? No, nothing will."
Those working remotely for the semester will only be required to come to campus occasionally, though the frequency of these in-person visits depends on the responsibilities of the individual staff member. Still, some employees may not be mandated to step foot on campus until 2021.
If a remote staff member needs to come to campus, they must notify the department manager in advance and schedule a time to be in a workspace.
All faculty and staff underwent preliminary COVID-19 testing at Tufts Medical Center before the start of the semester and are required to fill out the college's daily symptom tracker before coming to campus. Staff members chose whether or not to opt-in to weekly testing at the time of receiving their initial mandatory baseline test. 
Like all community members, staff that work on campus are required to wear face masks, unless an individual is in their own office space with a door. Employees must also sanitize their work stations at the beginning of every day and each time they leave their office or desk.
"We have very explicit instructions about when you arrive to work you have to wash your workstation, like the handles on your desk, chair, your keyboard, your mouse, and all that stuff, and then you have to do that again every time you get up and sit down," Levine said.
Workspaces on campus have been outfitted with plexiglass partitions and rearranged to allow staff to be socially distanced. 
If a staff member contracts COVID-19, they may use paid sick time while quarantining at home. The work that staff member usually completes will be divided up among other employees in the department. However, if a staffer remains sick for an extended period of time and the department cannot handle the workload, temporary workers may be hired to fill in, Levine said. It is unclear what would happen to a staff member's pay if they run out of sick time. 
Staffers who feel secure working on campus have filled in for positions that require an in-person presence.
"We have some staff who [are] training to work the Service Desk once or twice a week because they feel comfortable coming in, because they've read the Emerson plans and they either can drive or feel comfortable taking the T," Executive Director of Library and Learning Cheryl McGrath said.
The underlying threat of layoffs serves as another source of anxiety for staff in the COVID-19 era.
After the campus closed abruptly when the virus first spread in March, Levine said staff members agreed to take benefit cuts and not receive raises for the rest of the year to offset the financial losses of the spring semester. Staff members also sacrificed those benefits to prevent layoffs. 
"We did this all in hopes of not losing any staff, or having to fall further into a financial deficit, but a lot of it is going to come down to what happens this upcoming semester," Levine said. 
Several local colleges and universities have made drastic layoff and furloughs to account for massive pandemic-related losses. Tufts University cut 20 percent of its dental program employees in August, and Boston University has planned to lay off or furlough more than 200 employees to make up for an estimated $96 million budget gap. 
To date, no Emerson staff members have been laid off due to the financial repercussions of COVID-19. While the college made a commitment to keep on all staff members in the fall, many worry more losses could lead to job cuts come January, Levine said.

"We don't know what's going to happen then," Administrative Associate to the Chair of the Journalism Department Christopher Wilson said in a Zoom interview. "Layoffs would be pretty tough for Emerson, because it's such a lean staff that we have already."
Administrators estimated in June that the college would experience between $33 and $76 million in virus-related losses in the 2020-21 fiscal year. A full year of online classes could result in a $100 million deficit, according to reports from the college. 
Multiple staff members with children told The Beacon they also have major concerns about juggling their work lives and childcare. The majority of Massachusetts school districts are using a hybrid or fully online learning model for the academic year, leaving parents to figure out how to maintain their job while their children attend classes from home. 
Unlike some, Crocker jumped at the idea of working on campus because his daughter's daycare is located close by. 
"It is most convenient for me to be able to drop off my daughter and then go into the office," he said in a phone interview. "I've been able to get my daughter into daycare five days a week [and I'll be in] the library three days a week." 
At least a handful of staff members have been given the option from the college to work fewer hours with reduced pay or take a partial leave. These staff members are expected to return back to work fully once the risk of COVID-19 is severely reduced. 
The college started a work share program for staff in March as a way to adjust to remote work. The program, which continued into the fall semester, allows staff on campus to complete the responsibilities of those who won't have access to office spaces or who have a larger workload than usual due to the pandemic.
"If there are departments that have employees that are not as busy and they're capable of handling some of the work, maybe it's just transcribing notes or doing spreadsheets or whatever it is, then they could step in and take over some of the workload until the person comes back," Wilson said. 
Another common concern among staff members is the responsibility the reopening plan lays on on students to abide by safety guidelines in order to prevent staff, especially those in vulnerable populations, from contracting the virus. 
"Honestly, the success of this semester comes down to the students and being responsible members of the community and unfortunately, having to change their philosophy of what college is about," Levine said. "I know we're putting an awful lot of faith and trust into the students to do the right thing."
Students have adapted to a new, altered college experience that stymies social interactions to prevent the illness' spread. 
"Emerson students are incredibly conscientious, and they also care a great deal about their community," Wilson said. "There are some of us, myself included, as I said, who are really happy with what the college has done and feel that it's done the best it could given the situation. I personally don't think the college is going to have to shut down again. I think we have the ability and we have the capacity and we even have the leadership to make it through."

With the restrictions of the hybrid model, staff departments worked diligently over the summer to supply students with the resources they've grown used to in normal semesters. 
The IT department staff converted all classes online in the first two weeks of March, while Academic Affairs went over every student's schedule twice—first to register students for normal classes and then again to adapt to the college's hybrid model. 
The Iwasaki Library staff spent several months adapting resources to be accessible for students attending remotely and also converting the on-campus library space to reduce occupancy levels. 
And staff members in the EDC opened the center for equipment checkouts this fall while implementing adjusted hours and a new, intensive equipment cleaning regimen. 
"The traffic through the EDC will be one way every day," Associate Director of Media Technologies and Production Timothy MacArthur said in a phone interview. "So it's either things coming in or things going out, which is a big change."
MacArthur, who is working both on campus and remotely, said that working from home during the summer was a challenge.
"I have an eight-year-old son in the small house, and I'm fortunate to have the space I have to work," he said. "I am far more efficient working in the office…so it's an adjustment to work from home."
A college-run faculty and staff meeting with the three epidemiologists contracted to workshop reopening reassured Wilson about the plan's safety.
"I was never that scared for what Emerson was doing, but in terms of my confidence in what the college was doing, that meeting was a turning point for me," Wilson said. "Listening to what they had to say, these professionals, transmissible disease experts, medical-trained professional statisticians really gave me a lot of reassurance that the college was doing the right thing."

However, communication between staff and the college has not always been strong. Multiple employees did not know who staff should contact with questions about reopening over the summer, Wilson said. 
"[The college's] hands were completely full in terms of managing information for the students and maybe for the faculty, and I feel like staff might have been the third priority," Wilson said. "There just wasn't a consistent flow of information, and I feel like a lot of what I learned over this summer about what was happening came to me secondhand."
The college told The Beacon they sent staff members eight notices from HR and 11 notices from Presidential Communication since March. Staff also received seven notices from the COVID-19 playbook team to staff since August.
"The college has been committed to regular communication with all members of its community since the beginning of the pandemic and the closure of campus in March," the college wrote in a statement to The Beacon in early September. "Members of our community, including staff, have received multiple communications regarding plans and protocols related to the closure of campus, the path to re-opening, and health and safety measures for the community."
Leave a Comment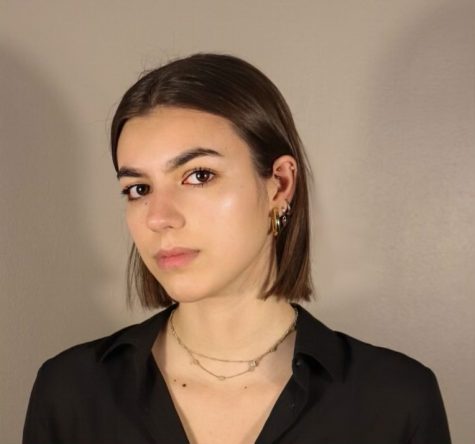 Ann E. Matica, Deputy News Editor
Ann Matica graduated in 2022. She served as deputy news editor for The Beacon. She has lived in Massachusetts her whole life and transferred to Emerson College in the fall of 2019. She previously worked as a reporter for an online publication for Holyoke Community College called Apex.