Emerson Mystic hosts virtual event to celebrate Gaelic festival 'Samhain'
This year, Emerson Mystic, an organization dedicated to anything "witchy," offered a dorm-safe alternative to the traditional Samhain bonfires and celebrations. Students put their creative skills to the test and designed pumpkins with all things paint, Sharpies, and sigils at this festive, mostly-virtual event. 
On Friday Oct. 30, Emerson Mystic hosted their first meeting of a two-part Zoom event in honor of Samhain, an ancient Gaelic tradition. Participants picked up a pumpkin and decorating kit ahead of time in preparation for their Zoom on Halloween, which replaced Mystic's weekly Friday meeting. 
For Saturday Oct. 31, Mystic plans on hosting an online viewing party of "Sleepy Hollow" at 5 p.m. as a safe, socially distant Halloween celebration.
Mystic's president and senior Kyle Eber spoke on behalf of the organization and their Samhain event. Initially, he described the history of Samhain and how it links to Halloween.
"Historically, it's community and feasting and bonfires, but we can't really do any of that [due to COVID-19]," Eber said. "A lot of things that are related to Samhain are community, respecting nature, and because things start dying in the fall, so it's respecting that and the cycle that comes with it, and just preparing for the colder months." 
Beginning on the evening of Oct. 31 and continuing through the evening of Nov. 1, the Gaelic festival of Samhain marks the end of the harvest season and the return of winter, Eber said. Typical celebrations include feasts, bonfires, and guising, an early version of modern day trick-or-treating. The pagan religious holiday was created as a way to interact with the spiritual realm, as celebrants believe boundaries between the spirit and physical worlds are more easily crossed during this time. 
Though modern day Halloween is more similar to All Saint's Day, a Christian remembrance of the church's saints, Samhain still holds major influence over the October holiday, Eber said. 
"It's connected to Halloween in the sense that a lot of people who practice witchcraft, Wicca, and paganism nowadays see it as 'This is our autumn celebration,'" Eber said. "It became an opportunity for a holiday we can celebrate and we can connect to the world and give back in our own way and focus on the things that matter, which is the community and we all worked together to have a good harvest and now it's the end of that harvest." 
Junior Claire Rodenbush, vice president of Mystic, siad Mystic's Samhain event is a great way to celebrate Halloween since usual festivities are now dangerous. 
"For this week, we're just doing something a bit more lowkey," Rodenbush said. "It's nothing really specifically related to Hallowen. We're just watching a spooky movie cause everyone wants to relax."
Eber related this end of season event to the hard work that was put in by college students towards midterms. 
"Now this is a break where we can come together and find joy," Eber said. "In the past, we had a huge party. We played music, invited people to dress up, and just enjoy each other's presence after getting through midterms."
However, COVID-19 has affected how Mystic normally operates. The organization is forced to create virtual events that still capture the interest of its community. So, in place of the party, Eber came up with the idea of decorating pumpkins. 
"This year, we are taking a more standard approach rather than a more witchy approach, but it's trying to create a connection in a virtual format," Eber said. "We can't meet together, we obviously can't have a bonfire, and we can't throw that kind of party, so I wanted people to have something for the autumn season, so that's where I had the idea of 'Why don't we get pumpkins, come together, and create art.'" 
Mystic also handed out goodie bags full of popcorn and candy to participants in the absence of trick-or-treating this year. In addition, sigils of community, health, and protection were included to paint on the pumpkins. These sigils are symbols commonly used in ritual magic practices, particularly in Samhain.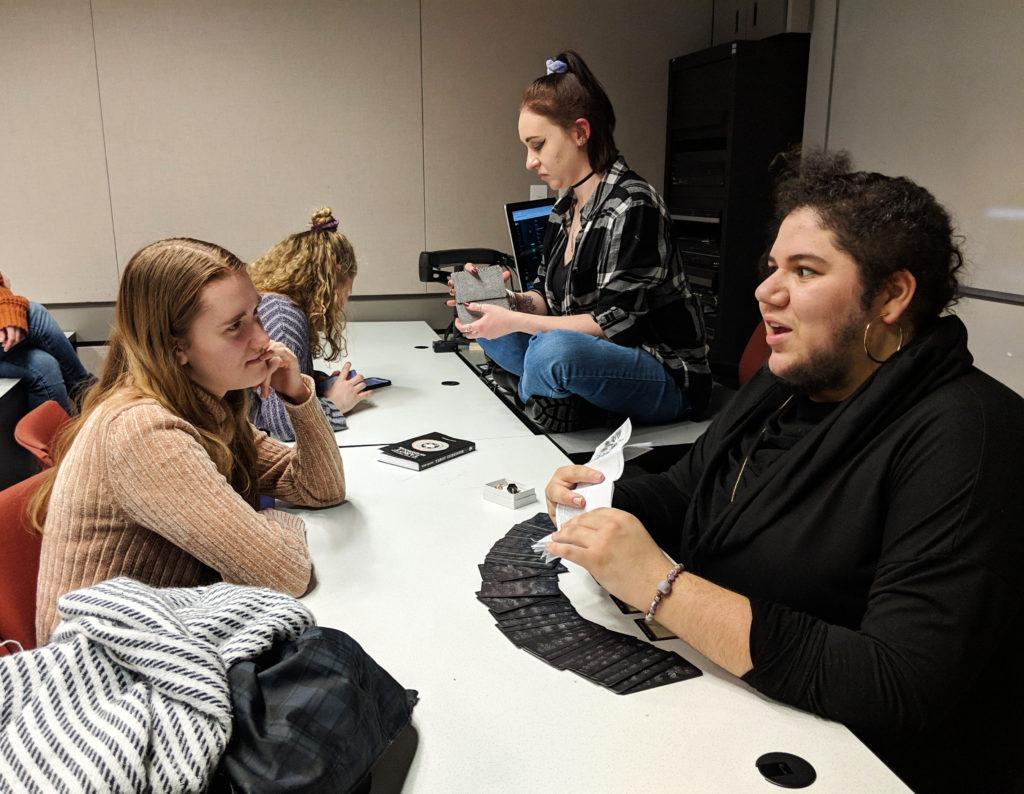 Originally, Mystic wanted to provide carving kits, but since pumpkin carving is not allowed in dorms, the organization settled on painting kits. 
Although this event wasn't anything magical, the importance is in finding the magic within the community, Eber said. 
"Given the circumstances, the community is just as strong as it was," Rodenbush said. "That community building sense that we really have aimed for and I don't think we lost any of the steam we've gained in semesters prior."  
Eber co-founded Emerson Mystic during his sophomore year in 2018. The organization dedicates their time to anything that's considered a "witchy" lifestyle, Eber said. He discussed the purpose the organization serves for creating a welcoming community. 
"We have it that broad because there are a lot of different practices throughout the entire world, historically and modernly," Eber said. "We don't want to turn away a student that is Wiccan, and we are inviting people that are Pagan and folks that just like tarot, astrology, or are into clairvoyance. We have a space for all these things society would deem as 'witchcraft' and focusing on fostering a community."
Rodenbush touched upon how typical meetings have been working during the pandemic. 
"We have member-led events where members will actually lead a discussion and those are typically more informative practice based," Rodenbush said. "Occasionally, we'll just do community events.Since it's online, you can just come and go. It's not super formal."
The organization is accepting of many different student beliefs. Mystic creates a safe space for discussion topics people may not be comfortable talking about in public, Eber said. 
"At Mystic, we are welcoming of any and all and every single thing that falls in between because you can just think tarot's cool and still find a part here," Eber said. "To know they have a place, and you can be comfortable in this space because there are similarities, but also a lot of differences and we try to talk about it."