Emshakes directors look back on a fall semester of revitalizing classics in student theater
Theater is transformation and reflection, a mirror held up to one's society in the most dramatic form. The productions of Emshakes—formerly known as the Emerson Shakespeare Society—are no exception. In fall of 2022, Emshakes put on productions of "Antigone" and "A Midsummer Night's Dream," each of which challenged the societal and gender traditions of the classic texts written by Sophocles and William Shakespeare, respectively.
"We're always looking for new and exciting ways to address problems of the past, especially in theater," said junior theatre BFA student Jake Tolentino, Emshakes' artistic director. 
Emshakes produces two student-directed plays and a staged reading each semester—including adaptations and rewrites of classics, original student work, and contemporary classics. The recent name change comes from a desire to clarify that the company performs more than Shakespeare, and to move away from the restriction embedded in typical theater societies. 
Tolentino directed the Nov. 5–6 productions of "A Midsummer Night's Dream," Shakespeare's Athenian comedic tale featuring dancing fairies and amateur actors, which reimagined both the genders and time period represented in the show. With character changes to transform a forbidden heterosexual relationship to a homosexual one, the company sought to create an adaptation that was fresh, fascinating, and applicable to Emerson audiences. 
Emshakes is known for such gender bending in their shows, Tolentino explained. In the past, they have produced rewrites of older plays to change their gender and relationship structures, such as "Who's Afraid of Virginia Woolf?" into "Cornflower Blue" in Spring 2022.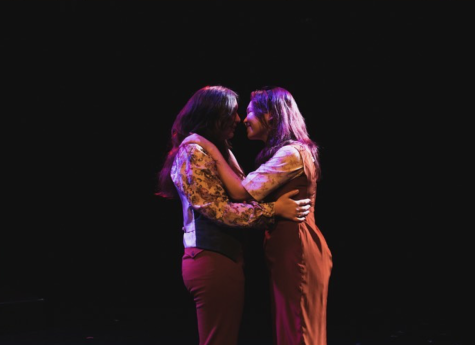 Gender bending heightened the stakes of the interpersonal conflicts in "A Midsummer Night's Dream" and added more dimensions to the universally-known story, said Tolentino. 
"It just makes people look at it in a different way which can be really exciting, especially because [the text] has been around for so long," they said.
Another way Tolentino reworked the classic text was by situating it in various time periods throughout the show. Athens will be based in the 1950s and early 60s, the younger children and lovers rooted in the 70's, and the forest people and fairies in the 80's to demonstrate progressivism. 
Emshakes is dedicated to performing classic works of theater, which Tolentino said will always be important and relevant. However, they added that "it's also important to recognize where [classic works] have been limiting and where they've been exclusionary to people for so long."
Adapting and shaking up these plays allow practitioners to correct and shift the older, more exclusionary aspects, they said. It also gives the opportunity to reinforce the most vital themes of these tales while adding modern aspects to make it applicable to today's world. 
The Emshakes production of "Antigone," which premiered Dec. 3–4,  was directed by Josh O'Brien, a senior theater BFA student, and Kandice Whittingham, a senior acting student. "Antigone," one of Sophocles' three Theban plays, chronicles the titular character's attempt to resist the orders of her uncle and properly bury the body of her brother.  
Their adaptation changed the castings from eight men and four women to five assigned-female-at-birth performers. The decision to modernize an Athenian tragedy written in 441 BC was par for the course for Emshakes' mission. 
Like "A Midsummer Night's Dream," the Emshakes production of "Antigone" varied in setting from the original. O'Brien explained that the production had a futuristic setting to demonstrate how the trope of Antigone's character has always and will always be around. The creative freedom encouraged in Emshakes productions allows even the oldest of plays to be made modern, thus stretching the limits of stories which have been told over and over again.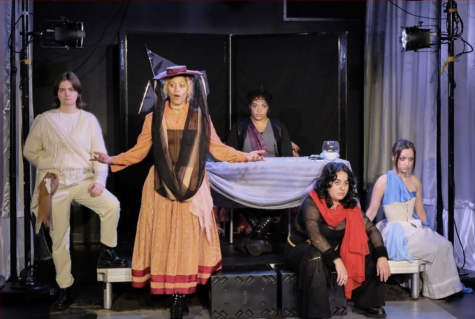 "When you see ['Antigone'] in a futuristic setting, it really reveals how much these notions of power and oppression and ineffective leadership still affect us today," Whittingham said.
Emshakes' blending of classic works with modern interpretation allows their productions to exercise fresh, creative freedom, and be more relatable to Emerson audiences. 
"We punch [home] the message that 'Antigone' is next to us, 'Antigone' is the girl, 'Antigone' is our friend, we all know an 'Antigone', we ourselves can be 'Antigone,'" O'Brien said. 
According to Whittingham, Emerson students are similar to Antigone, whose actions in the eponymous play are disobedient towards male authority, and speak to themes of civil disobedience and resistance. 
"We are these underdogs pursuing these artistic careers in a late-stage capitalist world, in a world that really is not that supportive of what we're pursuing," Whittingham said. "But it's still essential that we do it—there's a fighting spirit at Emerson and certainly amongst this cast and production team that wants to fight to the bitter and hopeless end."