New musical 'Macbeth in Stride' critiques Shakespearean sexism
A new musical from Obie Award winner Whitney White running in Boston examines what it means to be an ambitious, contemporary Black woman using the themes and characters of Shakespeare's classic tragedy, Macbeth.
"Macbeth in Stride" opened on Oct. 23 at the Loeb Drama Center and runs until Nov. 14. The musical, which is directed by Tyler Dobrowsky and Taibi Magar, stars White as Lady Macbeth and Charlie Thurston as Macbeth. The show lifts up contemporary Black female power, femininity, and desire as White challenges sexist Shakespearean tropes. 
White's Lady Macbeth is accompanied by three witches who act as background singers—Reggie D. White, Phoenix Best, and Kira Sarai Helper—but also as friends who challenge and comment on her actions throughout the show. They empower and question "Lady M" to get her thinking about what she wants, who she is, and how she will accomplish her desires.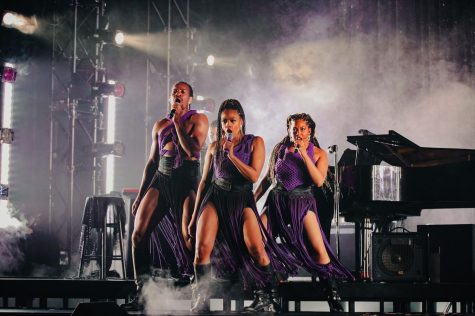 "Whitney brilliantly has composed and created an entire musical, not necessarily inspired by Macbeth, but interrogating and exploding the story and asking, how does a black woman see herself in the story?" Reggie D. White said. "How do black queer people and how do people [in general] see themselves in Shakespeare, especially given there's so much mythology about Shakespeare's queerness."  
Whitney White is the front woman of a four-person rock rhythm and blues band, which includes Steven Cuevas '08. Cuevas, who received a Bachelor of Fine Arts in musical theatre, was also the musical director and co-orchestrator of the show. 
"There's just so many layers that we get to address in this show," Cuevas said. "We use the Shakespearean language and also contemporary language, and we also use music of today and so many references that Whitney had grown up around and was inspired by all these powerful female artists." 
"Macbeth in Stride" has a completely original score, composed by Whitney White and Cuevas, paired with scenes from the original "Macbeth." The music ranges from heavy metal rock to hip hop to "Tina Turner music," as Cuevas described it. It is a beautiful and truthful take on Shakespeare, paired with awe-inspiring vocals and passion. 
"The best musicals use composition as dramaturgy so as soon as the song starts you already feel something and then if the song can also take you, the listener, on a journey that's really fruitful, and every song takes you on a journey," Reggie D. White said. "It's all very rich and satisfying to listen to, it's so much fun to sing, it's a real delight."
Lady Macbeth dons a shimmering black jumpsuit at the beginning of the show, while Macbeth is costumed in simple, unnoticeable attire to further emphasize the point of the play—Lady Macbeth's struggles with being a woman of color in a white-dominated, patriarchal society. 
Thurston, a white man, clearly understood his role was one of a side character. Lady Macbeth was the central character, with all eyes on her, while Macbeth was merely needed for context, solidifying the theme of women in power. 
"Casting represents a whole lot of things," Cuevas said. "It represents white supremacy, it represents how, a lot of times, white men just get away with murder, and it's the women who pay for it. It also shows that white men can be an ally and can be on all of our sides, so we need to lift each other up."
At the beginning of the show, Whitney White drew the audience in by addressing those sitting in front of her stage and asking daunting questions about independence and femininity. Not only does she blatantly challenge Shakespeare and society, but she asks the audience to do so as well. 
"It addresses a lot of things from ["Macbeth"], and taking a look at that play and how it relates to us now, and how women, especially black women, are viewed and treated in society," Cuevas said. "It's really powerful and drives home a point, that, even today, women are so limited and women of color are so held back by society by the men who run it and by white supremacy."
"Macbeth" is the only Shakespearean play that can be redefined from a female point of view, because it is the only play of his that gives a woman an identity beyond their involvement with the male protagonist. Even then, "Macbeth" ends up belittling women, which Whitney White not only addresses, but addresses with power. 
"Everyone is told that Lady Macbeth is the role for a fem identifying actor to play because she's smart and she's ambitious, but in the end, she still goes mad like everybody else, at the end they still imagine women in this very narrow spectrum, and that's not even taking in the lens of blackness," Reggie D. White said. 
"Macbeth in Stride" was eye-opening, goose-bump inducing, and soul-chilling. Whitney White's take on Shakespeare's sexism is unique. Not only does it challenge white men, but also white women. 
"I want power, a voice, a choice…happiness…don't get the white lady on my case," Lady Macbeth sings at one point in the show.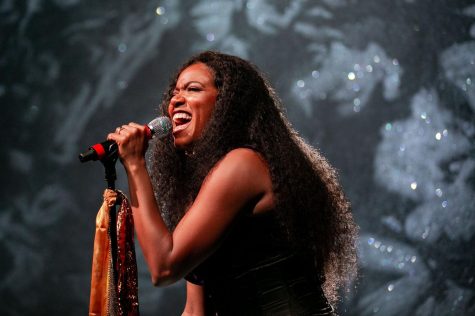 Themes of ambition, love, and power embody the play. Whitney White questions love and ambition in the same lifetime, and explores the realities of Black women in power. 
"What's so rich is Whitney's interrogation about, 'why have I been told that this is the apex of what is possible for me, why is my gut telling me to reject that?'" Reggie D. White said. "And then to lean into that and say well in a larger sense what are these western narratives doing to women, to queer people, to people of color, and to trust her own point of view to say something and believe what that thesis is is also rich and meaningful, and in this case, it is."
Whitney White poured her heart out in her music and acting, declaring to the world that Black women struggle, Black women have desires, and that Shakespeare's plays are one of many things that played into female inferiority. 
"Just seeing someone, or seeing people on stage, tell you their perspective and their point of view is something really powerful," Cuevas said. "It's been an incredibly humbling experience to hear and see people's point of view about being Black in America, but it's also been so joyful. It's been wonderful to be part of this group and to be an ally in this kind of storytelling."
"Macbeth in Stride" is filled with real emotions that created an atmosphere of trust in Whitney White for sharing her feelings, and it was a play that held immense weight. 
"It's so powerful that the poster and artwork for this show is simply just Whitney," Cuevas said. "You already know what you're getting into walking into this show—it's led by a powerful black woman."