EmStage's 'As You Like It' will certainly have you liking it
Vibrancy, love, and community—these are just some of the words to describe Emerson Stage's production of "As You Like It." 
Director Eddie DeHais has transformed the classic Shakespeare comedy play to fit modern themes of queer love, along with staging director Annie Levy. The play revolves around "queer, love, joy, and acceptance," as described on its website, and it follows main characters Orlando, Rosalind, and Cedric as they run away from home to the Forest of Arden to find who they truly are. 
The play was performed in the Semel Theater this past weekend, and it was with a completely reconstructed stage catered to the various scene settings. Upon entry, it was night and day between the normal Semel floor and what was set up: a mock wooden floor with a few lights coming from underneath. 
The craftsmanship of the stage design was something to be admired, between the creative holes in the ground where flowers sprung up, the eye-catching colorful lighting, and the fun red tree propped in the center, there's something new to catch the audience's eye with every scene. 
The sound design was also memorable, most notably the occasional sheep noises that came with every Audrey—played by senior Angela Valentino—scene carrying the balloons mimicking sheep. Additionally, whenever junior Dom Letterii's character LeBeau or sophomore Loey Jones-Perpich—as Duke Frederick slammed their stick onto the ground—the exaggerated sound effect that came with it was consistently laughable. 
Set as a period Shakespearean piece set in 16th century England, the costumes reflect the appearance of the Elizabethan era (huge shoutout to costume designer junior Trixie Ward). Tailored for their specific characters, they represent their distinguishing features from upper and lower class, as it did during those times. 
More formal wear was worn by the family and confines ruled by Duke Federick, whereas the forest allowed characters like the main three to be more free and true to themselves. The detailing was exquisite, from each character having their own color in outfit, all the way down to the hairpieces and sparkling makeup that could be spotted from any angle. Even the court jester Touchstone's outfit of various patterns and clothing items seemed well put together. 
Speaking of the jester, who is played by senior Olivia Wolff, they are thoroughly entertaining—quite obviously being the constant comedic relief. Wolff plays a very animated role, through facial expressions and body language. Every scene of her's was filled with enthusiasm. Particularly, the throuple storyline between her, Audrey, and Amiens—played by junior Gracie Martin—was something unexpected, yet fully welcomed and embraced, creating for some hilarious moments. 
In fact, the performances by everyone in the cast blew the audience away, receiving a standing ovation after bows. Rosalind, played by junior Kandyce Whittingham, and Cedric, played by senior Ryan Baker, had insane chemistry and were equally as funny as Touchstone. Whittingham made all their movements big enough for every single member of the audience to make out their face, supplemented with arm and leg motions throughout. They were lively and had such stage presence that really brought the audience into the scene with them. 
One hilarious bit was the frequently emphasized, almost sexual, noises during conversational scenes between Rosalind and Cedric. Both actors put their heart and soul into their performances, but these moments in particular really stole the show. Cedric's first scene had him dancing to Todrick Hall's "Nails, Hair, Hips, Heels," immediately followed by him wearing a birthday hat and comically singing "Happy Birthday" on a kazoo—certainly an entrance to remember.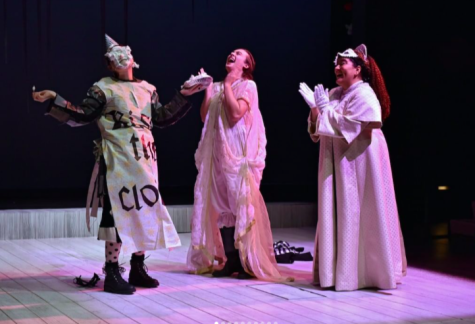 The music in general really adds to the whole production. It was intense and energized during transitions, and while the combat scene happened in a fake boxing "ring" created by stage lights, it almost had a sci-fi flare to it—side note, Letterii initializing the fight using their stick was so good and so on point. The beginning had a darkly lit stage, with everyone silent, walking intensely in formations to fierce music—this paired with the first glimpse of the costumes made for a powerful show starter. 
As the scene design transitioned to that of the Forest of Arden, the characters and setting became full of life. This is when some new people are introduced, notable mentions to juniors Alieyah Brown, who played Duke Senior, and Zach Fuller, who played Jaques. 
Brown made occasional appearances before her character was properly introduced, for example, beautifully humming and singing a song in between scenes. Fuller embodied the melancholic and poetic character of his, having some very strong monologues delivered perfectly. 
One of the best scenes happens when Touchstone frantically practices how to talk romantically to Audrey, acting out both parts of the conversation. Not getting very far, Jacques is on the other side of the stage, getting the fool's attention. In response, Touchstone screams and lands on the ground. The jittery and amusing Wolff received a special, and well deserved, applause from the audience after. 
There were some times when the cast used instruments and dance, and although it's not a musical, there's the periodic singing as well. 
At one point, Martin was dressed head to toe in yellow playing the guitar and singing while sitting on a stool next to Fuller. In return, he sings in a purposely bad and shaky voice, another applause worthy moment. Every cast member thoroughly shows how talented they are. 
A big part of the plot had Orlando going off into the Forest of Arden, in hopes of starting fresh while longing for Rosalind after meeting her at the wrestling event. He hangs up strips of notes on the iconic red tree, expressing his love for Rosalind in a million different ways. Cedric and Rosalind decide to do a gender swap in their new life: Cedric now going by Aliena dawning a stunning layered light pink dress, and Rosalind, now referred to as Ganymede, stunting in a dazzling gold suit (which was a vague reminder of the "Drake and Josh" gold Premiere vest).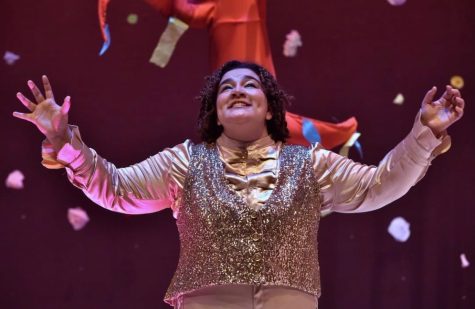 After finding the notes, Rosalind, who is as deeply infatuated with Orlando as he is with her, makes him recite the meaningful messages to her as if he is practicing what to say, fully believing he's speaking to Ganymede. This Shakespeare adaptation places deep meaning in each word, which clearly translates to Rosalind's admiration for Orlando's words, and Orlando's learning of words from Jacques. 
It's not until the last part of the play where everyone is gathered for a unified wedding scene when Cedric and Rosalind finally reveal their true selves. The other characters' reactions are so anticlimactic in the way that it makes for a laugh worthy bit—they respond by pointing and sighing an exaggerated "Oh" while smiling, nonchalant but effective. 
Even though the play had a convoluted storyline, the actors made the play what it was and enjoyable to watch. Despite the complicated Shakespeare of it all—seriously, big props to anyone who can pull off acting in a Shakespearean piece—and never seeing or knowing about the original "As You Like It" show, Emerson Stage's production didn't disappoint one bit, providing a unique and worthwhile experience.