'This Girl Laughs, This Girl Cries, This Girl Does Nothing' explores self-love and individuality in whimsical world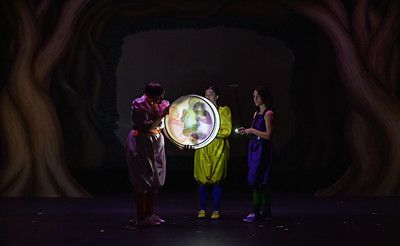 "This Girl Laughs, This Girl Cries, This Girl Does Nothing," the latest show in Emerson Stage's 2021-22 season, a children's fairytale about three unique sisters embarking on their individual journeys, ran on Paramount's Richard J. Orchard stage from Oct. 7 to Oct. 16.
With incredible acting and dialogue, colorful costumes, and eye-catching puppetry, the play emphasized familial bonds and the complexities that lie within an individual. The story follows three sisters—triplets—as they suffer through the death of their mom, their father's second marriage and divorce, and then their father's abandonment when he leaves them in the woods. The story pivots between narration, done by Alieyah Brown '23 and Max Connor '24, and dialogue.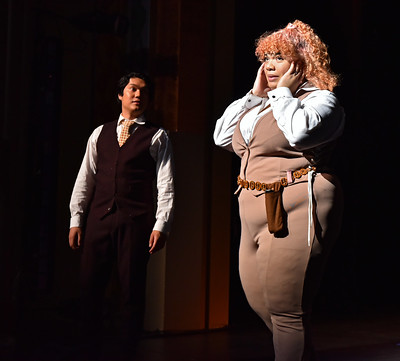 The sisters—Albienne, Beatrix, and Carmen, played by Hannah Nilsson '24, Olivia Bodley '22, and Clara Livingston '23 respectively—are left in the forest to find their own way in the world. One sister goes to find purpose, the second goes to find adventure, and the third stays right where she was left by her father to build her home and life. 
Each sister grows on their own accord and experiences, whether that's Albienne becoming a warrior from a baking enthusiast or Beatrix going from a ball of sunshine to a puddle of emotions. Their costumes, which change at different points in the play, represent each sister's current emotional and physical status as they age. 
"We're each very identifiable with our colors," Livingston said in an interview with The Beacon. "Albienne's pink is very sweet like the cakes, then she has that red and orange more like blood and more for her fiery side. Beatrix has blue like the ocean and also blue because she cries but mostly that yellow from the sunshine. [For] Carmen, the purple is really that more subdued, emotional, internal life and the green goes back to her living in the woods for her whole life and being one with nature."
Theater can be very intentional, which is evident in the play. The costume designer did a marvelous job enforcing the idea that each sister is different and true to themselves.  
"The costumes are really reflective of each character," said Annajean Gionta, the female understudy and a sophomore theater and performance major. "Every character has their own aesthetic and their own vision board. Each character is so unique and distinct, [and] we were able to be intentional with what colors we put them in."
Throughout the play, various emotions are portrayed in an extraordinary way. The audience goes from sympathizing with the girls to laughing at their antics in a matter of seconds—a perfect depiction of the reality of daily, changing emotions. 
There are many relatable mini-plots that draw in audience members, like when the girls meet their new stepmother and when Albienne constantly talks about cute boys. The story is real, an aspect that an audience member can definitely appreciate.  
A major part of the story is the girls' relationship with their father. Near the end, Beatrix's journey is fulfilled when she finds her father after three decades and holds no resentment towards him. 
"Forgiveness is an unspoken aspect of the play," Gionta said.
"Family is the core of the story," Bodley, a musical theater major, said. "Family is what informs us at the beginning of life, and then also brings us through life. [This play] is a beautiful story of how you can be connected to someone even when you're not with them. And when you do find them again, there's always that bond with your family of certain lived experiences or just growing up together."
Carmen is also accepting of their father after so many years because of her own personal growth, which gives her the strength to forgive him. The realness that is shown through the sister's journeys allows serious topics and situations to surface, something that mainstream fairytales fail to do. 
"In the beginning, [Carmen is] emotional and concerned about what her father is going through," Livingston said. "By the end of the play, [she] has found a home, she has recreated that happiness from her childhood in her own environment and has people she loves and loves herself now. She's able to invite her father back into her world, even though he did such a terrible thing, she's able to forgive him. That wouldn't have happened unless she had found peace for herself."
At the end of the play, to effortlessly emphasize the sisters' path to forgiveness, the narrator says, "And then no one says anything, because no one really has to."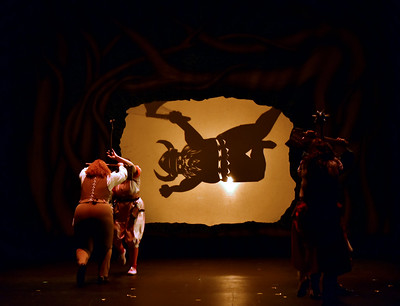 The play incorporates puppetry as a manner of storytelling, with both shadow puppetry and handheld puppetry done with transparent orbs used mainly by the sisters. As the narrators tell the story, shadow puppetry flashes across the screen at the back of the stage, often accompanied by sound effects, giving a unique look to the play. 
"It's such a whimsical story and it's based in a reality that's so unlike anything we experience in our day-to-day life," Bodley said. "By using those little tools, we're experiencing things visually different from how we would in our lives. It's a play that is so based in creating this vibrant world, and the props were important to bring everyone to that world that we were trying to build."
In order to let the audience know that the sisters were ready to embark on separate journeys, the actors not only said it, but also used drum heads—or orbs. Two orbs were used for each sister who was leaving the woods, and they flashed a light through a picture of the world, which was pressed against the circular, transparent orbs to create imagery. Another piece of paper in the shape of a human was held up to each orb and moved around in a circular motion to emphasize the opposite journeys the two sisters were about to take around the globe.  
"I really ended up loving the way that I had a relationship with the orb, and that we're able to show emotional life through that," Bodley said. "It also makes great moments of reveal and makes the world feel so real."
The sole purpose of the play is not to teach kids what to do, or right from wrong, but rather that they have an abundance of options. Most fairytales emphasize romance and a man being a "knight in shining armor" as the plot, but "This Girl Laughs, This Girl Cries, This Girl Does Nothing" focuses on lessons that are necessary for young audiences. 
"It is a fairy tale and it's about sisters, but it resists easy cliches or archetypes," Livingston said. "All the characters in the show resist that simplification that you see in fairytales, and that's a really great thing for young audiences to see in their female characters. There's not just one dimension to them, they are fully fleshed out people who change their minds."
By the end of the play, the triplets find each other again after their individual journeys and several decades, and recite a mantra: "Some things I can change, some I can't fix, I'm alone, but as well I am part of a mix."
"This Girl Laughs, This Girl Cries, This Girl Does Nothing" not only shines the spotlight on its talented cast and crew, but also on the beauty of individuality and the importance of one's journey to self-love. Albienne grasps at an opportunity to reclaim her passion for baking, Beatrix realizes it is important to find happiness within yourself in order to spread joy to others, and Carmen divulges in self-love to grow as her own person. 
"Each and every person can have a unique journey and be themselves and grow themselves, but at the end of the day, we can come together and recognize that we're in a community," Gionta said. "These sisters come together and recognize that their family bond is incredibly strong, but they are all unique individuals."