First road NEWMAC win keeps men's soccer in playoff hunt
The men's soccer team may make playoffs, despite a conference record of 1-3 and only three games left in their regular season.
The Lions sit in seventh place out of nine in the New England Women's and Men's Athletic Conference. The top five teams in the conference all qualify for playoffs.
Freshman midfielder Avery Niles said the team's attitude going into games has changed as the season progressed.
"From the beginning of the year, our winning mentality has changed," Niles said. "In the beginning, we went into games being a team that settled for a tie, to now where we want to walk away with a big win and make a statement."
With tough competition in the NEWMAC, head coach Bryan Harkin said they must overcome obstacles to continue into playoffs.
"Ultimately we want to win now, but we have to get everything in place before we can get to the goals we want to get to and set all our blocks and foundation in place," Harkin said. "We are a young group and need to gain the confidence."
The Lions claimed their first win against the United States Coast Guard Academy on Sept. 22 due to a goal from junior forward Gavin Faucette, who leads the team with four goals. The 1-0 victory marked their first away win in the NEWMAC since Emerson joined the conference in 2013.
Sophomore goalkeeper David Kemp made three saves, one of them in the last 30 seconds of the game, and earned NEWMAC Defensive Player of the Week for his performance.
The Lions opened the season with a 3-0 loss to Clark University, before falling 1-0 in overtime to Worcester Polytechnic Institute and Babson College, respectively. In their game against WPI, the defending NEWMAC champions, the Lions kept the game tied at zero until the last 40 seconds.
"Coming off losses, we need to forget about it and come in the next day ready to improve," junior defender Creighton Dorfman said. "In the long run, we have to look back and think that we took the standing champions all the way to the last 40 seconds."
Dorfman said the Lions, although considered underdogs want to prove they can compete at the highest level in the conference.
"When we play teams that might be better than us, we need to have the belief and perseverance that we can get results against them," Dorfman said.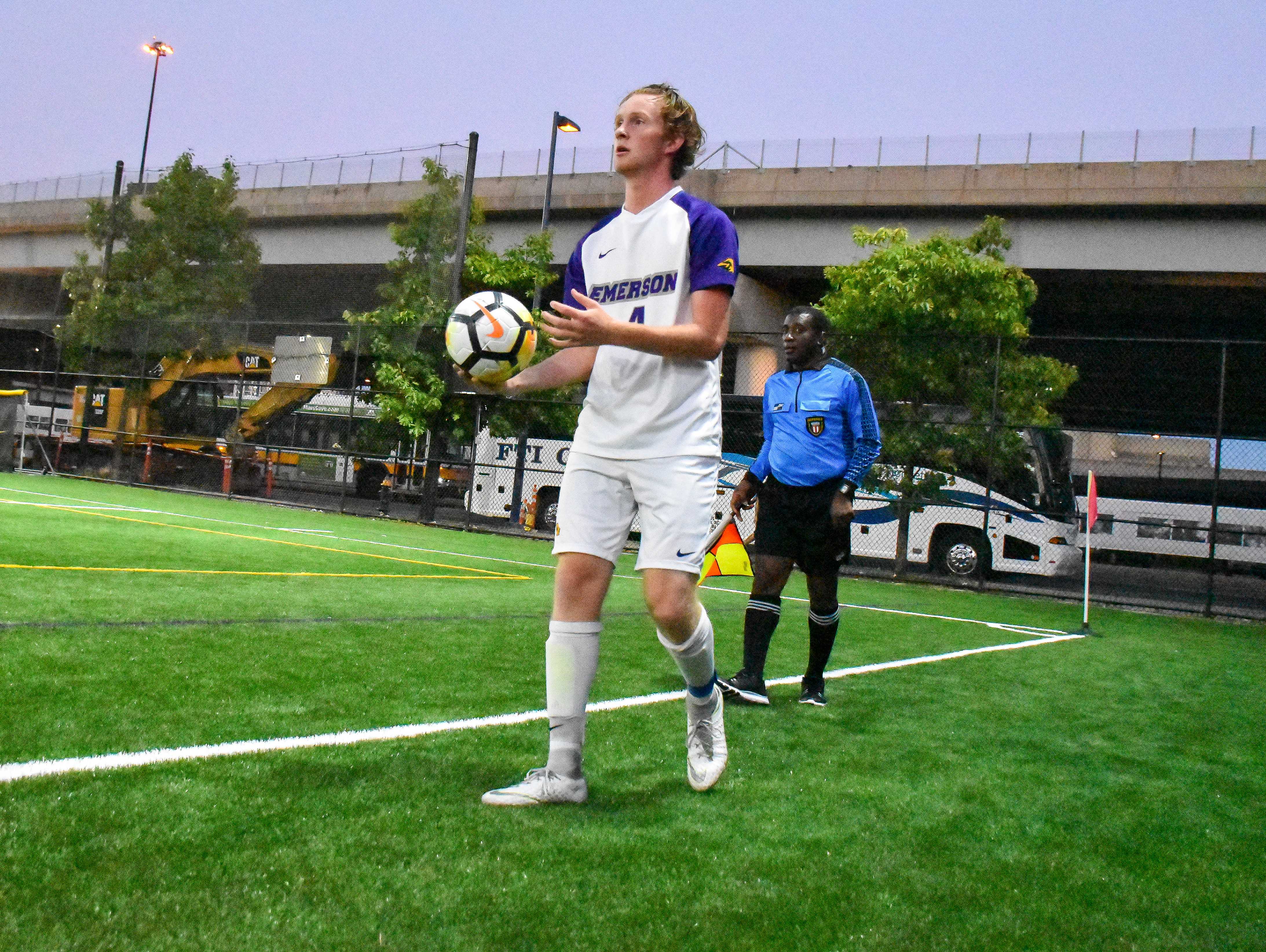 As a team of primarily freshmen and sophomores, Niles said the men's soccer team devoted this season to finding their place and becoming more comfortable in their roles.
"We do a good job sticking together and not pointing fingers, but also working as a team and not just individuals," Niles said. "We have all settled into our positions, we have gotten more comfortable, and we do our best on the field when we are able to shift the ball back and forth rather than just launching it across the field because we can."
In addition to focusing and setting long-term goals, Niles said chemistry factors into the team's success.
"Trusting each other and fighting for the guy next to you is important. As long as we can keep trusting and fighting for one another, that will be what keeps us from breaking down," Niles said. "We also need to improve our second half performance, and we can't let getting scored on deteriorate the rest of our game."
In order for the men's soccer team to advance into playoffs, they need to win two of three remaining games.
Harkin said even though their season has not gone as planned, he still believes they could make playoffs.
"I am pleased with where we are at and the progress watching them work and get better, although I am not pleased, but disappointed, with results—but we are taking steps in the right direction," Harkin said. "Being young can be a disadvantage at times, but in our case we have a desire to improve, and they are coachable and energetic."
The Lions will compete against Springfield College at Rotch Field on Saturday, Oct. 13 at 1 p.m.