Men's soccer ends season with first NEWMAC win
Men's soccer senior Creighton Dorfman said the moment he walked off Rotch Field for the final time in his career will be one he will remember forever.
"Signing off one last time with a win in the NEWMAC—it's kind of hard to put it into words," Dorfman said in a post-game interview. "This is the best moment in all of my four years at Emerson."
The men's soccer team defeated the Massachusetts Institute of Technology on its senior day and closed out the season 3-11-2 overall and 1-6 in the New England Women's and Men's Athletic Conference. 
Before the game, the team and its fans honored Dorfman and senior Gavin Faucette with flowers, posters, and replica jerseys with signatures from every player and coach on the team. 
Sophomore forward Jamal Thompson scored the opening goal for the Lions in the third minute and sophomore forward Jeff Pratt scored his first collegiate goal with a header off a cross in the 67th minute.
"We picked a great day for everyone to have their best game," Dorfman said. "We have a lot of young guys, and I hope they see what it takes to win a NEWMAC game against a very good team. We have a very promising and young group of guys here."
Head coach Bryan Harkin said Dorfman and Faucette will be missed as major contributors for the Lions. 
"Creighton was one of the first guys I met when I came in initially, and he's a special guy and a great leader," Harkin said in a post-game interview. "He's a guy we have leaned on both on and off the field. Gavin has been a top goal scorer for us over the last couple of years and he has been one of our best attackers. His heart is in the right place in terms of him having us want to win."
Dorfman, who hails from Northbridge, MA, played in a total of 65 games and registered 14 shots on goal as a defender. Faucette, a forward from Oakland, CA, totaled 16 goals and one assist in four years on the team. 
The Lions improved their record from last season by losing two fewer games and tying two more. The team defeated Salem State University and Lesley University in non-conference matchups and MIT for its lone conference win. 
Harkin said late-game nerves got the best of the Lions in their 2-1 loss to the United States Coast Guard Academy on Sept. 28 and their 3-0 loss to Babson College on Oct. 12. Against Coast Guard, Harkin said the Lions allowed two late-game goals and rallied in the 88th minute to score but did not have enough time to score another.
Junior goalkeeper David Kemp totaled four shutouts and started 13 of the Lions' 14 games with 1,000 minutes in the goal this season.
Faucette and sophomore midfielder RJ Dziejma finished the season with two goals each, tying for most goals of any player on the team this season. Faucette, junior midfielder Luc Fougere, freshman midfielder Aidan Ferguson, and freshman defender Bo Feekins totaled one assist each.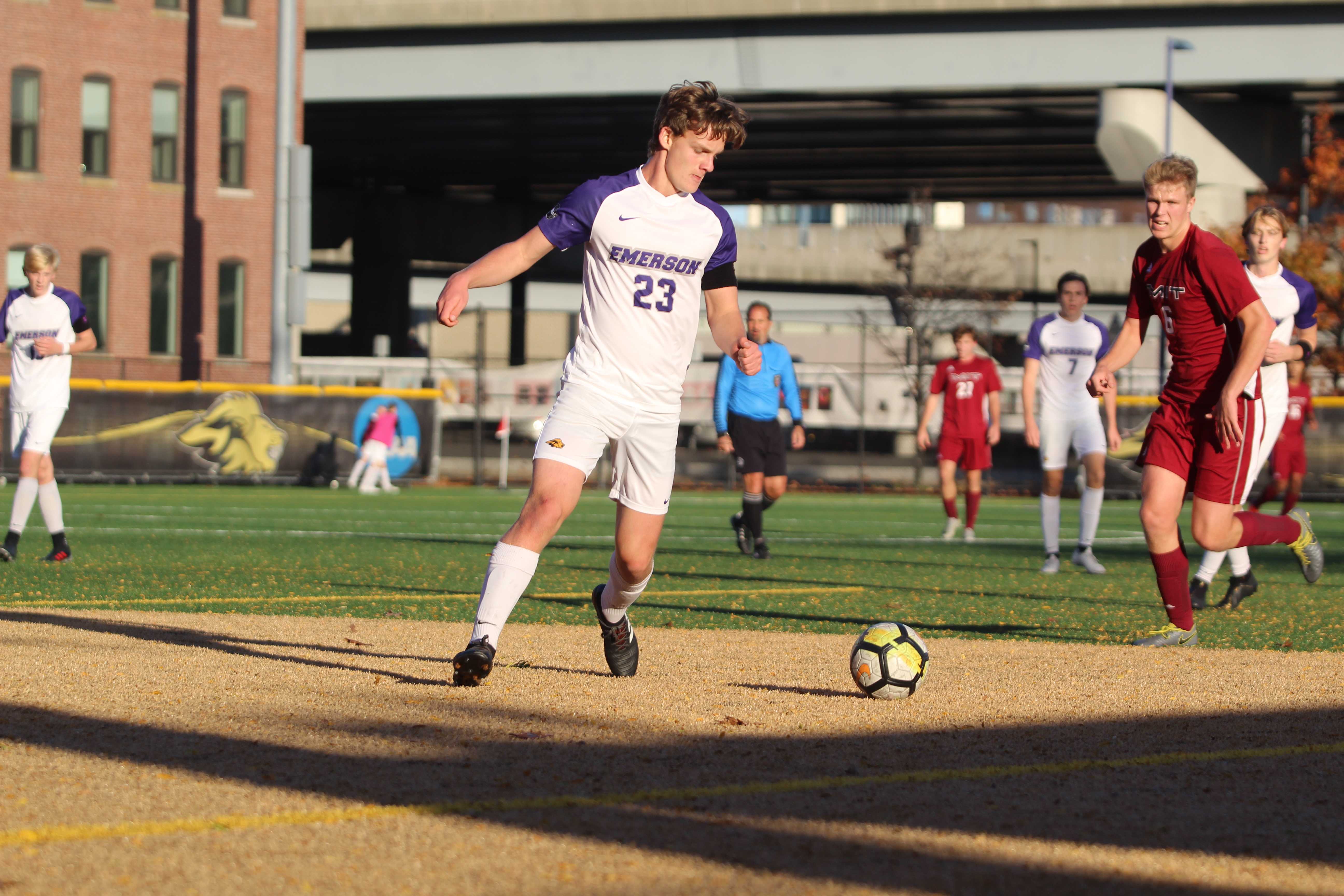 Harkin said the team played hard throughout the season but could have performed better.
"Overall, it's disappointing because our record does not indicate the ability that we have," Harkin said. "I think we had some inconsistencies throughout the year and we've played well at times, but we haven't been able to pull a full 90 minutes together. In the big games we've been there, but we haven't been able to get over the hump. Our goal was to make the playoffs."
Faucette said he appreciated his family and former teammates' support at his final game as a Lion and said the future is bright for the team next season.
"It's bittersweet, but we got the win," Faucette said in a post-game interview. "It was a fun four years and, hopefully, this win will carry [the team] over into next year."
"It's bittersweet," Harkin said of Dorfman and Faucette finishing their careers with the win against MIT. "I think we've played well in a lot of games this season. It's bittersweet knowing that you could have achieved more, but it's awesome to have sent the two seniors out on a good note. Both of them played a lot over their four years and they've been a big part of this program, and they have definitely left it in a better place than they found it. It's a nice and special moment to have won the final game of your career."