Although the men's soccer team missed out on the playoffs, the team is optimistic about its youth and its potential to become a competitive program.
The Lions finished with a 3-13-1 overall record including a 1-6 record in the New England Women's and Men's Athletic Conference. They ended in last place out of eight teams for the sixth consecutive season since Emerson's inaugural season in the NEWMAC.
Junior captain and defender Creighton Dorfman praised how the squad performed better than what their record suggests.
"Our record might not show how well we played this year, but in my time here this was the best team we've had," Dorfman said. "Everyone's going to be returning, so I think there's a lot of potential."
Entering this season, head coach Bryan Harkin said he hoped the team could compete in the conference and qualify for the playoffs. However, the team opened their first five games with four losses and ended the season with an eight-game losing streak consisting of seven losses and one draw. Overall, the Lions conceded a total of 31 goals while scoring 10 this year.
Junior forward Gavin Faucette led the Lions with five goals while senior midfielder Paul Bou Aziz scored three.
Freshman midfielder Avery Niles said the team struggled with communication early on as they had to adjust with 16 new faces, including 13 freshman players. However, Niles also said the communication struggles gradually improved as the team built more chemistry together.
"I do think that we definitely struggled in the beginning with our formation as a team, in keeping tight throughout the midfield and the defense," Niles said. "But as the season went on, I think a lot of our relationships grew, and the consistency [in communicating] really grew. I'd say that was the biggest growth."
Harkin said the team will need to find ways to win even on bad days.
"We had to play really well to win games, and good teams win games whenever they're not playing well. They bend but they don't break, and we broke too many times this year," Harkin said.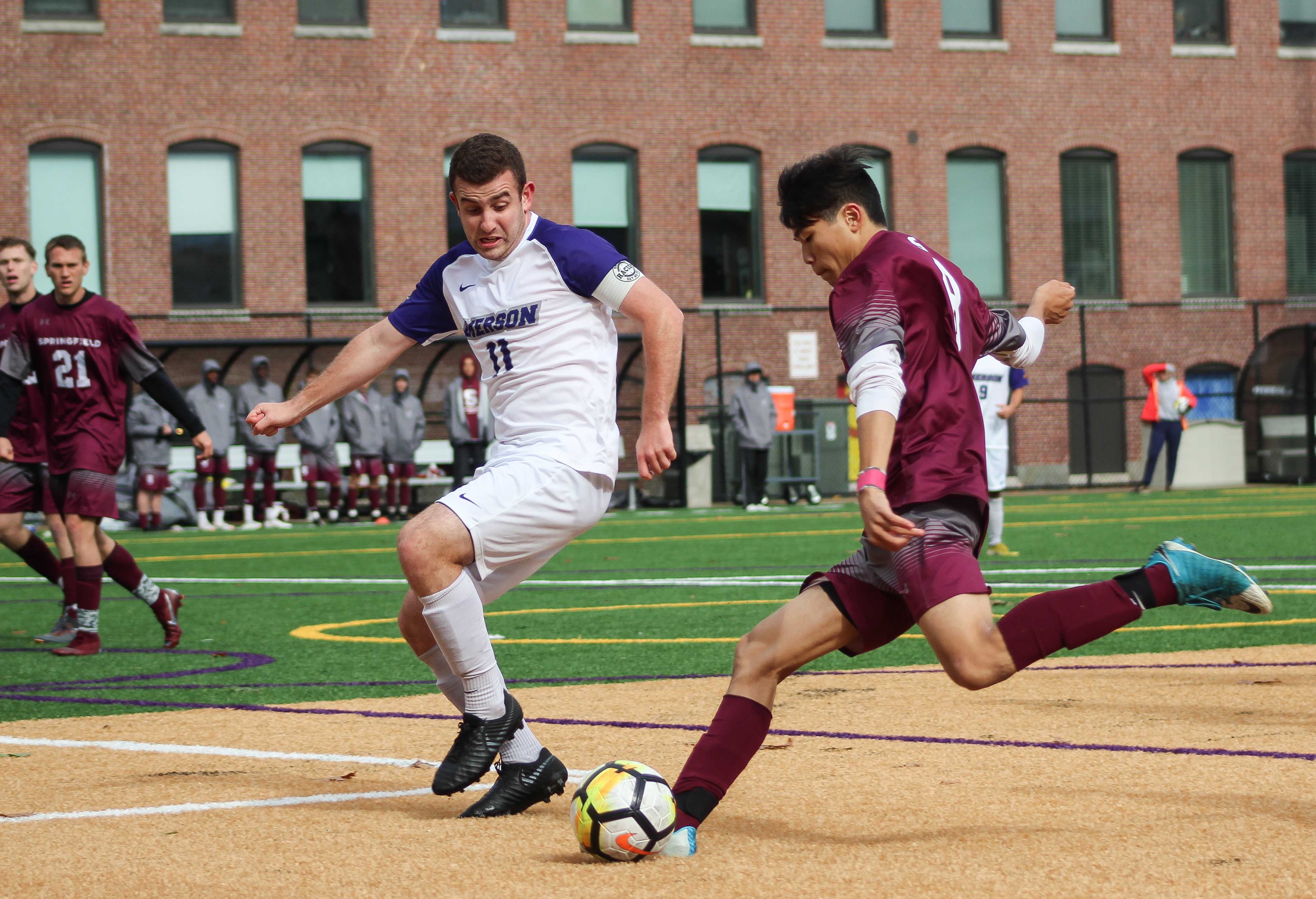 Though the Lions struggled this season, Harkin said there is reason to hope they will have more success—the team is incredibly young. He believes that, with increased training and a new batch of recruits next year, they will be ready to compete with a young team.  
"Spring will be a vital time for this group to grow together, to get in the weight room together, to play games together, to train together," Harkin said. "The group has a lot of potential. We have a lot of good players and good characters. We will add another group next year and they will be the group to transform Emerson soccer and get us to the next level."
As the team prepares for next year, they will also lose three seniors—forward Max DeLuca, forward Danylo Kowal, and Bou Aziz. Niles said that, with the loss of these senior leaders, the squad will look to the leadership of Harkin and Dorfman to guide the younger players and keep the group motivated and focused.
"The thing that kept us together the most was our leadership, whether that was from our captain or from our coach," Niles said. "I'd say the leaders have always kept us motivated and kept us focused on what we were trying to do."
With over half the team comprised of underclassmen for next season, Harkin said the Lions will have to once again rely on youth to drive them towards their goal: the playoffs. Harkin said there is a lot of positive energy and optimism since the players all want to improve for next season.
"It's been fun to be around the guys and see them learn, mature, and keep working. It would've been easy to just quit at times but this group showed a real good energy and desire that they want to improve and want to get better," Harkin said. "I give them a lot of credit for sticking with that, and we'll go into the offseason with some positivity despite a tough season."
Despite a rough season, Niles said he hopes the young core will develop and lead the team to a more successful season next year.
"I'm just really excited to get the core group of guys back and bring in some new people and let them know what we're trying to work towards," Niles said. "I think we have a super strong core group and a good group of young guys that are going to carry this team and, hopefully, we'll see a lot more success."
Deputy Sports Editor Aaron Miller did not edit this article due to a conflict of interest.