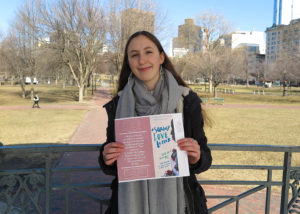 Propelled by the #MeToo movement, Lydia Albonesi brought Survivor Love Letter—a social media campaign where participants write love letters to survivors of sexual assault—to Emerson for Valentine's Day.
Using the hashtag #SurvivorLoveLetter, participants read their letters in videos or post photos of them to social media on or after Valentine's Day. Writers address their letters to themselves, loved ones, or entire communities.
Albonesi, a freshman writing, literature and publishing major, said the campaign aims to begin a conversation about defining survivorship and providing an inclusive space for anyone to support survivors. She hopes the campaign will eventually grow at Emerson and expand to other universities.
"[Sexual assault is] such a prevalent issue on college campuses," she said. "I think this movement is a unique way to open up a conversation about it and unite a community in trying to heal and recover from something like this."
The movement's founder, Tani Ikeda, started the campaign on Valentine's Day in 2014, the anniversary of her sexual assault. The Tumblr movement expanded to other social media such as Instagram and Facebook.
Lydia's sister, Sarah Albonesi, had a connection with the founder of the movement. Sarah Albonesi said her business partner, Ugenia Spokes, also had friends who participated in the campaign in earlier years. Ikeda gave Albonesi and Spokes permission to revitalize and promote Survivor Love Letter, Albonesi said.
"We thought this was very timely because #MeToo got a lot of awareness out about sexual assault, which is a very important step," Sarah Albonesi said. "I also feel like it raised a lot of anger, which is rightly so, but a lot of people don't know how to harness that anger and really heal from events like this. It's really a movement about love and healing from sexual assault as an individual and as a community."
Both Albonesi sisters said they hoped to expand the movement from Tumblr to other social media platforms, namely Instagram. Lydia Albonesi said she wants to spread awareness at Emerson, and Sarah Albonesi said she reached out to social media influencers, including Internet personality KingBach and model Lala Kent, asking them to post about the campaign.
Sarah Albonesi founded a female-run production company called FWIN Productions, which she said created two promotional videos for the movement to post on their website on Valentine's Day. The first video features people reading the letters they wrote. The other video portrays a fictional narrative about a boyfriend reading a love letter to his girlfriend.
"We wanted this to be a very inclusive movement where everyone can tell their story, not just someone who's been sexually assaulted, but a guy whose girlfriend may have been sexually assaulted or a women whose friend has been," Sarah Albonesi said.
Both sisters said they hope to create a campaign that stretches beyond Valentine's Day and reaches a wider audience.
"The hope is to kickstart it on Valentine's Day, but we hope people will keep posting letters of self-love or to a loved one who's been impacted by this," Sarah Albonesi said.