Gray '19 to continue professional basketball journey with Ironi Kiryat Ata
In summer 2017, Geoff Gray '19 stood in a Jerusalem bar watching fans celebrate Hapoel Jerusalem's Israeli Basketball Premier League Championship win. 
This was Gray's first in-person impression of professional basketball in Israel, and he said it created a lasting memory. A college junior at the time, Gray was in the country on Birthright, an organized ten-day trip where he had the opportunity to learn about his Jewish heritage. Not only did Gray get to see the majority of Israel on this trip, he also familiarized himself with the country's basketball fanbase. 
"I saw how crazy the fans went when they won, and I saw how much they embrace the culture as basketball fans," Gray said in a phone interview with The Beacon from Newton. "I was like, wow, if I'm developing myself as a player and get good enough to a point where maybe I can get out here and keep playing after college, I might as well go for it all now because I have the resources at Emerson, and I had the right support system around me."
Over his next two seasons as a Lion, Gray averaged more than 20 points per game, appeared on the New England Women's and Men's Basketball All-Conference team twice, recorded the men's basketball team's first triple double, and played an integral role in the team's 2019 conference championship victory. 
These accomplishments helped Gray launch his professional career, and he signed with Hapoel Eilat of Israel's Premier League in August 2019, just months after graduating. Gray appeared in 17 games in Israel before the season was cut short due to the COVID-19 pandemic. After months of training back home in Newton, Gray announced he would be continuing his professional career with Ironi Kiryat Ata of the Israeli Basketball National League, the second division of Israel, on July 22. 
Gray played 5.2 minutes per game during his time with Hapoel Eilat. After discussing his options with his agent Matan Siman-Tov, who also represents former NBA players Amare Stoudemire and Omri Casspi, Gray decided to move to Ironi Kiryat Ata because it gave him a better opportunity to showcase his skills.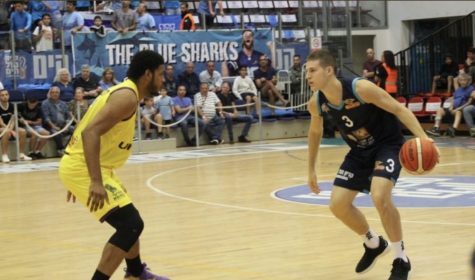 "My agent and I both thought it was a good idea to go down to the second division in Israel because I want to be able to show what I can do," Gray said. "And if I'm playing more, that's the best way."
Gray said he was already a part of a group chat made up of rookies in Israel who played at Division III schools. Another member of the group chat, Elijah Hirsch, plays for Ironi Kiryat Ata. Gray said Hirsch contacted him to see where he was headed this offseason, and when Gray told him he was talking to teams in Israel's second division, Hirsch spoke with his head coach and general manager of Ironi Kiryat Ata to help work out a deal. 
According to data from the NCAA, 891 college athletes from the 2018 class went on to play professional basketball in the following year. This number includes more than 600 athletes from Division I, 194 from Division II, and 39 athletes from Division III.
It can be difficult for international players to find opportunities in Israel because Premier League teams have limits on how many foreign players can be on the roster. Teams are restricted to eight foreign players and also receive financial incentives if they have under five. But Gray elected to become an Israeli citizen during his Birthright trip, which means he does not count towards that number. 
Despite this apparent advantage over his Division III peers, there was no guarantee Gray would find a team in Israel. After another potential opportunity fell through in July 2019, Siman-Tov approached Gray with the opportunity to play for Hapoel Eilat in the third week of August. Gray flew to Israel a week later. 
"They put the deal together after like two days, I sat on it for like a day or two, decided it was what's best for me, and then ended up flying out like four days later," he said. 
Gray said he lived in Boston for 22 years before moving to Israel, which led to a significant adjustment period both on and off the court. His prior trip to Israel showed him the majority of the country, but it did not include Hapoel Eilat's remote desert location. 
"I was in Eilat, which was like a three hour, four hour drive from kind of the rest of Israel because there's a resort location in the desert," Gray said. "It was really secluded, and I had a lot of free time and stuff, but those experiences help you grow as a person because you learn things by yourself and you pick up on things that maybe, you know, you wouldn't do if you were at home and you're comfortable in the environment."
Hapoel Eilat would hold one organized practice each day, usually at night, leaving Gray with a lot of free time. Gray said he would try to start each day by going to the gym to practice shooting. The courts would not always be available, so Gray said he would often go to a local hotel that allowed him to use its pool, or he would lift weights. Between these workouts, and his side job working for PlaySight Interactive, a basketball video analytics technology company, Gray said he was able to fill his days in productive ways. 
On the court, Gray said he played with and against some athletes who have experience playing all over the world, including the NBA. This included James Young and Gilbert Brown, who both spent time with the Boston Celtics. 
"On the court, the players were just bigger, faster, stronger than what I was used to," Gray said. "They get to their spots way quicker, the game is more physical."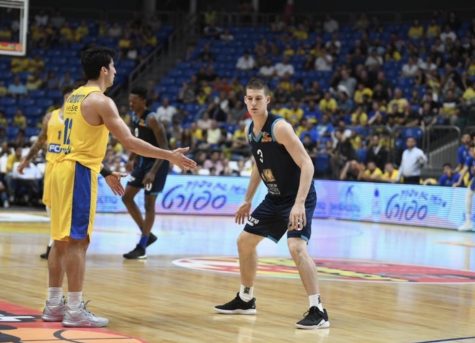 After a couple months went by, Gray said he started to better understand how to position himself on defense and use angles to his advantage. In addition to learning how to physically adjust on the court, he said he also started to take advantage of the wealth of basketball knowledge his teammates possessed. 
"You're scrimmaging every day with guys who have been playing overseas for, some of them, 10 or more years," Gray said. "Their minds are just so much more elite than the average basketball mind, and you get to learn from them."
Men's basketball head coach Bill Curley said Gray's work ethic and mentality brought him success during his time at the college and afterward. Curley, who spent five years with various teams in the NBA, said his advice to Gray was to stay true to what helped get him to this point. 
"I told him it's going to be a big adjustment just from where he can't just say, 'Well, I'm just happy to be there,'" Curley said in a phone interview with The Beacon. "You've got to be respectful to veterans, but you've got to go out there and remember what got you there. He made it because he was tenacious. You know, he'd go after every ball, he'd come up with loose balls, he'd hit big shots. He was fearless out there."
Curley said he and men's basketball assistant coach Jack Barrett were able to watch some of Gray's games, and the two frequently spoke over the phone with the point guard. Gray suffered a broken nose during his rookie season, and when Curley saw the video of the play, he talked to Gray like he was still playing in the Brown and Plofker gym. 
"I said, 'Yeah, but if you were in the right place defensively, that wouldn't have happened,'" Curley said with a laugh. "'Still making the same mistakes, Geoff, that one just hurts a little bit more.'"
The close-knit relationship between Curley, Barrett, and Gray goes beyond the basketball court, but Gray also credits them with a lot of his development as a player.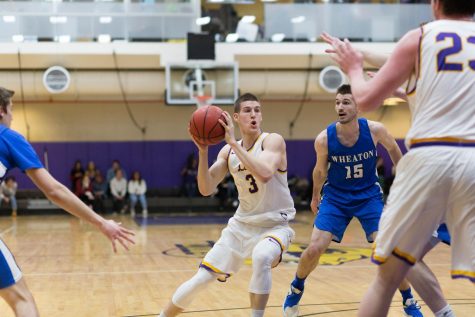 "The guys who I probably owe the most credit to for my success in my basketball career in terms of strictly basketball and also life stuff are Jack Barrett, and coach Curley," Gray said. 
Gray's rookie season in Israel was suspended in March due to the COVID-19 pandemic, and he crammed onto a crowded flight back to the United States. In recent months, Gray said he has been training consistently and running hills to stay in shape, but he has not been able to play full games. 
After Gray elected not to play in the Premier League restart in June, Ironi Kiryat Ata is planning to fly him back to Israel at the end of August. No matter where he is playing basketball, Curley said Gray will always be a member of the Emerson community. 
"Geoff is an Emerson Lion for life," Curley said. 
Leave a Comment