Freshman guard Ben Allen and sophomore guard Zach Waterhouse shared the soccer field in elementary school—now they share the basketball court in college.
Waterhouse and Allen played sports together their entire childhood growing up in nearby towns in New Hampshire, including high school basketball together at Winnacunnet High School in Hampton. 
"I love playing with [Allen]," Waterhouse said in an interview. "He loves to pass the ball. He's a great player. He's got good size. He can shoot. He can do everything. I'm really excited to play with him because he's like my best friend."
Allen said the chemistry between the two players is one of the reasons he is optimistic about the team's chances. 
"I'm really excited to get the season going, because I think we have all the tools to do something special here," he said in an interview.  
The Lions are set to start the season at home on Nov. 9 against Worcester State University after coming off a historic season in which they won their first New England Women's and Men's Athletic Conference championship in program history. 
Before their championship run, the Lions were voted to finish sixth out of eight teams in the NEWMAC Preseason Poll. 
The Lions defeated Worcester Polytechnic Institute 93-75 in the NEWMAC championship game behind then-junior guard Jack O'Connor's 33-points. Head coach Bill Curley said the chip on their shoulder turned into a target on their backs now that they are the defending champions. 
"It's a little bit different now that we aren't sneaking up on anybody," Curley said in an interview. "The rest of the league has a sour taste in their mouth that we were able to get the better of them. Now we have to find a way to recapture that and run faster now that we are ahead."
Despite their success last year, Waterhouse said the team is still extremely motivated. 
"There are obviously a lot of good teams in our conference, so we know how hard it is," Waterhouse said. "You almost have to think about that underdog mentality to get these wins."
Curley believes the players are ready to face the added pressure and praised the work the team put in over the offseason.
"Our guys have done a tremendous job carrying that momentum over," Curley said. "They've been in the weight room, they've been running, they've been playing, and they've been getting extra shots. That's hopefully going to pay dividends when we start playing."
The Lions will have to fill the role left by star point guard Geoff Gray. Gray plays professionally for Hapoel Eilat in Israel after averaging 20.4 points and 9.5 rebounds per game in his senior season for the Lions. In addition to Gray, the Lions lost the contributions of 7'1" center Mac Sashin who appeared in eight games last year.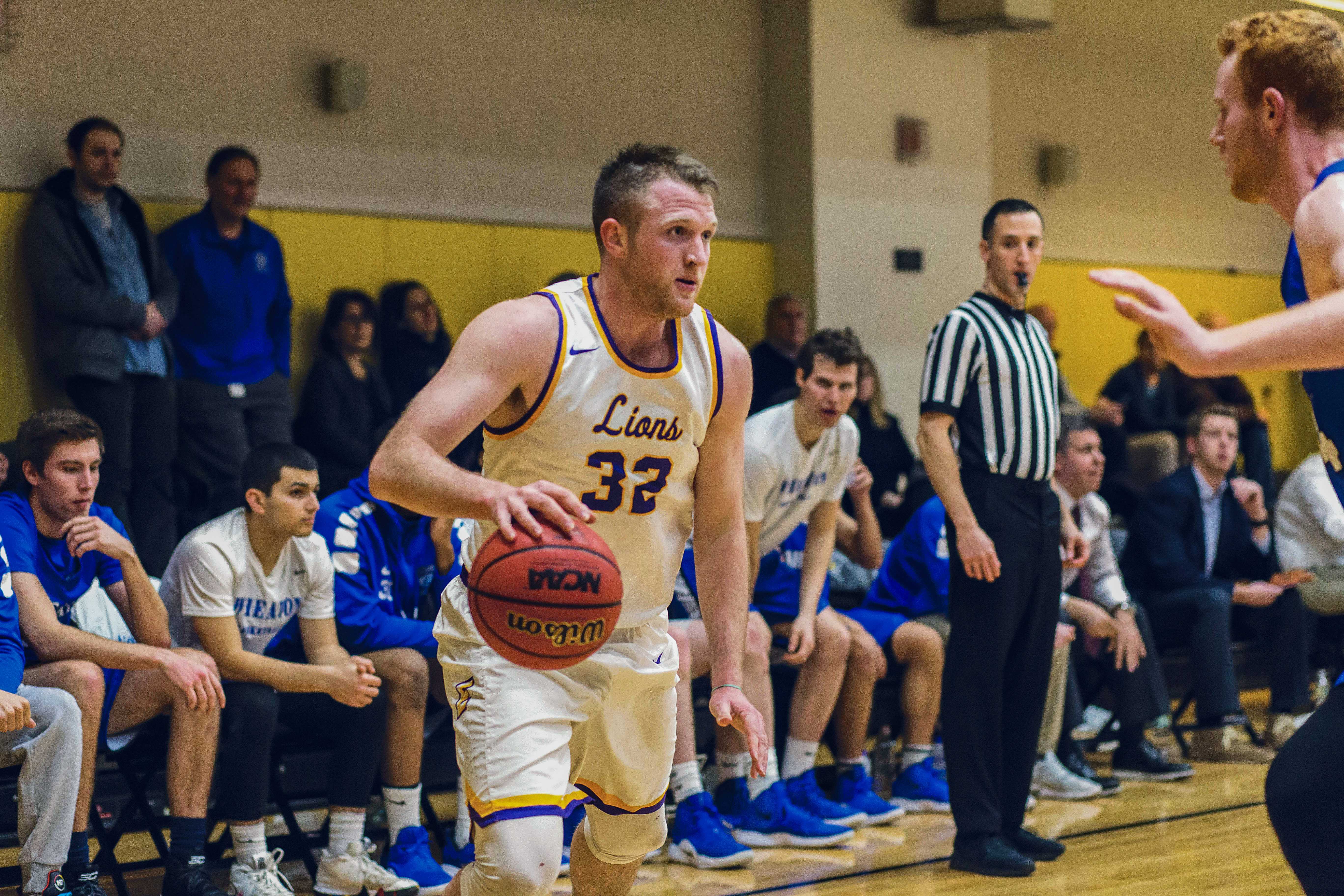 When discussing how the team plans to make up for this loss of production, Curley said multiple members of the team are stepping up. 
"Geoff had a tremendous career and had a tremendous year last year, so it's going to be very difficult to try and say we've got one guy to do that," Curley said. "We're just asking our guys to be themselves. We're just asking Jack O'Connor to be Jack O'Connor, Waterhouse to be Waterhouse, Jarred [Houston] to be Jarred. I think you see a little bit more maturity from the guys that were here last year as freshmen."
Only losing two seniors to graduation means a majority of the Lions' production from the 2018-19 season is returning. 
O'Connor averaged 19.8 points last year and pulled down six rebounds per game. He ranked third in the NEWMAC in points per game and free throw percentage. 
As a freshman last year, Waterhouse won the NEWMAC Rookie of the Year award. He started 20 of the Lions' 28 games last season, scored 16.6 points per game, and made 42.5 percent of his three-point shots. Waterhouse's three-point percentage tied Coast Guard Academy's Packy Witkowski for second place in the conference. 
Waterhouse said he put in a lot of work during the offseason to take the next step of his career. 
"I focused on trying to get stronger," Waterhouse said. "I just got a lot of shots up and tried to make my own plays more now, because I'll probably get a little more attention on the offensive side from opposing defenses."
In addition to their high-scoring backcourt, the Lions will also have sophomore Jarred Houston at the center. The 6'10" Norwood native started 27 games last year and placed in the conference's top five in both field goal percentage and rebounds per game. He collected double-digit rebounds in eight games, including a career-high 18 against Coast Guard on Jan. 2. 
The Lions brought in five freshmen, four of which are already standing out on the practice court, Waterhouse said. James Gascoigne, the fifth member of the freshman class, is out for the year after undergoing hip surgery. 
"They look really good," Waterhouse said. "All four of them look like they can have immediate impacts for us and can help us, and they're all like 6'5" plus, which is really nice."
Allen said he loves the team so far and is excited to take any role he is given. 
"Whatever the coaches ask me to do, I'll do it," Allen said. "I've never really had a set position, so wherever they need me to fill in, that's where I'll go." 
Curley said the team will have the collective goal of improving on defense. 
"We gave up 80 points per game last year, and we scored 80 points per game," Curley said. "Something's got to give, so we have to do a little bit better job on the defensive end."
Waterhouse said he enjoys Curley's coaching style.
"He's like my favorite coach I've ever had in my whole life in basketball," Waterhouse said. "He has experienced the highest level of basketball that you can experience, and having him impart his wisdom on us is really cool."