Gray and Boyle named to NEWMAC All-Conference teams
By Kyle Bray, Former Managing Editor: Visual and Design
February 28, 2018
Four of Emerson's basketball players received honors from the New England Women's and Men's Athletic Conference this week.
Junior Geoff Gray of the men's basketball team was named to the NEWMAC Men's Basketball All-Conference First Team, an award voted on by the eight head coaches in the conference. This is Gray's first time earning this award and he is the first men's basketball player honored on the first team since Jon Goldberg in 2014.
Gray had a career year in 2018, scoring a personal high of 527 points in 25 games. He became the 14th men's basketball player to score 1,000 career points.
Gray also scored a career high 47 points against Babson College on Nov. 18 and earned the first triple double in Emerson men's basketball history with 29 points, 10 rebounds, and 10 assists against Newbury College on Feb. 14.
The Newton, Massachusetts native averaged just shy of a double double this season as he scored 21.1 points per game and added 9.4 rebounds per game.
Charlie Boyle of the women's basketball team was named to the NEWMAC Women's Basketball All-Conference Second Team for the second season in a row. Similar to the men's award, this honor is voted on by the 11 head coaches in the conference.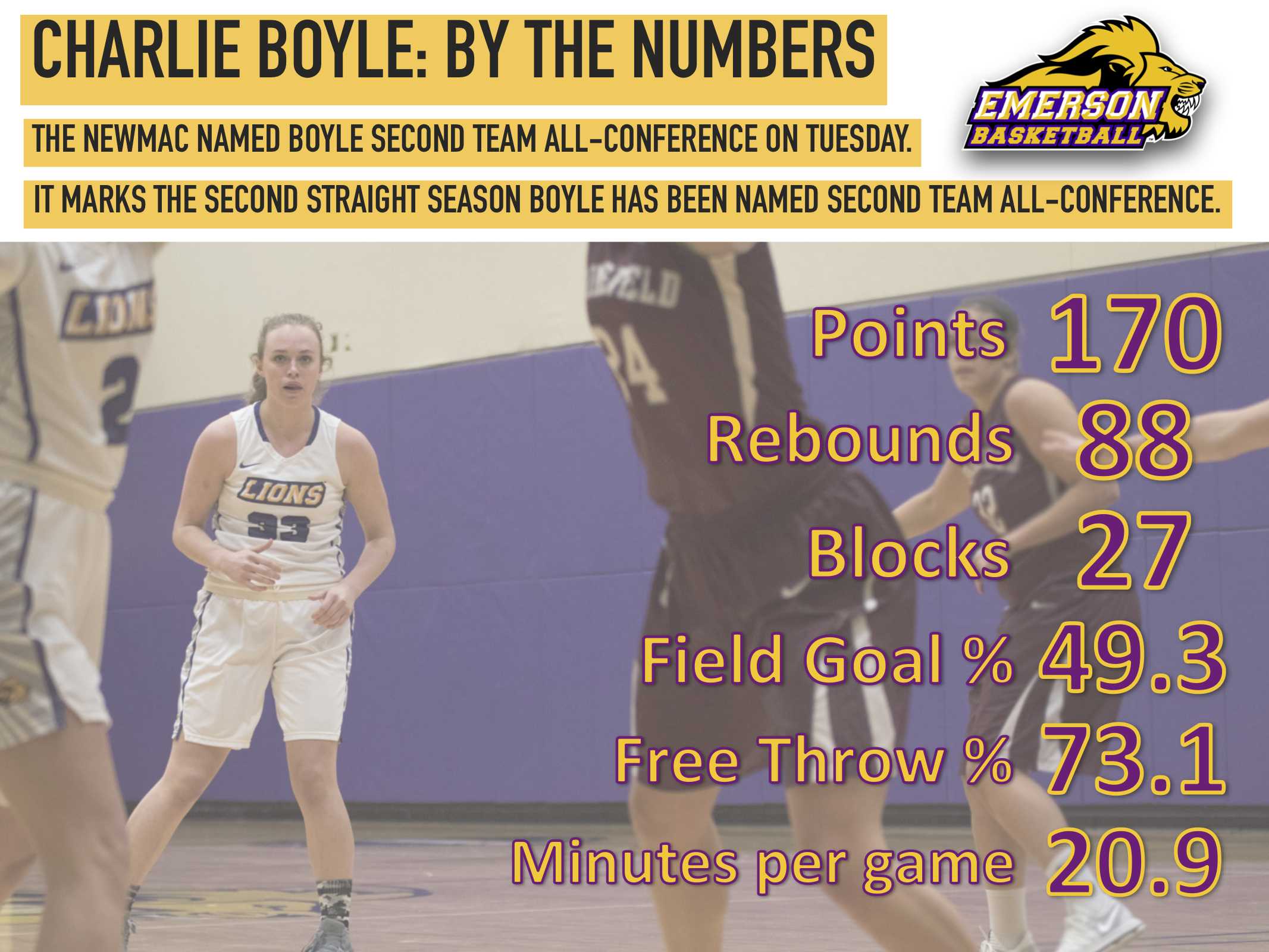 The junior earned this recognition despite missing seven games in November and December due to a back injury she suffered in the preseason. Boyle went on to average 8.9 points per game and 4.6 rebounds per game in 19 games for the Lions. She was second on the team in both categories.
Freshman Jaelen Ogadhoh of the men's team and sophomore Natalie Clydesdale of the women's team were both named to the 2017-18 NEWMAC Basketball All-Sportsmanship Team. Every player chosen for this award "best demonstrates the ideals of the NEWMAC and its Code of Conduct, regardless of his/her overall performance or statistics for the season," according to the NEWMAC website.
Clydesdale played in 25 games for the women's basketball team and averaged 6.9 points and 4.5 rebounds per game. Ogadhoh featured in 19 games for the Lions and averaged 1.6 points and rebounds per game.