Indigenous Peoples' Day protest calls for end of Columbus Day
Hundreds marched from Boston Common to the North End Saturday afternoon to call on the city of Boston to formally replace Columbus Day with Indigenous Peoples' Day and remove existing monuments of Christopher Columbus nationwide. 
Protesters began at Park Street station before walking peacefully through downtown crossing to Faneuil Hall and Christopher Columbus Park. Chants of "Hey hey, ho ho, Columbus Day has got to go," "City by city, town by town, Christopher Columbus must come down," and "Make America native again" rang out through the crowd as they marched.  
When the protest reached Faneuil Hall, participants burned incense and sang "We shall overcome" as they passed through the outdoor mall. 
The protest was organized by IndigenousPeoplesDayMA.org, along with the help of several other organizations including United American Indians of New England, the Freedom Fighters Coalition, and the North American Indian Center of Boston.
Ernst Jacques, an activist with Freedom Fighters Coalition who led the crowd through downtown from the bed of a truck, said it was past time for the city to remove the symbols of Columbus. 
"He doesn't represent anything positive so people shouldn't be uplifting him," he said. "I feel like indigenous people and Black Lives Matter go hand in hand, because at the end of the day we're all fighting for justice. So obviously I'm definitely going to do whatever I can to support that so that's why I'm out here."
Jacques said continuing to support Columbus was akin to supporting white supremacy. 
"If you continue to support this man who traded and raped and killed and mass genocided these people, if you continue to support him that's basically you continuing to support white supremacy," he said. "It needs to come to a point eventually where we hold people accountable for their shit."
Jojo Leak, a student who participated in the protests, said he tries to stay up to date with different social causes in Boston.
"[I came] to support indigenous people," he said. "I think we all have to support each other during this time"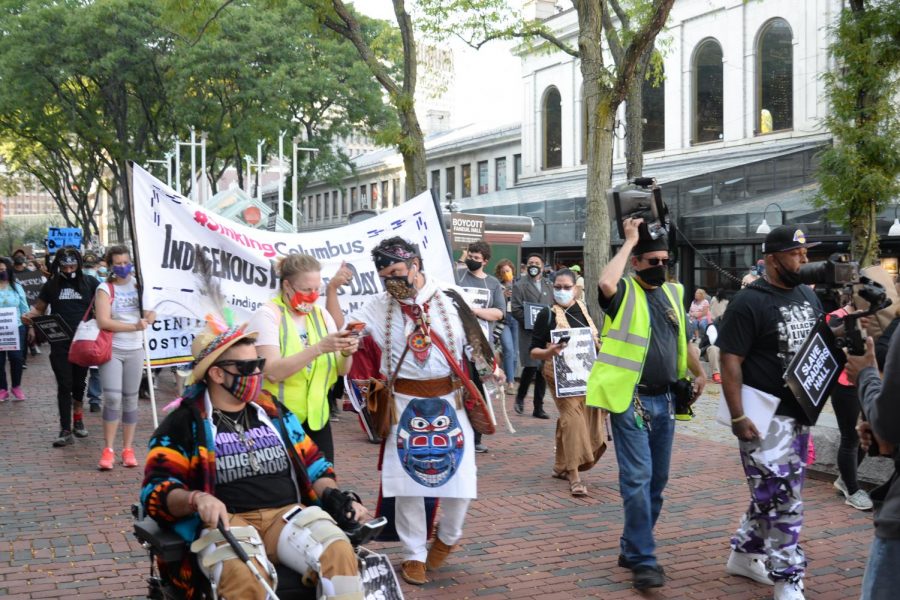 Chastidy Vasconez, a student at Tufts University who came to the protest with a friend, said more recognition of the violence and discrimination faced by indigenous communities is essential. 
"It's important to use this day to recognize that because we've still got these monuments up but like it's harmful to indigenous communities and other minority groups as well," she said. "It's like having a permanent monument, like why are we idolizing these figures when there's a lot of erasure that happens with the history of what actually happened. " 
Chali'Naru Dones, an indigenous activist and member of the Taino tribe, delivered a speech during the march on top of the pedestal that once held a Christopher Columbus statue in the North End. The statue was beheaded in June and then put into storage. It's now slated to be erected again at an affordable housing unit on North Margin Street.
Dones said her experience speaking from the statue's former home was emotional because Columbus serves as a symbol of pain. 
"Having this type of unity and this support has superseded any expectation that I had," she told The Beacon. "We're here as one people, doesn't matter if you're Black, White, Purple, today we were one."
Dones, whose son accompanied her to the protest, said she wants to see education around Columbus changed. 
"Our children are our future, we all know this," she said. "Teaching them lies isn't going to advance them mentally, emotionally, they need to know the truth. No longer are we going to live a lie, we've been living a lie for so long that it's not fair anymore, the myth that they teach — it's a slap in the face and downright insulting"
UIANE Co-Leader Mahtowin Munro said during the march that Boston Mayor Martin J. Walsh needs to do more to support indigenous people in the city. 
"It is not up to this old Irish ass mayor to…decide what is offensive to us," she said. 
Six cities and towns across Massachusetts have officially replaced Columbus Day with Indigenous Peoples' Day, including Somerville and Cambridge. Vermont and Maine have also made the switch, along with several major cities nationwide including Los Angeles, Portland, and Seattle. Emerson's fall calendar first lists Indigenous People's Day then Columbus Day in brackets for Oct. 12. 
Munro, who is also the lead organizer for IndigenousPeoplesDayMa.org, said in an emailed statement that indigenous people are "tired of being largely ignored and erased."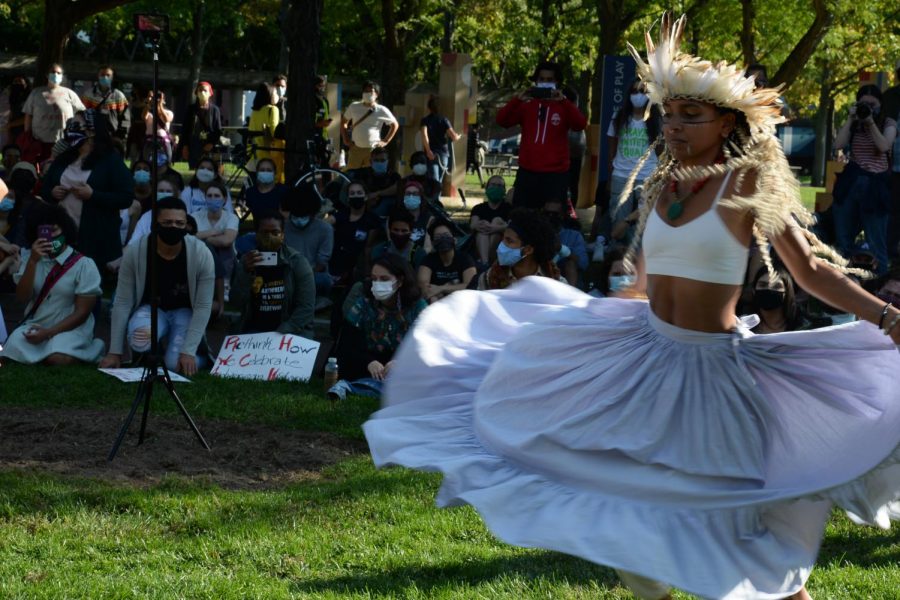 "Indigenous Peoples' Day brings a positive message about Indigenous survival and resilience in the face of genocidal actions directed against Indigenous peoples since 1492," the statement reads. "It's a day to learn about and celebrate Indigenous history and contemporary Indigenous peoples and cultures. And it is just a first step for cities and towns to begin to build relationships with Indigenous people and begin to address the many injustices faced by Indigenous people here in Boston and elsewhere. " 
The protest concluded with a traditional Taino dance, known as "bomba," in which Dones and other members of the tribe danced along to a drumbeat as participants looked on from the grass in Columbus Park.