ITG hosts workshops for new video-streaming program 'Panopto'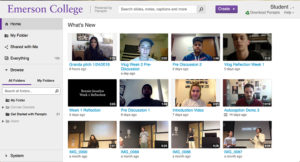 On Jan. 16, ITG sent out an email stating Emerson's former video streaming program, Median, will expire June of 2018, encouraging students to save their old median content as the college transitions into a new program called Panopto.
The Instructional Technology Group is hosting a series of faculty training sessions for preexisting video streaming service, Panopto, from Jan. 29 through Mar. 23.
"We are going to have a brief overview on how to share videos with students and upload videos onto canvas through Panopto," Instructional Technologist Weiyang Liu said.
Panopto allows students to record lectures, stream video, and audio. With Panopto, students can record videos on their phones and upload them onto Canvas to share with professors and classmates.
Panopto allows teachers to make notes within the video, submit video assignments that monitor when students view a posted video and for how long, and access a search engine by words in the video, Instructional Technologist Illona Yukhayev said.
Median is a video streaming service unique to Emerson that allows for basic video uploading and sharing features, but is less efficient in speed, and lacked the interior features that of Panopto.
Sophomore Kayla LaRosa said she used Panopto in her Beat Reporting class this past fall, and felt the program was much more efficient than Median.
"Median just felt a little isolated and janky at times," LaRosa said. "Median was a server just specifically for Emerson which is good in theory, but if too many people are trying to use it then it can be difficult."
In April 2017, ITG hosted faculty and student surveys and user testing events to collect input from the student body on what video-streaming program should replace Median.
After compiling student and faculty data, Emerson's Faculty Technology Committee decided Panopto was the best fit for the college based on student and faculty response.
Junior Samantha Hollows works at the IT Help desk and helped contribute to the installment of the new system in its final phases around November 2017.
"I think it will be a much easier interface to use if professors specifically want us to upload to it," Hollows said. "I think it will probably make the overall process of uploading videos easier."
Dates and registration for workshops can be found on the Emerson IT Help Desk website.
Max Reyes contributed to this article.