Junior jumps into cheer squad as male cheerleader
By Kyle Bray, Former Managing Editor: Visual and Design
October 29, 2018
When Ryan Rinaldi transferred to Emerson from the San Francisco Art Institute, he did not anticipate becoming a cheerleader. But after attending the organization fair in his second year at Emerson, the junior signed up for the Emerson Cheer Squad.  
"I kind of have a background in some kind of flips, and I knew that if I made it, I'd be able to bring something to the team," Rinaldi said. "And that's where the seed was planted. I decided to eventually sign up and go to tryouts."
Rinaldi said he made the squad despite having no experience in cheerleading or dance. He said he gained his skills for cheerleading from doing parkour with his friends and his black belt in the martial art Tang Soo Do.
Rinaldi features as one of the first male cheerleaders to join the Emerson Cheer Squad since its creation in 2009. He said his teammates helped him settle into his new position.
"I would consider my skill set very rough, so they've been really patient," Rinaldi said. "They've been accommodating to try to work me into what they want to do instead of trying to force me into things that I probably wouldn't be very good at."
Cheer Squad co-captain Hannah McEachern said she was surprised to see Rinaldi show interest in joining the team.
"We're usually always surprised to see any guy come up to our org-fair table," McEachern said. "We always say that we want guys to come but usually in the past, there have been guys that have been like, 'Oh, yeah, cheerleading—sounds cool,' but then never show up, so we were pleasantly surprised to have Ryan come out and really give it his all."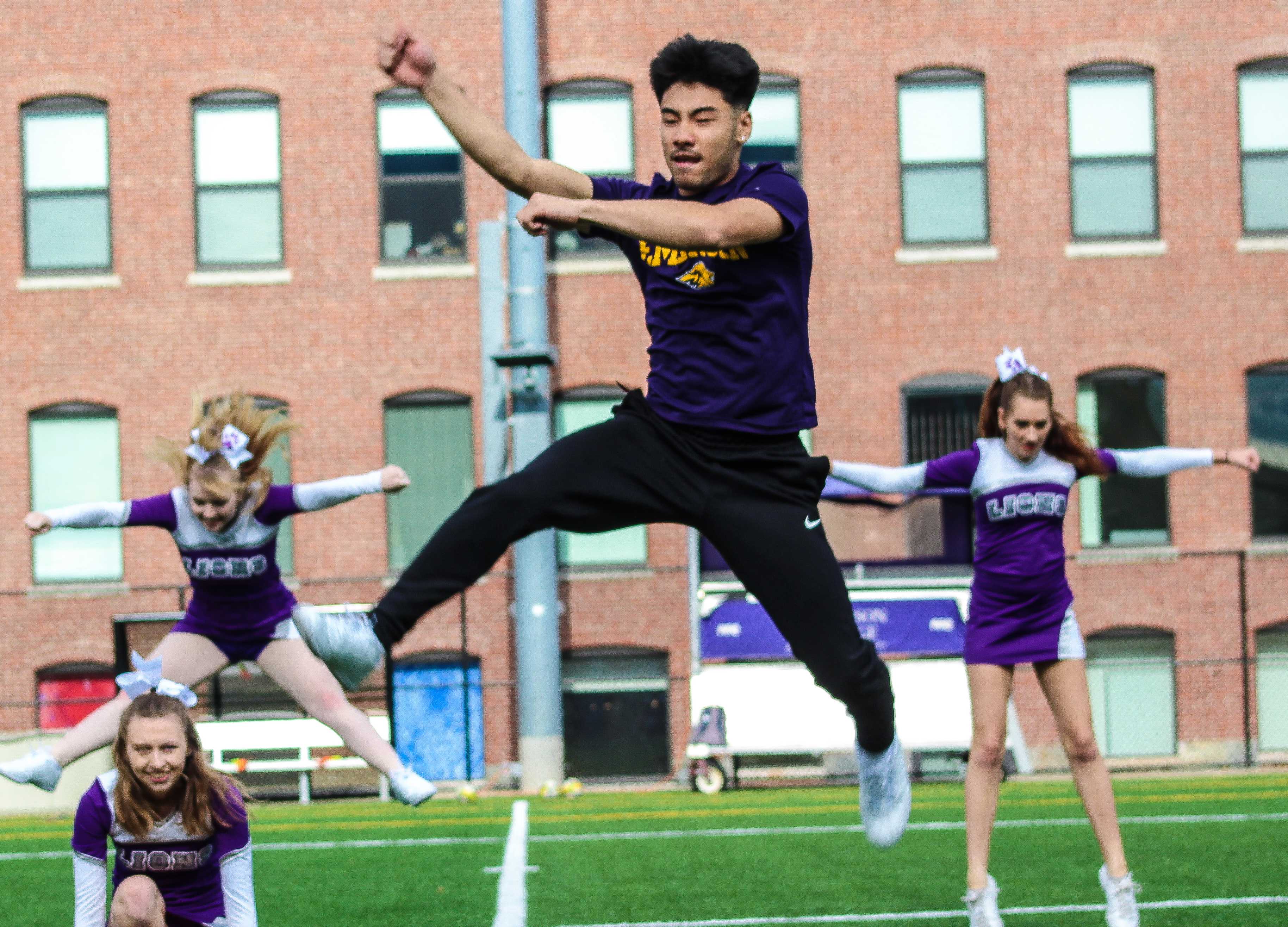 McEachern said that not only is Rinaldi adapting well to the sport, but he also endeared himself to the team early on with his dedication. One moment that stood out to McEachern, she said, was when Rinaldi decided to decorate a hair bow at one of the team's new member welcome events, despite the fact he does not wear one when the team performs.
"I thought that really signified how [into the team] he was," McEachern said. "He's so committed. He's always at practice giving it his all, and I think it's a great leadership quality that he brings to the team."
Vanessa Malouf, the other captain for the Cheer Squad, said Rinaldi impressed her early on with his dedication to the team.
"He is an amazing teammate. He is one of the most dedicated people to the team," Malouf said. "He comes to every practice and has a smile on his face, and he's energetic. He's just a happy, genuine person who is here to support the team. He's so engaged and that's something we like to see from our team members."
Rinaldi said his favorite part of being on the team is the people he's met.
"We have two great captains right now. All the girls on the squad—they all have great personalities," Rinaldi said. "They're really into making sure everything comes out well in the end. I think the cheer squad goes heavily unnoticed but nevertheless, they put in the work."
Rinaldi, a visual and media arts major, said he originally decided to transfer to Emerson because he found his old school underwhelming, both academically and creatively.
Off the field, the Waterbury, Conn. native is a huge New York Yankees fan and enjoys playing the popular baseball video game MLB the Show in his free time.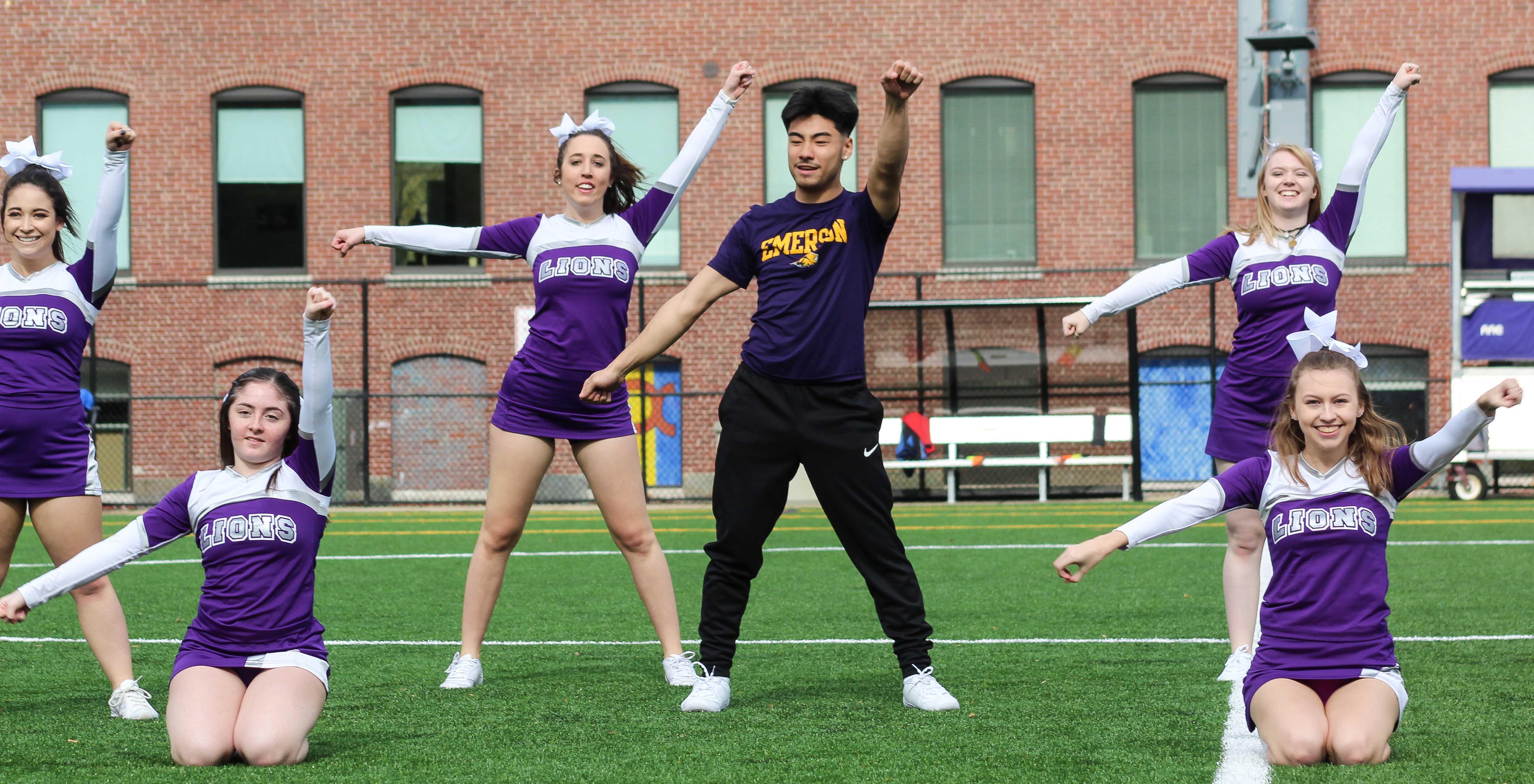 McEachern said Rinaldi's presence on the team helps open the door for more men to join in the future.
"It really opens the floodgates for guys that maybe have thought about cheerleading just to come out and try it," McEachern said. "He has never cheered before and never danced before, and he is such a change-maker for us as well. When we get new uniforms soon, hopefully, we'll definitely be getting more men's shirts because [having] him on the squad is a great beacon for others that might want to join."
As far as advice for people interested in the joining the squad goes, Rinaldi said it's all about having an open mind.
"I'd say that no matter what your skill set is, you can always bring something to the table for the squad," Rinaldi said. "I think my story is more applicable to the general idea of wanting to be open-minded when you come to college. I didn't go to the org-fair thinking I would be joining and I just gave it a shot, and it's been something that's been a highlight of my year. I think just keeping an open mind, and don't think that you have to be experienced to try something out."