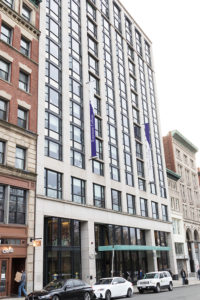 Some freshmen will enter a lottery for permission to move off-campus while some upperclassmen will apply to do the opposite this spring.
Freshmen can add their names to the lottery through a link on an Emerson Housing Release webpage starting March 14.
Seth Hodge, associate director of housing operations, said people are chosen randomly out of the lottery after students receive housing assignments in the spring when it is clear how much space remains vacant.
"We want to be sure that everybody who has a guarantee has a bed and if in that process we need to even the numbers out by releasing people, then we want to be sure that we are opening that up to anyone who's interested," Hodge said.
There is also an application for sophomores and juniors who no longer have the housing guarantee but would like to remain on-campus, and it's released at the same time as all housing applications. 
The upperclassmen can enter an application pool and are only considered if there is extra room. Only about 2 percent of the students who enter the pool get chosen for on-campus housing and hear back from the housing office mid-August, Hodge said.
"We don't use the term 'lottery' anymore because it doesn't represent what we do," Kendra Stokes, assistant director of housing operations, said about the on-campus application pool. "'Lottery' and 'waitlist' can sometimes supply a false hope and we want to make sure we are as fair and as transparent in our process as possible."
Stokes said selection from this pool depends on the students' financial need and their demographics.
"We will do our best based on the students' needs and the space available to see if something can work," Stokes said.
The class of 2021 and each subsequent class will be required to live on-campus for six semesters. Previous classes were only required to live on campus for four. Hodge said the two-semester increase for freshman is due to the Little Building renovations, which will add enough rooms to house students for three years.