Maintenance staff risk safety to protect community
When maintenance worker Ramiro Soto returns home after a long day of cleaning Emerson buildings, he disinfects his backpack, jumps in the shower, and places the clothes he wore that day in a plastic bag in the basement to be cleaned later. Only after this routine does he sit down with his wife and daughter to eat dinner.

The responsibilities of maintenance workers at Emerson have ballooned during the pandemic as the importance of cleanliness has risen. Their new list of tasks includes sanitizing all campus spaces and cleaning the rooms in the Paramount residence hall that students who tested positive for COVID-19 once occupied.

There are currently 15 Emerson maintenance staff members who clean residence halls, Paramount quarantine and isolation rooms, and the Dining Center during the day from 6 a.m. to 3 p.m. The college also employs 32 third-party contract workers from Done Right Building Services and Compass Facility Services who work from 11 p.m. to 7 a.m. and sanitize all classrooms, studios, the gymnasium, and 172 Tremont meeting spaces, according to Duncan Pollock, interim assistant vice president of facilities management and campus services.

Emerson conducted a series of training sessions over the summer to ensure the safety and new responsibilities of maintenance staff employed by the college as well as third-party workers, Pollock said.

"There's a specific group of people that are trained for specific areas," Pollock said. "We have specific staff that goes in and does the room cleaning or the office cleaning or wherever the space is. And they've been trained on both the [Clorox] 360 machine, as well as how to do deep cleaning, and the products that they use and the safety precautions, what they need to wear for [personal protective equipment] and so forth."

Sanitation workers use Clorox 360 machines—which spray disinfecting liquid on surfaces and is effective against the SARS-CoV-2 virus that causes COVID-19—in all on-campus spaces, Pollock said.
Emerson owned two Clorox 360 machines and purchased an additional five over the summer. The machines cost approximately $5,000 per unit, Manager of Custodial Services Nestor Carranza said. 
"We saw what other colleges and universities were doing," Carranza said. "So we contacted our vendors and those machines were sold out and it took us two months to get the other three."
Staff members can sanitize all surfaces in a room in less than a minute with a Clorox 360 machine, but cannot reenter the room for 30 to 45 minutes after use due to the danger posed by chemicals used, according to Carranza.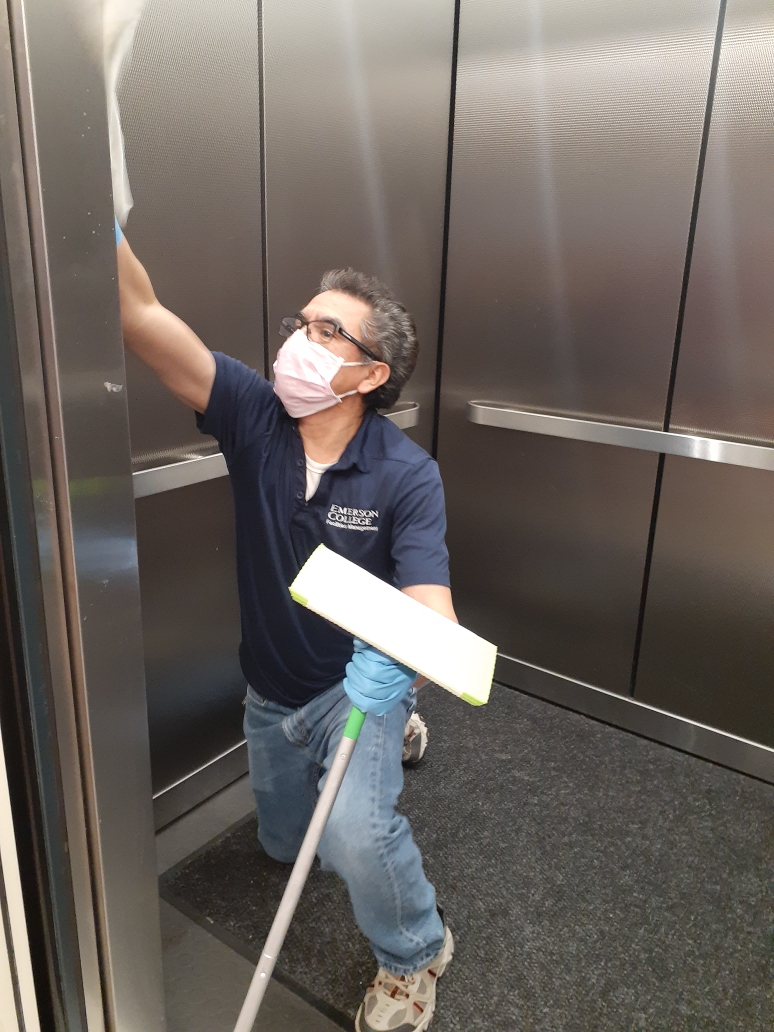 Before the pandemic, Carranza would arrive on campus between 5:30 and 6 a.m. to start his shift. Now, he arrives on campus as early as 4:30 a.m. 
"I walk the buildings with all the nighttime supervisors because our focus [is] the classrooms and also the dorms," he said. "We have to make sure everything has been cleaned, sanitized, the whole nine yards because it is important—extremely important."
Maintenance staff are required to wait 24 hours before sanitizing rooms that were formerly occupied by Emerson community members that tested positive for COVID-19, Pollock said. 
"They lockdown the space for 24 hours, that's supposedly how long the COVID can exist and live," Pollock said. "What they do after that is go in and they start with the 360 machine. They suit up, they have a respirator and a white jumpsuit that's made for this to protect them. They go in, they spray the unit, and then they get out of the unit and then they go back in and clean it manually."

Soto, a maintenance worker who started working at Emerson in 1989, said he felt concerned for the safety of his family when he found out his new set of tasks would include disinfecting Paramount rooms. 
"I got more scared to get sick and bring the sickness to my family," he said. "With all the suits that we have and safety gloves, and the mask and goggles, we live with it. You think all the time 'Maybe I'm sick today,' but doing the test every week can calm your nerves, too."

Maintenance staff are required by the college to get COVID-19 tests once a week from Tufts Medical Center. There have been no positive COVID-19 tests among maintenance workers to date, according to Carranza.  
Facilities management Crew Chief John Vanderpol's main responsibilities include trash removal, sanitizing the laundry rooms in Paramount, and spraying down laundry carts used to transport items to Paramount. Working in spaces where the virus is present has introduced a new level of precaution throughout his day, he said.

"You have to be very regimented," Vanderpol said. "You have to make sure you never touch your face, never remove your mask, I wash my hands almost every half hour just to be safe.

Vanderpol said he has to physically distance himself from loved ones because of the risks of his job.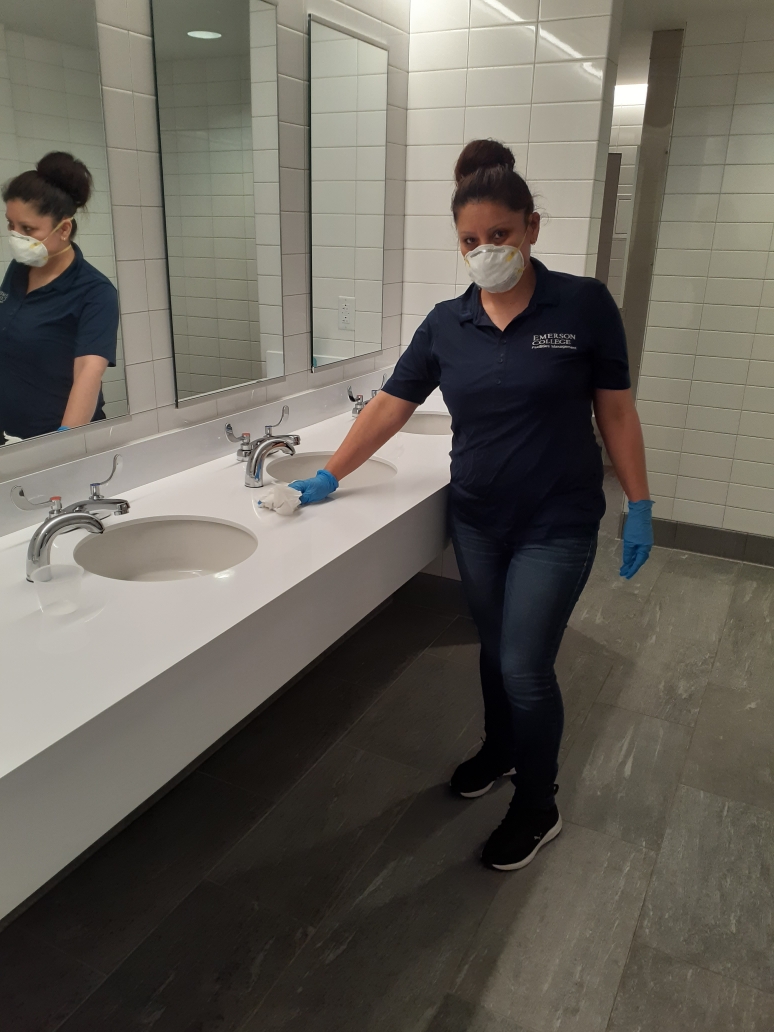 "It was difficult because both friends and family, as soon as I explained that I work in facilities at a college and that I have to go into the dorms and especially the quarantine residency, I immediately wanted to stay away," he said. "They knew the danger. I was higher risk of being around, but I got used to that because it came with the territory of working closer with COVID." 
The added responsibilities have introduced heightened stakes to the job, Vanderpol said. 
"It's stressful because we know that if we didn't do a good job, if we didn't contain things, then they might have to send everyone home or have a lock down in the dorms," he said. "There were outbreaks here and there, so it made it more stressful [thinking] of what could happen if it got out of control."
Despite the risks, Vanderpol said he is glad to be able to play a role in keeping the Emerson community safe. 
"It makes us happy that we can do our work and be helpful," he said. "It felt almost like a military operation to keep things running no matter what."
Soto said his two daughters give him the motivation to do the best job he can when it comes to sanitizing the campus. 
"I got two daughters and I expect that wherever they go the people who work there clean the rooms," he said. "That's what made me make sure that I do my work like I'm supposed to. The families who have their children here, they expect that the college is doing what they are supposed to do to keep them safe and that's one of the reasons I put the extra effort to do it."