On-campus food establishments receive violations following management switch
The Backstage Café and the Dining Center received four violations during the most recent Oct. 21, 2019 inspection, following a string of violations since Bon Appétit took over dining services in summer 2018, according to public records.
Throughout Bon Appétit's management, issues with cleanliness, pest control, system maintenance, signage, and food protection have been among the violations at the college. During the most recent inspection, the Backstage Café received a violation for a dust buildup above the ice machine and the Dining Hall received three violations for a clogged floor drain, debris and water on the floors, and fruit fly activity. 
Dawn Sajdyk, resident district manager of Bon Appétit, said the majority of Emerson's violations are non-critical ones involving lighting, wall and ceiling cleanliness, or the occasional equipment malfunction.
"I don't think we've had anything that is safety related," Sajdyk said in a phone interview with The Beacon. "I'd say 9 times out of 10, it's been an equipment issue that was either addressed before the inspector came in, or when they identified it, we jumped on it to make sure that that was addressed." 
Sadjyk said the Health Division conducts unannounced inspections twice a year at the Emerson dining facilities. Sajdyk added that the college itself pays for a third-party, Berger Food Safety Consulting, which is separate from the city, to inspect the Dining Center twice a semester, and the other establishments once a semester. 
Duncan Pollock, associate vice president of facilities management, said in an interview that on-campus Business Services oversees these third-party inspections, and works with Sajdyk to enact employee training when violations occur. The purpose of the third-party inspector, Pollock said, is to ensure that all the dining facilities are as prepared for the City's inspections as possible.
"Practice makes perfect," Pollock said in an interview with The Beacon. 
The City of Boston inspects The Max, Paramount Café, Backstage Café, Dining Center, and Center Stage. The Health Division of the Department of Inspectional Services performs these checks on at least a yearly basis to ensure dining facilities meet sanitary codes and standards, according to the City of Boston's website. 
All five Emerson College dining facilities have received at least one violation per inspection since Bon Appétit began running the dining services at the college.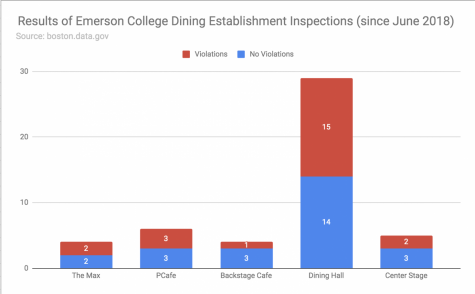 Despite violations, the college has received only 'A' grades from the Health Division since Bon Appétit's arrival, Sajdyk said. 
Previously, Sodexo, a food management company based out of France, ran Emerson's on-campus food establishments from 2013 to 2018. Pollock said the switch from Emerson's previous dining contractor, Sodexo, was not due to inspection violations, but instead food quality and delivery. Under Sodexo's management, there was a high frequency of violations, with The Max receiving two violations in 2016 and three in 2017.
According to the website of the City of Boston, inspections are based on a numerical system. Each facility begins with a 100-point total, and points are subtracted for each violation. The remaining points are then converted into a letter grade—any score from 94 to 100 points indicates an A grade. 
This means that a restaurant can receive an A grade even with three 'non-critical' violations, or violations that don't involve food safety. If an establishment does not receive an A grade initially, the Health Division inspects it again within 30 days, and the second grade stands. According to a 2018 Boston CBS article, over 99 percent of Boston restaurants have an A rating. 
Sajdyk said employee training is extensive in dealing with food safety, sanitation, and allergens. She said that in addition to training sessions at the beginning of each semester, there is ongoing training all year, especially in response to violations. When equipment, like fridges, does malfunction, she said the college works with vendors to ensure the equipment is fixed in a timely manner, generally within 24 hours. 
"Just because we fix it and move on doesn't mean we don't look at it on an ongoing basis," Sajdyk said. "My main concern is that we fix the issue and then we continue to make sure that it stays fixed."