Salem's Midnight Teas(e): brewing and blending occult-themed nightlife
The flames of a crackling fire cast an eerie orange glow as they bounce off the black steel of a cauldron. A mysterious, ghost-white extract is added to boiling brew and then stirred with just the right amount of crushed citrus leaves. In a puff of smoke, a perfect concoction is completed. 
That drink is the "New Moon" cream earl gray, just one of the occult-themed teas soon to be available online as part of witch-enthusiasts Emilie Rodger's and Maureen Bonsignore's passion project: Midnight Teas(e) in Salem, MA, currently funded via Kickstarter. 
"Tea is such a big part of witch culture, but there's no place in [Salem] to find it," said Rodgers, the business's chief graphic designer. "There's no witches' tea room. So we wanted to right that wrong with what we're doing."
So far, the project has received overwhelming support. The shop's Kickstarter goal of $10,000 has already been smashed by over $1000, even with a week left to collect money.  
While the project was started in August, the idea of Midnight Teas(e) has been in the works for much longer. 
"We had talked loosely about it for about five to six years, and it was this hypothetical thing for so long so we just pulled the trigger," said Bonsignore, the leading herbalist of the duo. 
At first glance, Midnight Teas(e) appears to be just another tea shop in the massive ocean that is Salem's tea and coffee business. However, depending on the hour when you visit, one will encounter a radically different side of the shop. A play on words, Midnight Teas(e) operates as a venue for visitors to drink "teas" while being "teased" by various 18+ events the duo have planned to accentuate the shop's nightlife. 
By day, Roder and Bonsignore envision a tea house properly adorned with wiccan-styled art and dried herbs spiraling across the walls and hanging from the ceiling. They want to create an "apothecarial feel," that transports visitors to a mystical realm rooted in occult lore to be experienced through the magic of tea. 
"We want you to be stepping into a magical world, like you can smell it when you walk in," Rodgers said. 
Fittingly, the soon-to-be menu includes names such as "Baba Yaga," "Waning Moon," and "Friendly Cryptid." Rodgers and Bonsignore chose ominous names to remain true to the town's history of witchcraft. They wish to educate the general public on the history of the teas they drink on a regular basis by conveying modern-day teas' connections to witch herbalism.
Many of the teas include staples like the aforementioned Earl Gray, as well as jasmine and oolong teas. Some teas, however, will be mixed with traditional herbalist ingredients like rosemary and sage, according to Bonsignore.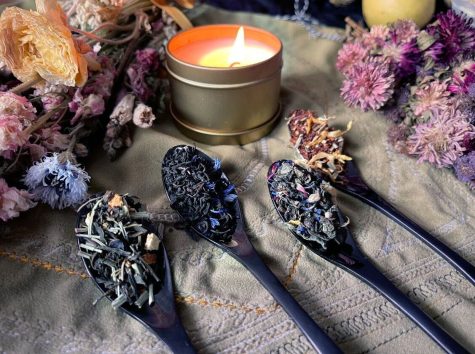 "Tea is for everyone," Bonsignore said. "We don't want to ostracize anyone because they're not familiar with occult lore."
Both Rodgers and Bonsignore view Midnight Teas(e) as a wonderful way for visitors and locals to experience a piece of Salem's witch folklore through the warm, comforting aroma of handcrafted teas. 
But, as the sun begins to set, Salem's nightlife comes to life like a zombie on Halloween eve, and Midnight Teas(e) is no exception.
By night, Midnight Teas(e) turns into an extravaganza of activities ranging from metal yoga, burlesque, pole dancing, goth nights, and anything else to match Rodger's and Bonsignore's "spooky dispositions" of occult eroticism and joy. 
"We wanted to combine our two great loves," said Bonsignore, a former burlesque and pole dancer. "I'm very much all about tea all the time, but I also miss burlesque and pole dancing and there's nothing like that in Salem either."
One thing that sets Midnight Teas(e) apart from its surrounding duskborn shops, however, is Rodger and Bonsignore's shared desire to keep the establishment a total dry zone, free of alcohol.
To help uphold this promise, the pair created their own nighttime beverages called "cockteas," keeping with the flirtatious tea-themed wordplay. Unlike sugary mocktails, according to Rodgers, cockteas offer a wider range of flavor to appeal to anyone trying to be more healthy, or simply someone who wants to have fun without a wild sugar rush later in the evening. 
"There are no dedicated dry spaces [in Salem]," said Bonsignore. "So [now] people who are like me and can't drink alcohol for medical reasons or don't want to or can't engage in alcohol can have somewhere to go to experience nightlife."
Both Rodgers and Bonsignore realize the prospect of a physical tea house is a long way off, but the pair hopes to establish a fully functioning website by December of this year. That way, Rodgers, Bonsignore, and everyone supporting Midnight Teas(e) can take their first steps in conjuring a fresh cup of smiling customers.  
"We're approaching [tea] from the ritual, history, and lore behind all of these old stories and themes," said Rodgers. "For some people it's a serious religion, for others it's just for fun, and we respect all sides of [witch] culture and tea is such a big part at the center of it."