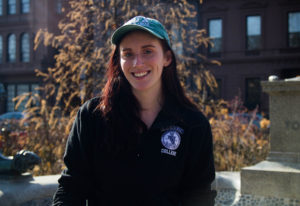 First time marathon runner and senior Erin Jean Hussey will tread over 26 miles through the streets of Boston to raise money and awareness for survivors of domestic, sexual, and dating violence.
"In this chaos of life, running has been my constant and source of strength," Hussey said.
On April 16, Hussey plans on running the Boston Marathon to raise money for Casa Myrna, a shelter for women and non–binary people that promotes awareness for domestic violence.
Hussey must raise at least $10,000 by the date of the marathon. She has already raised over $2,000 through donations.
Hussey is a member of local professional sorority Kappa Gamma Chi, which hosts a week-long event called Emerald Empowerment in the spring. Previously known as Take Back the Night, Emerald Empowerment is dedicated to raising money and volunteering for Casa Myrna and Transition House, organizations that provide support for survivors of partner violence.
"I had found out about Casa Myrna and that you could run the Boston Marathon for charity through [Kappa]," Hussey said. "For me, I wanted to find a way to [run] while also engaging my community."
The organization, started by activists 40 years ago, educates its community about social issues like domestic violence. The organization gets its name from one of the activists, Myrna Vazquez, who was murdered by her abuser.
Casa Myrna is located in Boston and provides survivors of domestic violence with services such as housing assistance, job readiness, and individual and group counseling. Casa Myrna's website features statistics on both domestic assault and teen dating violence, with anecdotes and stories from survivors.
Casa Myrna now operates three shelters in Boston, and serves as the largest organization for domestic and dating violence survivors in the Greater Boston Area. The organization offers bibs to run the Boston Marathon on their behalf every year. Casa Myrna offered four bibs this year, said Director of Development and Communications for Casa Myrna Leela Strong.
"We put out a request to the community to apply for one of those four bibs, because they're highly coveted," Strong said. "Unless you qualify for the Boston Marathon, you can't actually run, so a nonprofit bib is the only other way to get in."
Strong said the organization interviews applicants to make sure they fit well with the team and are passionate about Casa Myrna's cause.
"Erin Jean comes from a long line of Kappa sisters who have run for Casa Myrna and we were delighted to invite her to be a part of the team this year," Strong said.
In addition to the marathon, Hussey said she plans to host fundraisers at Blaze Pizza and Chipotle, so Emerson students can conveniently contribute. She also plans to run a fitness bootcamp in partner with the Emerson Fitness Center to raise awareness for her fundraiser and get others involved.
Hussey seeks donations of visual art and performances from students and outside artists for a showcase to raise money. Hussey said she plans on suggesting visitors donate at the door. The showcase will be on Feb. 16 at Make Shift Boston, a coworking space and event venue.
"It's just a way to have people donate their art and get them seen as well as being able to raise money," she said. "Being able to have an intersection of community service and the arts and music is something that is very powerful and very special to me."
May Blake, Hussey's roommate, will be designing shirts for Hussey to sell at her showcase to bring in more funds. Blake said Hussey has been passionate about Casa Myrna since she began volunteering for them with Kappa.
"It's something that genuinely means a lot to Erin Jean," Blake said. "It's an important cause for her and I think it's a personal cause."
Hussey said she hopes to do her part for charity by doing something she loves at the same time.
"The challenges I face on the trails and streets are nothing compared to those of the survivors," Hussey said. "Casa Myrna enables survivors and their children to find their strength, as running helps me find mine."
Correction (1/24): An earlier version of this article did not include Hussey's deadline to raise $5,000. It has been updated to read April 30.

Correction (1/24): An earlier version of the article was falsely corrected to read the deadline as April 30. The date is actually April 16 and has been altered to include that. Also, the minimum to raise was corrected from $5,000 to $10,000.