SGA appoints new chief justice, commissioners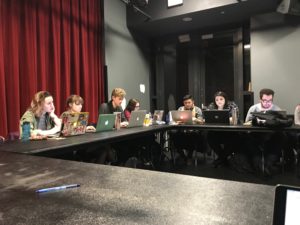 The Student Government Association appointed a new chief justice, honors commissioner, and accessibility commissioner on Tuesday, Jan. 23.
SGA unanimously approved junior Lizzie Northey for chief justice. Chief justice is on the SGA Executive Board and is responsible for interpreting and implementing the constitution, overseeing elections, presiding over impeachment hearings, and hearing all student and organizational grievances to recommend a course of action.
Northey served as SGA's secretary for the past year and a half, during which she worked with the former Chief Justice Ally MacLean. Northey said she began speaking to MacLean about taking over the position once she found out MacLean could not attend joint session due to a schedule conflict.
"I am very excited about [serving as chief justice], there is a lot I have wanted to do with this position," Northey said.
Northey said she wants to work more with Robert's Rules of Order—a widely used rule book on legislative meetings—and make sure that the Financial Advisory Board, Constitutional Review Board, and Organization Recognition and Review Board operate smoothly.
SGA also appointed Erin Burgess as accessibilities commissioner and Erin Graham as honor's commissioner.
The accessibilities commissioner functions as a liaison between the Student Accessibilities Office and SGA. The SGA website describes the position as one who serves those that identify as disabled, either mentally or physically.
Burgess said she realized Emerson does not recognize students with disabilities as a minority on campus, but Burgess thinks the college should.
"I just really wanted to dedicate most of my short time left here at Emerson to bringing more recognition as far as disabilities," Burgess said.
The honors commissioner acts as the main contact between Honors Program Director Wendy Walters and SGA.