Sidney Gish performs at Emerson's WECB show, with openers JOBIE and Jo & The Average
An enthusiastic crowd of Emerson students gathered at The Paramount Theater this past Wednesday to enjoy a free concert put on by WECB. Emerson musicians JOBIE and Jo & The Average opened for the headliner and Northeastern alumni Sidney Gish.
JOBIE has been a longtime fan of Gish, and felt as though she has been an inspiration through her music career. 
"I was surprised to be asked, mostly because I had just been talking to my friends about how much I love Sidney Gish the night before," JOBIE said. "I was honored to be considered."
JOBIE also noted her gratitude toward Emerson and WECB for giving her this opportunity. 
"I loved seeing an artist I'm not familiar with and I enjoyed her music a lot," first-year visual media arts student Caroline Whitaker said. "I thought their pieces were super relatable, and I enjoyed her singing voice as well. She has a great sound."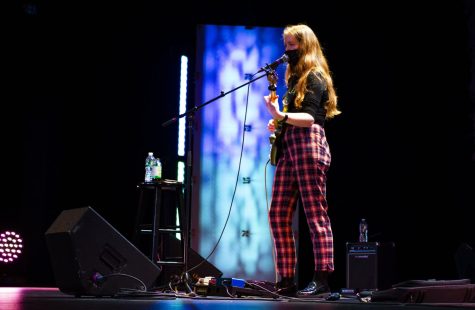 JOBIE's music––much like Gish's––holds a certain relatability factor with college students as they both write of their experiences in a raw and beautiful way. 
Following JOBIE's set was Jo & The Average. The band is composed of four members from both Berklee and Emerson. Jo Malicdem (on guitar and lead vocals), Gabe Perez (on drums), Kale Townshend (on bass), and Tony Batey (on guitar) brought together a lively stage presence. Though technical issues were encountered during their set, they were soon resolved and the band continued to bring good energy throughout their performance. 
First-year creative writing major Sophia Mullins was blown away by their set.
"I had never heard of them before and so I was absolutely starstruck when they were on stage," Mullins said. "As soon as the concert was over, I went looking to add their songs on Spotify. I love listening to local bands, and Jo & The Average blew all of my expectations out of the water."
Bringing phenomenal vocals, a guitar, and a looping pedal, Gish took to the stage to perform an intimate set complete with some of her most beloved songs. Gish created a warm and intimate environment with the audience as she frequently engaged with them between songs. 
"It was so fun to hear her cover a song, something we haven't really heard from her before," Mullins said. "She played many of her well-known songs and I had a great time singing along. I also loved her inclusion of 'Gone Fishing' since it is unreleased and she has not released anything in a while, so it was fun to hear something new from her."
As the crowd sang Gish's "Sin Triangle" in unison, leaping to their feet to dance, it was clear there was a true connectedness between Gish and the audience. 
"I am a really big fan of Sidney's music," first-year journalism major Brooke Huffman said. "She popped up on my Spotify during my sophomore year of high school, and I've been an obsessive listener ever since. Her voice has such a vulnerable quality to it that makes a live performance feel so intimate."