Sophomore's clothing brand combines sustainability and streetwear
In high school, Jacob Warman found himself hanging out with the wrong crowd and needed to escape it. He turned to his childhood hobby of drawing. Later, his doodles became a part of his clothing brand.
"I've just been dreaming of it for so long," Warman, a sophomore visual media arts major, said. 
As a kid, he'd meet with his mom on Fridays to go to Barnes and Noble, and once he got older, it became a safe space where he would go and study anatomy books and draw. 
"I would just be there until they kicked me out," Warman said.
Drawing became an outlet he could always rely on. During a train ride one day, he made a doodle based on the word "knucklehead," a name his mom used to call him.
"It's an insult, but it's endearing, and that's why I love it so much," he said.
He then started drawing characters based on the style of his knucklehead drawing. His "No Monkey Business" t-shirt design was based on a drawing he did at Chipotle. When his friends brought him to Zumiez and introduced him to streetwear and skater designs, he based many of his drawings on them. He was also inspired by traditional Japanese tattoo art.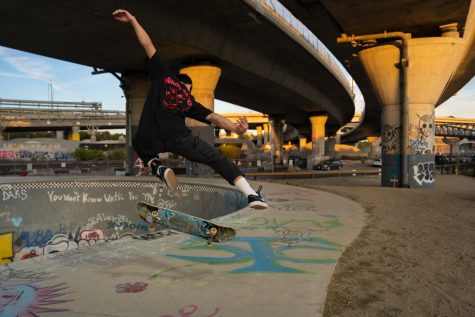 Warman decided to start his own clothing brand called KNUCKLEHEAD when he saw that he could incorporate his art with his clothing. At the time, however, he was still a sophomore in high school and couldn't afford it, putting the project on hold. In summer 2021, he saved up money from his film internships and brought it back.  
"It's always been my goal to fuse high fashion and skate streetwear," Warman said. "I knew that every single part of the garment needed to be really thought through for the highest quality."
He found a manufacturer in Los Angeles that was ethical and sustainable, which he wanted to prioritize for his brand. Garments are made with 100 percent cotton by sewers paid at least $18 per hour. They are silkscreen-printed with eco-friendly water-based ink made in New York City. 
"I just really wanted to make sure that when people put on a knucklehead shirt, they would say, 'Wow, this is the best shirt that I've ever had,'" Warman said.
The designs on the clothes are characters—some that he started drawing in high school—who each have their own stories and meanings. He said each character's meaning is a reflection of himself and who he was. 
"For me, a knucklehead is someone that is able to display resilience in hard times," Warman said. "[It is] someone who doesn't shy away from doing things that they may love, even if it's against the grain. It's not a very popular term, so that's also exciting for me that I can almost reinvent it."
KNUCKLEHEAD has also had pop-ups at an Afterlife Presents LLC concert at Middle East Restaurant and Nightclub and Emerson's Double Exposure Event.
"I made good sales, but just the fact that people were genuinely interested in the store, it was pretty emotional," Warman said. "It's a really terrifying thing putting yourself completely out there to the world where the designs that you've been sitting on for like five years are just there for people to look at and can say they don't like it."
The people who bought his clothes were mainly his friends. The first stranger who bought a hoodie was an Emerson student who attended the first pop-up he went to. 
"I was just having a bad day, and I was going in the dining hall just to grab something to eat," Warman said. "I [saw] her sitting with the hoodie on, and I have no idea who this person is, don't know her name. And I was just like, 'Wow.'" 
In the future, Warman hopes to create animation skits to tell the backstories of the characters on his clothing. He is also passionate about mixed martial arts and hopes to donate proceeds or fighting gear to a nonprofit organization, which his cousin introduced him to in Rio de Janeiro that helps formerly incarcerated people learn self-discipline through martial arts. Warman also hopes he could potentially sell his clothing at consignment stores. 
KNUCKLEHEAD has been five years in the making with Warman constantly dealing with trial and error, but he said he is proud of how far his brand has come.
"Those moments of just getting so close to failure, I'm just really appreciative of how far I've come and that people are wearing it," Warman said. "That's the craziest part."
View this post on Instagram