Junior launches 'Wonderboy' clothing brand in midst of pandemic
Junior Will Dean started Wonderboy Clothing LLC, a streetwear clothing line that sells shirts and hoodies featuring designs from artists, with a friend while taking classes remotely this semester. 
In the coming months, the brand hopes to sell clothes with a distinct meaning and raise revenue that they can give back to the community. 
"The idea is to tell a story or represent some culture, community, or specific individual," Dean's business partner and University of Miami student Will Grattan-Smith said in an Zoom interview. "We're not trying to be the typical logo-heavy, hypebeast sort of brand, but it's really focused on giving really talented artists a platform to share meaningful stories. To create this authentic brand that tells stories and then donate back and try to help people who really need it."
In late October, Dean and Will Grattan-Smith came to Boston from their homes in Atlanta, Georgia, where they both currently are staying, to visit a friend. While here, they set up a table in Boston Common to promote their new brand, which works to be separate from the hypebeast culture of name-brand street fashion companies. Their shirts are currently being sold for $25 and $40 for a T-shirt and hoodie, respectively.
Wonderboy plans to donate 10 percent of sales to organizations that reflect the stories the brand aims to tell. The revenue from one of their future designs, featuring the perimeter of Atlanta with the homes of different rappers mapped out within it, will go to downtown Atlanta music-related nonprofit groups that help underprivileged children.
Grattan-Smith, a senior finance major, approached Dean, a sports communication major, with the idea for Wonderboy in May 2020, when he pitched the new clothing company as a quarantine project. The pair went to high school together in Atlanta, maintaining their friendship after landing at separate colleges. 
With both of them spending the fall semester at their homes, Dean and Grattan-Smith said they saw this as a chance to create something positive out of their summer. 
"It's been a cool opportunity," Dean said. "While we would much rather be at our respective colleges, we were presented with this unique opportunity to be home at the same time together and to go in on something creative."
Wonderboy launched at the beginning of the semester, with their first clothing drop announced on their Instagram (@wonderboyco) on Sept. 7. Their website, wonderboyco.com, currently offers three different designs, including the Thunderbolt Skull design drawn by senior journalism major Vicky Echeverria, who went to high school with the founders.
"Grattan-Smith was the one that reached out to me a few months back," Echeverria said. "[He was] telling me that he wanted to start a streetwear brand, and he was hoping that I'd want to contribute because we've known each other for a while, and he knows that I've gone into digital art recently."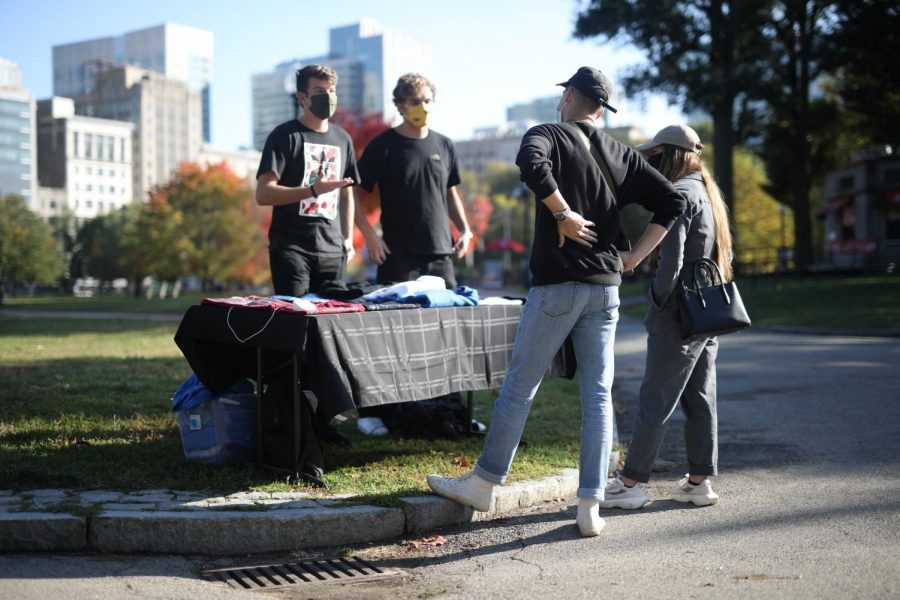 Dean and Grattan-Smith wish to include a variety of different artists in their company as they move forward. But for now, the majority of their designs are currently done by Dean's 17-year-old sister, Virginia. 
"We have an idea, we have this vision, and we bring it to my sister," Dean said. "We sit down with her, provide a sketch or two, and then she brings it to life. To see her transform our vision and bring it into reality, it feels like magic."
As they expand and grow as a company, the duo said they hope to establish a platform for artists to share their stories.
"Long term, if we start to build this platform for telling stories that people will buy into, it'll be really cool to have artists come to us and say, 'I have this story that I really care about, and I want to share it. Can you help us?' That's what we want," Dean said.
Moving forward, Dean and Grattan-Smith said they hope to start a podcast to talk to different artists who contribute to Wonderboy.
Even when Dean and Grattan-Smith return to their respective campuses in the spring, the two hope to watch their business grow. Dean said that he hopes to expand the audience of Wonderboy, which is mostly marketed towards college students at the moment.
"What we want is to create genuine art that is meaningful and accessible to literally everyone, whether you're a 65-year-old woman just interested in this really cool tree [design] or if you're a 16-year-old in high school," Dean said.