Student musicians make Emerson's lack of music education work for them
Within the first few months of her freshman year at Emerson, Taj Dharmadji released two singles, one of which dropped the first day of orientation week. Now, a year later, she embodies the quintessential "Emerson Musician," as she and others in the same boat navigate making music in Emerson's non-music-focused setting.  
Dharmadji, a sophomore theater and performance major, says ideas for new music come to her at the most inconvenient times—particularly when she's supposed to be focusing on a lecture. Her music video shoots are purposefully scheduled around the weekends when she doesn't have to worry about missing class, and her team of videographers and directors comprises fellow Emerson students. 
"Maybe music school would be a lot easier because everybody around you is doing the same thing," Dharmadji said. "But here I could be a writer who also makes music or vice versa." 
While Emerson isn't a music school, the student body has its fair share of singers, songwriters, instrumentalists, and aspiring music critics—and that group may be growing.
"There's so many musically talented people here…[musicians] are bound to find connections with people that have passions directed towards music," Dharmadji said.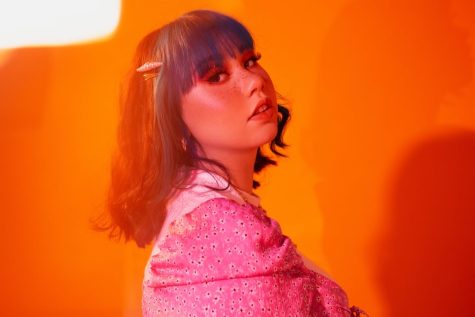 Those unfamiliar with Emerson don't need to spend a lot of time on campus to get a feel for its love of music. It isn't uncommon to hear the familiar sound of a bass or acoustic guitar traveling down the Little Building lightwells or to see students lugging around instruments and recording equipment. 
"A lot of people at Emerson love music, and a selective amount of students at Emerson release music," said Kendel Dawson, a junior visual media arts major. "The vibe I've been getting is that even if we all don't know each other here, we're always down to support each other." 
Dawson, who goes by the artist name KD Sizzle, makes music in his dorm room. Between his schoolwork and his job as a resident assistant, he freestyles and brainstorms projects with like-minded friends. When he's back in his hometown of Camden, DE, he has a friend who helps him produce his music. At Emerson, however, the burden of production falls on him alone. 
"I can't pay anyone to produce for me…so being [at Emerson] challenges me to get better at producing my own music," he said. "But with all of the other commitments I have as an active member of the Emerson community, it's hard to find some downtime to work on the production side of things."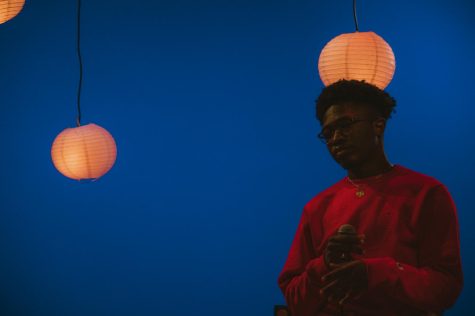 Currently, Emerson does not offer any form of music or audio production major. There are a few music-related tracks students can choose from, like the notoriously-exclusive Musical Theater BFA or the Music History and Culture minor. Look close enough at Emerson's vast catalog of course listings, and you might see something like "Mathematics of Media, Music, and Art," a sound mixing course, or other varying liberal arts requirements that might happen to entail music and audio as a whole. However, a comprehensive music-based education—in production, writing, recording, or all of the above—is not available at Emerson. 
Some students would like to see more opportunities to study music at Emerson and are surprised the school hasn't taken the opportunity to profit from this demographic further. 
"There's so many opportunities to do music-related things at Emerson, but for a school full of artists [Emerson] should at least have some sort of music production major or minor," Dawson said. 
This lack of proper music education isn't a fault of Emerson's—the college has never claimed to be a music school—and those attending or hoping to attend know this, for the most part. Yet, despite the impracticality of it all, students continue to seek opportunities to further their careers in the music industry within the confines of their dorm rooms. 
Vritika Thadhani, aka Baby Face, recalls recording the vocals for her debut EP "Sittin in 317" underneath a blanket in her Little Building dorm room. 
"I know that sounds silly, but if you set [the recording equipment] up and you put something over you, it's going to block out that outside noise," said the sophomore marketing communications major. 
While finding a quiet space to record may be the most difficult part of being an Emerson musician, renting equipment to create music is relatively easy for those that know where to go, according to Thadhani.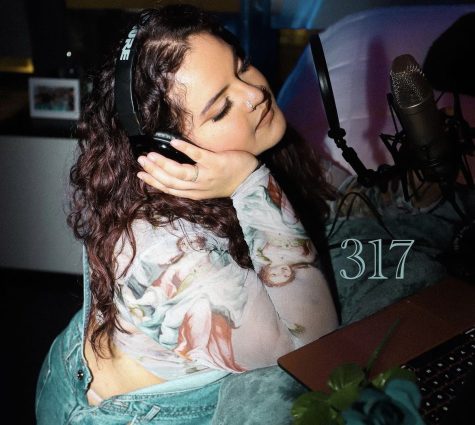 Thadhani, who also works in Information Technology User Services, said the department rents out all kinds of audiovisual equipment including microphones, speakers, and audio mixers. 
"We're fully decked," Thadhani said after listing off the various equipment she rented from User Services to help her record "Sittin in 317." 
Emerson's organizations are a driving force behind the thriving music culture that buzzes throughout the community. Both Emerson-affiliated and non-affiliated, these groups seek to make it easier and more accessible for students to hone their musical craft through experience and building connections. 
Beat Dynamics, Emerson College's only music video student organization, films and produces at least one student's music video every semester. The Déjà Me Project, a collaborative effort between Berklee and Emerson students, showcases up-and-coming artists and creatives in the Boston area. Musicians Wanted, an Emerson-produced music TV series, platforms Emerson musicians through filming and uploading concert-interview style videos similar to NPR's Tiny Desk series. 
"We are trying to give more opportunities for the students to understand the importance of music and audio production while giving Emerson musicians or local artists a chance to promote themselves," said Annie Chen, one of the executive producers of Musicians Wanted. 
Emerson's large population of VMA majors has proven to be just as helpful to musicians when it comes to producing their work, even though only a small percentage of students specialize in audio.
"Emerson isn't a music-focused school like Berklee, [but] it opens up a thousand other possibilities because you're working with filmmakers and business people," Chen explained. "The vibrant music culture at Emerson relies on this synergy between diverse fields you wouldn't find elsewhere." 
Dharmandji, who's worked with both Beat Dynamics and Musicians Wanted, confirmed this symbiotic culture between musicians and other creatives at Emerson. 
"These organizations are really good ways for musicians to showcase their music, and people that are into film and directing are not only helping musicians but can [also] create something using their passions," she said. 
The mutually beneficial relationships between organizations and musicians demonstrate that at Emerson, building your musical brand is all about who you know. Dawson said he's tapped into the talents of fellow VMA majors for many of his personal projects.
"You and those people you form connections with can help each other to reach heights you thought were unattainable," Dawson said.
Dharmandji also stressed the importance of word-of-mouth when it comes to marketing yourself. 
"It's definitely just been a lot of making friends with specific people or someone hearing about me from a mutual friend," she explained. "There's this simplicity of just finding people who make music and also want to meet with you."
Thanks to Boston's wealth of higher education institutions, Emerson students can compensate for the college's lack of a music production curriculum by befriending and acquainting themselves with the scene of nearby schools. Next semester, Thadhani is studying abroad with Berklee Valencia—Berklee's international campus in Spain— in hopes of filling the current gaps in her musical knowledge. 
"They have the best music business school there, and I'm taking that opportunity," she said. "I'm just beyond excited to be at a school like [Berklee Valencia]." 
Some students prefer to promote their music outside of the academic bubble, choosing instead to focus on getting their foot in the industry's door on a larger scale. 
"I'm trying to do some house shows and performances away from the Emerson campus to spread my name throughout the city," Dawson said. 
Although Emerson isn't a music school, some students plan accordingly to link their major and musical interests. 
"The reason I came here is to get my marketing communications degree at an art school. I'd be able to get my degree while still being able to make music," Thadhani said. "I can write, I can sing, I can produce, and I can market myself. At the end of the day, I'm not paying royalties to somebody else." 
It's not only the musicians that make up the culture on campus. Music fanatics among the student body come together to contribute to Emerson's lively and welcoming music scene. 
"I love the people at Emerson because they're all so supportive," Dawson said. "There's times when I'll see some people I've hardly had conversations with and they'll be like, 'I love your music,' and it's a great feeling. There's [also] a bunch of open mic nights and different opportunities to perform so being able to take advantage of them is major."
Emerson doesn't offer an illustrious music program, but those that are committed to making the most of their musical talents can still have doors opened to meaningful experiences and opportunities without the added stress of having to submit their next single or composition for a grade. 
Many of the musicians at Emerson focus on the fun and expression that comes with making and performing music rather than being well-known. 
"I've been able to gain some really cool connections [at Emerson], and hopefully, those will work out in the future. But I'm just having fun right now," Dharmandji said. 
A hardworking and close-knit bunch, the students of varying areas of expertise that make up Emerson's music culture have a knack for perseverance. Whether it's an EP release on the first day of finals or getting a take that's just right when you share a room with two other people, there's no challenge an Emerson musician hasn't faced. 
It may be because of this supportive community that more students have been flocking to the music scene at Emerson over time, according to students. Those familiar with the ins and outs of Emerson's somewhat-underground music scene seem to agree there's been a notable influx in the number of people actively participating in the culture. 
"We're navigating uncharted waters, but we're also kind of making history for our music environment here," Thadhani said.