'To me, the blowjob as a concept is kind of just really fascinating': Jacqueline Novak's one woman stand-up show is back
After the pandemic forced the cancelation of her previous tour, Jacqueline Novak's "Get on Your Knees" tour is back, bringing much-needed laughs and giggles about a surprising topic—blowjobs. 
Her one woman stand-up show will be held in the Calderwood Pavilion at the Boston Center for the Arts from Sept. 7-19, and is sponsored by the Emerson Colonial Theatre. "Get on Your Knees" will visit five cities this year, and Novak will perform 13 shows in Boston alone. 
Novak first heard about stand-up comedy from an improv troupe while she was studying at Georgetown University. Upon discovering an interest in using comedy as a medium for self-expression, Novak began attending open mics. This was the catalyst that forced her  on  mission to get over the many self-conscious elements surrounding  stand-up comedy. 
"I kind of quickly realized that even though stand-up sounded like the scariest thing in the world, it might be easier for me to just communicate from myself to an audience… it's easier than improv," Novak said.  
"I feel like early on, I kind of just treated [stand-up] like I treated creative writing," she continued. "When I started, every word was accounted for. There was no improvisation basically, I was too afraid." 
Blowjobs became the theme of Novak's comedy after she realized that it was easier to focus on one overarching topic rather than being bound to a specific theme. 
"To me, the blowjob as a concept is kind of just really fascinating," Novak said.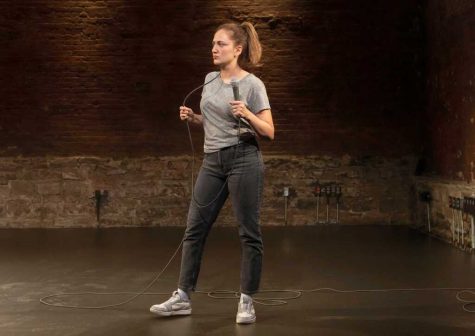 Novak's tour manager is Emma Nigut, an Emerson College alumni who graduated in 2019 with a theatre and performance degree. While at Emerson, Nigut intended to go into acting, but her plans changed when she decided to move to New York in order to  pursue that dream. 
"There's something so inspiring about seeing so many people working off of their own ideas, completely living this life driven by their thoughts and what they want to create versus waiting to be [created]," Nigut said. "I made a big pivot, and I am really grateful that I did."
Nigut randomly applied for a summer comedy internship at the Cherry Lane Theatre in New York City, and on her first day she wound up working on Novak's show. At the time, Nigut was just a production assistant but quickly fell in love with the show and worked her way up. 
"I completely fell in love with the show, and with the woman at the center of the show, and just worked so hard and tried to stick around as much as I could," Nigut said. "That's how I started working on the show as I was a random, fourth or fifth intern on the project."
Alexandra Schwartz of The New Yorker wrote a review on Novak's show, describing the depth which could be found in Novak's comedy. 
"Her comedy is an overthinker's delight, and a reminder that a woman's humor can cut as deeply as her rage," said Schwartz.
Nigut said Novak has served as an inspiration for her as she embarks upon a career in theater. 
"[Jacqueline's] just the most hyperactive, scholar-level, brilliant mind up there with her attention on specific subjects that you wondered about your entire life," Nigut said. "I felt such deep gratitude for her selecting [blowjobs]. She's teaching her audiences the act itself is what it is. But, the way that we think about it, and the way that we talk about it, it's been so dictated and imprisoned by other people's ideas about it without our like consciousness."
The first time Nigut saw Novak perform "Get on Your Knees," her mind was blown. 
"I felt like a groupie that sees a band for one performance in their small town [and] suddenly their world is flipped upside down," she said.
Novak created the discount code "EMERSON25" for Emerson students to get $25 tickets to her show. When entering the theater, audience members will have to show either their physical vaccination card or a photo.