Two Emerson professors take UConn positions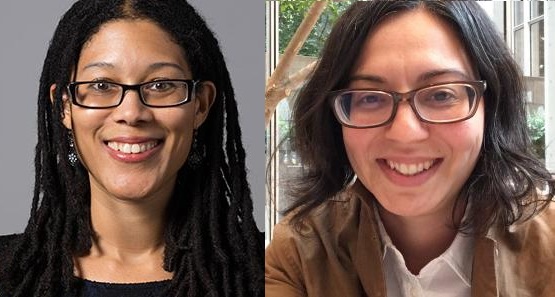 Professors Erika R. Williams and Katerina Gonzalez Seligmann will both leave Emerson in the fall and join the faculty of the University of Connecticut, college officials announced last week.  
Williams and Gonzalez Seligmann will take up associate professor positions at UConn—the former specializing in English and Africana studies and the latter in literature, cultures, and languages. The two leave behind long tenures at Emerson, teaching at the college since 2005 and 2015, respectively.
Williams first joined Emerson as a scholar-in-residence, noted for her work in 20th- and 21st-century African American and Afro-Diasporic literature and culture. She received tenure in 2020. As part of the Honors Advisory Council, Williams helped establish the first-year seminar and honors programs, and worked to further diversity, equity, and inclusion within the Marlboro Institute for Liberal Arts and Interdisciplinary Studies. 
She has served on a variety of committees at Emerson, notably serving for three years on the Diversity Requirement Review Committee. 
"[Williams] was instrumental this past academic year in the creation and leadership of the Liberal Arts Council's new Equity and Justice Committee," wrote Whelan. "She also has served on the College-wide Council on Inclusive Excellence and on the Undergraduate Curriculum Committee, among other contributions." 
Along with her institutional work, Williams has published five scholarly articles, presented her work to a myriad of associations—including the American Literature Association, the American Comparative Literature Association, and the Modern Language Association. She also wrote a novel entitled "Tales from Du Bois: The Queer Intimacy of Cross-Caste Romance," which is slated to be released by SUNY press. 
Dean of the Marlboro Institute Amy Ansell wrote that Williams had been an outstanding colleague. 
"Her departure will leave such a hole within the Marlboro Institute and we are very sad to see her go after more than 15 years with us, a period during which the Institute grew and evolved quite dramatically," Ansell wrote. "She will be greatly missed and we wish her the best of luck in the next chapter of her career."
Gonzalez Seligmann, a member of the writing, literature and publishing department, would have received tenure in the fall. During their time at Emerson, Gonzalez Seligman worked alongside Williams to create the Equity and Justice Committee for the Liberal Arts Council and won the Helaine and Stanley Miller Award for Outstanding Teaching—the highest accolade awarded to professors by the college. 
Roy Kamada, chair of the WLP department, praised Gonzalez Seligmann for their dedication to the college, noting that during their six years as a professor they taught eleven different courses at both undergraduate and graduate levels. He also noted their presence on various committees throughout their time at Emerson―including the department's Undergraduate Curriculum Committee, where Gonzalez Seligmann helped implement a series of changes to the core major curriculum. 
Accompanying their work at Emerson, Gonzalez Seligmann has penned a slew of academic articles, a series of literary translations, and has had their work supported by a variety of fellowships, including the Woodrow Wilson Foundation, the Ford Foundation, and the Cuban Heritage Collection at the University of Miami. They also have written a scholarly monograph entitled "Writing the Caribbean in Magazine Time" which is set to be published by Rutgers University Press this summer.
"As a scholar, Professor Gonzalez Seligmann has produced an amazing body of work in their time at Emerson," Kamada said. "Their departure is a significant and major loss to our community and they will be dearly missed, not only as a scholar and a teacher, but also as a friend."
"I look forward to the continued contributions that Professor Gonzalez Seligmann will make to the profession," he added. "As a teacher, I look forward to sending my very best students to study with them."
The announcement of their departures marks two of the four staff departures announced within a month. Sylvia Spears, former vice president for social justice & equity, Greta Spoering, associate director of the Healing and Advocacy Collective, and Cheryl Owsley-Jackson, senior journalist-in-residence will also not be returning to Emerson in the fall.