Two students front @tiktokforbiden ahead of Election Day
Sophomore Austin Hand used his half a million TikTok followers to help establish TikTokers For Biden, an account rallying young voters behind Democratic presidential nominee Joe Biden. "What is a platform if you're not using it for some type of good beyond just yourself and your own personal growth?" Hand asked.
Best known for his TikToks and butterfly hair clips, Hand is using TikTok to campaign for Democratic presidential nominee Joe Biden. Through TikTokers for Biden (@tiktokforbiden), Hand and 350 other TikTok users are rallying young people to vote as the 2020 presidential election rapidly approaches. 
"TikTok is a pretty good representation of Gen Z in general," Hand said. "Gen Z, as a whole, has historically been underestimated in terms of the impact that we have." 
Social networking app TikTok has become a worldwide phenomenon in just two years of existence, with their monthly active users growing from 50 million in January 2018 to nearly 700 million as of July 2020. The app uses an algorithm to filter recommended content to viewers and has evolved into a space where influencers, entertainers, fanbases, and advocates come together and share videos, not unlike the extinct short-form video-sharing application Vine.
Fellow TikToker Aiden Kohn-Murphy (@politcaljew), a friend of Hand's who had previously asked for his help with another campaign, reached out to Hand again about helping him establish a new, politically-motivated TikTok account. Kohn-Murphy introduced TikTokers for Biden on Oct. 7.
Hand (@austincantdrive) is one of two Emerson students involved with the account. Anania Williams also creates content for the account along with running his own account (@anania00), which has 1.5 million followers and features humor and social commentary. Williams declined a request for an interview.
Hand said he acts as content creator for the account as well as a group leader, managing a group of TikTokers and organizing content.
"I'm mostly involved behind the scenes, to be completely honest," Hand said. "I have a few cameo things and a couple videos on the main account. And then I have a video on my account promoting [@tiktokforbiden]. But other than that, I have a leadership position."
The account not only promotes Biden and his running mate Sen. Kamala Harris, but it also brings attention to other topics such as Black Lives Matter, LGBTQ+ rights, climate change, and women's rights, among others.
Another one of their goals is to get young voters excited about the election. As the Democratic Party has become more divided recently, many young progressive voters aren't enthused to support Biden, who is often viewed as too moderate. One campaign that reflects this mentality is the Settle for Biden campaign, a grassroots group of former Elizabeth Warren and Bernie Sanders supporters who reluctantly support the former Vice President.
"This 'Settle for Biden' mantra is definitely something that I subscribe to, but at the same time, repeating that is not necessarily the most effective way to get people, especially young people, who may not be enthusiastic to vote," Hand said. "So @tiktokforbiden is really just working towards getting people enthusiastic to vote. And then once we get past that, then we can begin the real work."
With 803,000 followers, TikTokers for Biden plans to continue discussing subjects that are relevant to not only America, but the rest of the world. Hand said he wants to use his own platform to promote the issues that matter to him, including the issues highlighted on the TikTokers for Biden account.
"What is a platform if you're not using it for some type of good beyond just yourself and your own personal growth?" Hand said.
Hand began creating online content at just 14 years old, originally on Vine and then on TikTok in May 2019. When he first joined the app, Hand was part of a group account with some of his friends under the account @bedheadass before creating his own account in March 2020. The COVID-19 pandemic that forced many Americans into quarantine encouraged Hand to start his own TikTok account.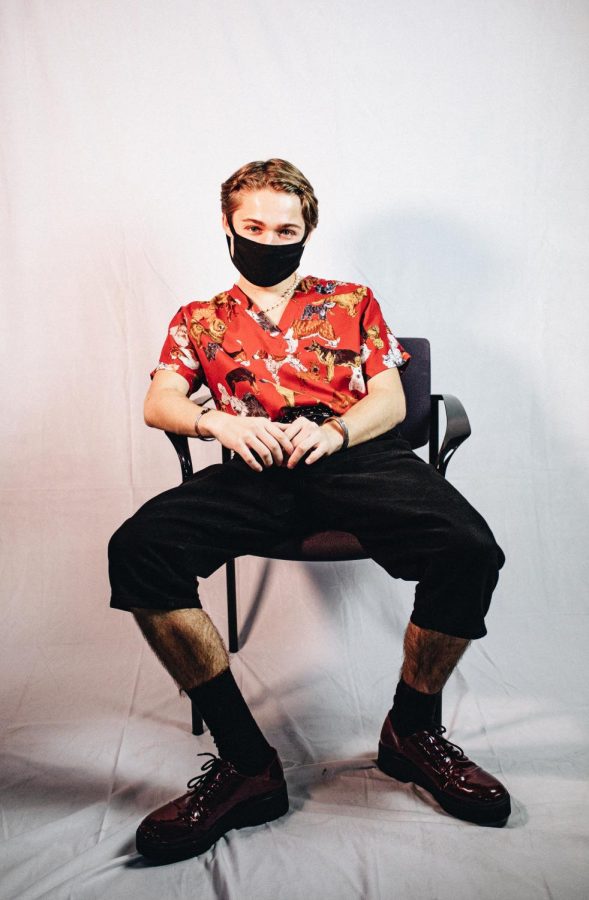 "With the group account, it was a lot of skits and making stuff together," Hand said. "And because of quarantine, obviously, we couldn't really do that as much. So I just wanted to have my own account that I could do my own thing on."
Hand's personal account, @austincantdrive, has 530,000 followers and 380 videos. Hand's account gained traction after one of his earlier videos from April got over four million views.
"It was me eating a tangerine [flavored] vitamin C gummy and then I was like, 'I've eaten 600 of these today,'" Hand said. "And then I turned on the tangerine filter and implied that I had turned into [a tangerine]. It was really dumb. I don't know why it has 1.3 million likes."
The account's name was inspired by the fact that Hand actually can't drive.
"Everyone always thinks that it's like some hidden meaning or something crazy, but it really is just I don't have a driver's license," Hand said.
He describes his content as observational humor, comparing it to vlog-style videos. Hand said that his videos changed as his account started to gain more viewers. 
"I'll just be out on a bike ride, or walking around, and I'll see something funny, and then I'll make a post about it," Hand said. "It started out mainly as a spam account more than anything else. I was kind of just posting whatever I wanted to. But I think that as I gained more followers, I did start to refine what I was putting out just because now I have an audience."
Moving from his home in Fort Collins, Colorado back to Emerson's campus has proven to be both helpful and difficult for Hand's account.
"Being in Boston, there is a lot of new inspiration," Hand said. "Just being back at school, specifically, I have a lot less time on my hands to just go out and make videos. I've taken a step back, in a way, to adjust. But I do think that being in the city has opened up a whole new environment for me to take inspiration from."
Hand also uses his account to promote his music. Hand has two songs available on Spotify and Apple Music, "Tightrope" and "Just Love Me Already," which were both released in late summer. 
"I've been singing ever since I was two years old watching Kelly Clarkson on American Idol," Hand said. "But in terms of making music, I got equipment three years ago, and it hasn't been until recently that I've been making stuff that I'm proud enough to show to an audience."
In June of this year, TikTok users sabotaged President Trump's campaign rally in Tulsa, Oklahoma which only filled 6,400 of the available 19,000 seats. This contributed to a larger conversation to ban the app in the United States.
Trump first talked about banning the app in July to protect Americans' data, citing security concerns over TikTok's parent company ByteDance being based in Beijing. However, the app could be saved if it was sold to an American company by Nov. 14. In September, Trump's administration approved a deal with the Oracle Corporation and Walmart to establish United States-based operations for the app. While the details are still being finalized, TikTok will remain accessible unless a deal isn't fully established by Trump's deadline. 
With TikTok here to stay for the time being, Hand can continue to create content and stay involved with @tiktokforbiden as it pushes to promote TikTok users to vote in the days counting down to Nov. 3.