Tyler, The Creator sure knows how to create a memorable performance
Tyler, The Creator hit Worcester's DCU Center on Mar. 3 with his "Call Me If You Get Lost" tour—well Tyler, what's your number because five Bostonians got lost. 
A nearly two-hour rail ride from Emerson to the mid-sized city of Worcester, where fans flooded the late afternoon commuter trains. During the walk from the station to DCU, it would've been easy to get lost if it weren't for the flocks of people all headed to the same place. Doors were already open upon arrival, and for anyone in general admission, the first stop is always the bathroom. 
Though not one of the biggest arenas, the crowd filled the floor, getting progressively larger as each opening act came on. There were three openers, making for a fairly long concert. First up was Teezo Touchdown, a largely unknown name. Starting a mini mosh pit way before Tyler even set foot on stage, Touchdown was full of high energy. The booming bass, however, made it hard to hear anything he said. He's the embodiment of a Soundcloud rapper. At one point, he signed a prop hard hat and threw it into the audience, one where multiple people weren't totally sure who he was, but were having a good hyped time regardless. 
Vince Staples was next, a recognizable name yet unfamiliar as an artist. He was the hardest to see from the sea of people, as more crept in. Set on the secondary stage at the opposite end, the room's lighting was dark, with changing cool-tone colors. Though a very talented rapper, Staples' overall performance wasn't all that thrilling. But then again, it's hard to be sandwiched between two jaw-dropping performers. 
Knowing she was up next, the crowd chanted Kali Uchis' name with excitement. She started with one of her classic singles "Dead to Me," the audience roaring after those first three words. She came fit in a bright red outfit with four backup dancers, who wore revealing clothes themselves in sheer, full-body bodysuits—certainly the hottest performance of the night. With the start of every new song, restlessness grew for her to perform her popular song "Telepatía," which was her final one of the night, truly leaving the best for last.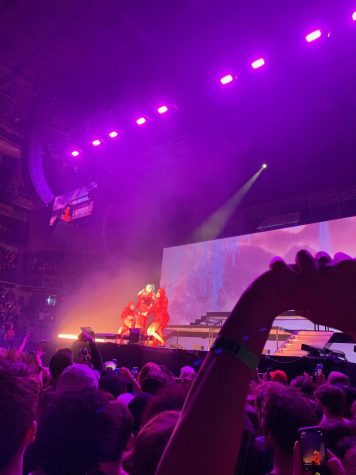 Everyone's eyes were on Uchis and her dancers, who weren't the typical high-energy hip hop, jazzy dancers people usually see commercially with concerts. It added an extra layer to the singing, providing a whole show that someone wants to watch instead of just listening to. In a more contemporary type of performance, with the occasional joining in from Uchis, the audience was mesmerized. 
Something about female artists is just so captivating to watch. With two raised platforms, Uchis and the dancers utilized their space well, constantly moving in a visually appealing way, while a big screen projected pretty moving images of purples and pinks. She sang numerous notable songs from her discography, switching between English and Spanish lyrics just as she does quite effortlessly. 
What was disappointing were the collabs that never came to be. Tyler has various songs with Uchis—great ones, one may add—as well as a feature of Touchdown on Call Me If You Get Lost's "RUNITUP." 
Though Uchis sang "After The Storm," a popular song that features Tyler, he never came out to sing with her. If there was ever a missed opportunity, it's this one. The pair has created numerous top singles together through the years, including "See You Again" and "FUCKING YOUNG / PERFECT." A common theme is how Tyler works with the same handful of people every so often. It's no surprise how frequent their collaborations are because they work really well.
Tyler is rightfully named "The Creator" because when he puts his mind to a project, he sticks and fully commits to it. His 2017 album Flower Boy debuted on U.S. Billboard 200 at number two, and it was all the rave on social media. Tyler trended again with his first number one album Igor in 2019. Some songs from that album, like "I THINK," were included in his concert setlist, and it was definitely one of the best songs he performed. 
Ever since he started creating music in 2009 when he began with his mixtape Bastard, he's been on a roll. Seriously, does this man take a break? Though there are no complaints from over here. If he's not on a hit featured song, it's evident he's always got a plan for new music of his own. 
Though the musical beats and rhythms of his songs are a big part of what he does, there's a lot of rapping that goes on, in terms of him hitting bars for a straight four to eight minutes. 
For instance, "WILSHIRE," a track off his newest album, has Tyler rapping for eight minutes straight. Though it's hard to learn and remember all the words, the song is great. It's like listening to someone tell a story playing in the background while you're doing something else. There are no pauses andno misses as he speaks every word clearly. The music paired with the lyrics makes the listener feel like it's a laid-back, rainy day. It's a long song, but it doesn't feel like it. Nevertheless, it's not the most concert-worthy song, so it wasn't performed and has so far yet to be. 
His talent also oozes with his "double songs," something he's done a few times where he has one giant extended song that combines two different ones. He carefully crafts this style of songs, melding two sounds that could probably be separated into one. For lovers of lengthy songs, it's genius. Call Me If You Get Lost's two-part song is "SWEET / I THOUGHT YOU WANTED TO DANCE," a song he did perform that had the audience singing along to the lyrics: "They should call you sugar, you're so sweet." Definitely one of his recent best. 
His creativity flowed onto the stage's set. Though simple, it worked really well and there were constant minimal changes throughout the performance. The time between when Uchis' stepped off the stage and Tyler arrived on stage had fans growing with both impatience and anticipation, as the set could be seen being put together behind the curtain. 
He entered by rising up through his mint green Rolls Royce car, wrapping while having his head out through the overhead window. During one of his breaks he took to speak to the crowd, he asked if they liked his car, getting a roar of cheers in return. The backdrop was a house with a changing screen in the background showcasing different settings, going from bright and sunny to snow, from day to night. Something unique to go with every song. 
There was also a boat he went in at one point, docked at the edge of the stage. As he used it to travel across the gym basketball court floor, he was brought to the stage on the other side. Though not visible because of how far away it was, the big TV screens at the main stage projected Tyler and everything else clearly for all to see from no matter what vantage point. There laid a flowerbed, emulating a call back to his Flower Boy era and album cover. That's when his name first caught attention, making this specific stage setting feel full circle. 
While taking another break to address his fans, Tyler asked how many Bostonians were there, following up with who lives in Worcester. A notable moment because of the hilarity of him proceeding to pronounce the Massachusetts town wrong multiple times—so relatable Tyler. 
The GA mosh pit experience of a Tyler concert is quite literally insane. It's not for everyone, especially those that get even the slightest bit claustrophobic. Beware, separation from your friends is highly likely with low hopes of actually being able to control your movement in the crowd, which you will get lost in. For those people, perhaps a seated spot not too far, but just high enough to see the entire stage would be worthwhile. Also, remember to drink water—a MUST—before getting to the floor, or at least take it with you, because is a six-dollar water worth it? If you're desperate enough, yes, yes it is. 
After Tyler addressed the audience once again and sang a few more songs, departing at 11 p.m. just before the conclusion of the concert was the smart move. Though getting home should've probably been planned better, considering the distance between Boston and Worcester, on top of the fact that every public mode of transportation stops running early. 
Finally, after being stranded in the train station for about an hour with three dead phones and two on the verge, then taking two Ubers to and from a halfway point at Framingham High School, five Bostonians were able to make it back home in one piece. The concert was a blur, definitely one to remember, and maybe a little too hyped for this house.