Days following their season-opening loss to Suffolk, the Emerson women's basketball team was ready to bounce back in their home opener against the Colby-Sawyer Chargers.
The Lions struggled to score early in the first quarter, falling behind 7-0 in the first four minutes of action. Their first points came courtesy of a jumper by senior guard Charlotte Levison at the six-minute mark. The Lions remained aggressive in their opportunities, eventually trailing 12-7 behind a layup from senior captain Ella Bushee with 3:47 remaining.
Emerson got within four, 14-10, off of two free throws by senior Olivia Deslauriers with 2:16 left. Colby-Sawyer responded with a three-point play on their end, extending the lead to 17-10 with 27 seconds remaining. The Lions were on the Chargers' hip, though, with Deslauriers draining a triple off of an assist by sophomore guard Bri Frongillo with 15 seconds left. Emerson ended the first quarter trailing 17-13.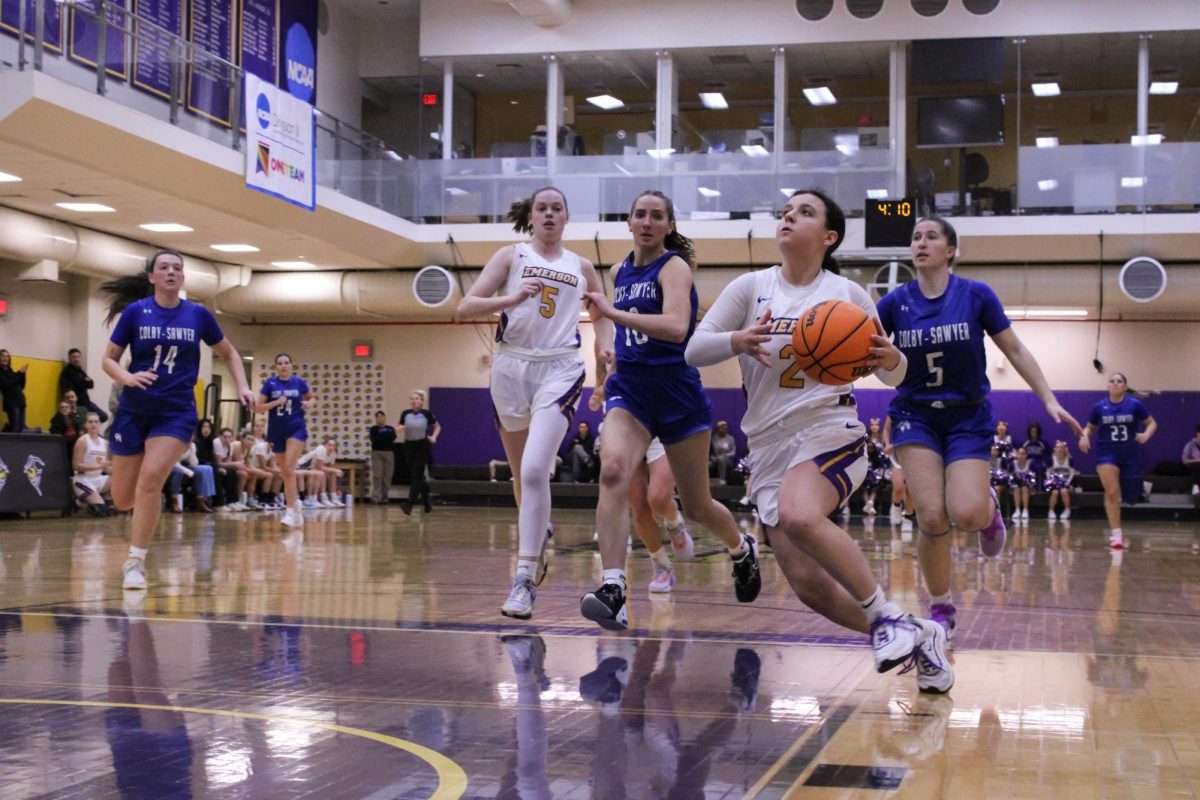 Emerson began with the ball in the second quarter but quickly gave it up with a missed three and subsequent turnover. The Chargers took advantage, converting a free-throw after a foul with 9:11 remaining, leading 20-13. After a Deslauriers three at the nine-minute mark, Levison secured a steal, and Bushee made a pair of free throws to cut the deficit to two, 20-18.
The Chargers separated themselves once again, going on a 9-2 run to lead 29-20 with 6:55 left. The Lions hung their hats on stops and scores, as Frongillo's triple made it a three-point game, 34-31, with three minutes remaining. Levison's layup cut the lead to one with 50 seconds left, and Dodd converted a three-point-play to give Emerson its first lead, 38-36 with 10 seconds left. The Lions forced a Charger travel in the final six seconds, and Emerson headed into the locker room with momentum on their side.
Emerson held onto a four-point lead to start the third thanks to Frongillo's free throws at the 9:06 mark, but the deficit was quickly erased with a layup and two free throws by the Chargers. With the game tied at 40, Dodd buried a three with 7:40 remaining.
Emerson and Colby-Sawyer would continue to exchange buckets, but the Lions pulled away with a 6-0 run to lead 51-44 at the 4:50 mark. The Chargers eventually got within one, 53-52, with 1:34 left, but Bushee beat the buzzer with a reverse layup off a Deslauriers miss. Emerson ended the third leading 55-52, setting up for an intense fourth quarter.
The first points of the final frame materialized at the 6:55 mark, when Bushee located a cutting Deslauriers for a layup. Subsequently, both teams soon exchanged buckets, with Emerson maintaining a five-point lead, 59-54, after a Levison hook shot. The Chargers responded with a three-pointer and a mid-range jumper, leveling the score at 59 with three minutes left to play.
The Lions regained possession after turning the ball over, and Dodd drained her second triple of the day to give Emerson a 62-59 lead with 2:24 left. Colby-Sawyer responded with a three of their own at the 1:58 mark. The Chargers briefly regained the lead off a pair of free throws with 1:31 left, while Bushee made one of two from the stripe shortly after.
Faced with an opportunity to extend the lead, the Chargers turned the ball over with a double dribble at the 1:05 mark. Dodd came up clutch again, with a layup to bring Emerson back in front with 53 seconds remaining.
Levison found Bushee for an easy layup at the 32-second mark, but Colby-Sawyer would not go away. They made a layup with 25 seconds to play, forcing Emerson to regroup after a timeout. Deslauriers glided to the rim off of a sideline out-of-bounds play, giving the Lions a 69-66 lead with 19 seconds remaining. With one last chance, the Chargers couldn't overcome Emerson's defense, as the Lions forced a bad pass to end the game and secure their first victory of the season.
Olivia Deslauriers led the Lions with 19 points, seven steals, and three rebounds. Ella Bushee finished with 16 points and eight rebounds, and Bri Frongillo and Kendra Dodd had 13 points apiece for Emerson.
Levison finished with eight points, seven rebounds, three steals and a block. She said the key to her performance was all about stops.
"For me, [the keys were] getting stops on defense and supporting the offense," she said.
Levison, who is still recovering from a torn ACL last season, has focused her mentality on the defensive end of the floor.
"I just go out to play defense, get stops and be the leader on defense," she said.
Head Coach Bill Gould said the tally in the win column was the most important thing for the Lions.
"What I really like is, we're not a young team, but we're a new team," Gould said. "We're still learning how to play with each other. We're still learning how we are as a team, how we are as an offense. I liked the fact that we got down ten, we fought our way back, and even then it was a battle. We executed and did things we needed to do to win, so that was impressive."
Gould also touched on the team's positive mentality to begin the year and how Saturday's game embodied the "cliche" of learning how to win.
"We've struggled the last couple of years. We've been very young and we've struggled," he said. "Our conference is outstanding, the teams we've played are outstanding. And there is something to that about learning how to win. I think today helps that. Our mentality is good, but there is that little undercurrent of, 'Oh my God, I hope it doesn't go wrong.' A game like this is really going to help that."
Going into Tuesday's matchup, Gould tipped his hat to Emmanuel's head coach, and noted the importance of execution.
"Their coach has been around, I think since 1784. Maybe he came on the Mayflower, I'm not sure," he joked. "But he knows what he's doing, their teams are always really good. They're always really tough. So we've got to execute, we've got to play well, and we've just got to attack."
The Lions beat Emmanuel 62-53 for their second straight victory. Frongillo led the way with 28 points, including six three-pointers, while Deslauriers and Bushee finished with 16 and 14 points, respectively.
Emerson's next game will be against UMass-Dartmouth on Sat., Nov. 18, at 7:30 p.m.