The women's basketball team hopes to use its versatility and a revamped defense to improve upon last year's playoff loss.
The Lions finished last season with an 11-15 record but went 8-8 in the New England Women's and Men's Athletic Conference to clinch the sixth seed in the playoffs. The Lions lost 85-57 to No. 3 seed Babson College on Feb. 21 in the first round.
Junior guard Quinn Madden said the team's goal this season remains the same despite the loss—to reach the playoffs.
"Last year we made playoffs, so I think that's one of our goals again this year," Madden said. "We want to make playoffs, but we want to win one; so we're just kind of building off of last year."
The Lions retained all but four of their players from last year and added three new players—freshman guard Julia Mallon, freshman forward Katie Beckmann, and sophomore transfer center Maria Draper. 
The team also hired new assistant coaches Shannon Norton and Johnny Dunbar.
Head coach Bill Gould said the players started adjusting to the new additions and roles.
"Anytime you lose kids—and it doesn't always have to be a leading scorer, a leading rebounder—there's an impact because it just changes the dynamic," Gould said. "The good thing about our team this year is the group that we have is already adjusting to that, and people are thriving in their new roles. Everybody has the same mindset, and everybody is heading in the same direction, which is great."
Gould says the strength of the team comes from continuity and versatility with most of the team returning.
"I think the biggest strength that we have is just our veteran presence—we have a lot of players returning that have contributed significantly, and we have a really good core group of returners," Gould said. "The other thing that I think is our strength is our versatility. We don't rely on one thing—we can score inside, we can score outside, we can play fast, we can walk it up, and we can be successful in any of those styles."
Madden said the Lions will also look to change their emphasis on the defensive end. Instead of reacting to the opponent's offense Madden said the players will strive to make the offense react to their defensive schemes to help the team adjust smoothly on defense.
Junior guard Kate Foultz also said the team will try to instill a higher energy and effort on the defensive end.
"We're highlighting our defense as something we want to focus on every game and just winning every possession, whether or not that necessarily means they make a good shot," Foultz said. "We just want to make sure our defensive rotations are all going in the right spots, everyone is diving for 50/50 balls, and just have a lot more energy and scrappiness."
The Lions ranked sixth out of 11 in the NEWMAC preseason coaches' poll. Only seven of the 11 teams can make the NEWMAC playoffs based on conference record.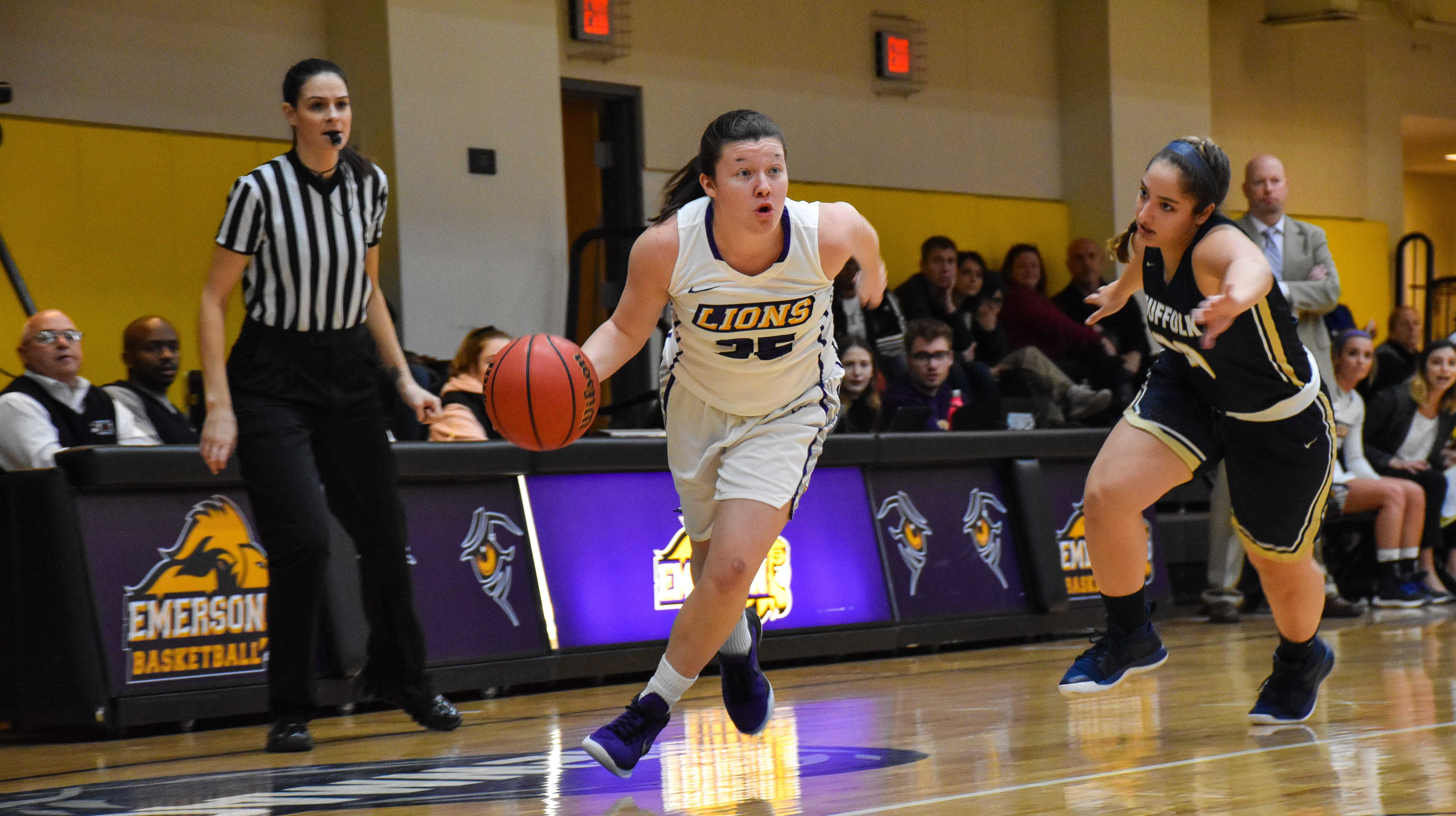 Madden said she hopes the team can prove themselves legitimate in the conference's eyes in the future.
"We got ranked sixth, so we kind of have a chip on our shoulder from that. We want to prove to the NEWMAC that Emerson is a serious athletic program because we get overlooked for being an art school," Madden said. "I think a lot of programs this year are really working to put Emerson on the map and show we're a force to be reckoned with."
Gould said he believes the team could make this their best season to date. He said he hopes the new expectations of winning will continue from last year.
"Expectation-wise, I can't give a number as far as how many wins or even how far we go. I just feel like this is quite possibly the best team we've ever had," Gould said. "I think the biggest adjustment is just that consistent expectation of winning, and I think the players have done a fantastic job of setting the right tone. Now it's just keeping that going."
Foultz said the team looks forward to the upcoming season and hopes they can improve upon last year.
"I think we just have a new energy this year," Foultz said. "Even since preseason, the kind of attitude and energy everyone has had is just really strong—and we've all been excited to get better so we can win some games, because I think we all have the talent, and we're ready to do some damage."
The Lions will play their first conference game at home against Wellesley College on Nov. 24 at 7 p.m.