Women's volleyball looks to future after tough season
Women's volleyball wrapped up a season filled with injuries, but sit with their eyes set on a successful future.
The women's volleyball team finished with an overall record of 15-14, an improvement from 13-14 last year. The Lions placed ninth out of 11 teams in the New England Women's and Men's Athletic Conference with a 2-8 record.
One major theme for the Lions was the surplus of injuries throughout the season according to Senior setter Moira Brennan. Brennan said the absence of three key players—Carolyn Vaimoso, Jessica Braunstein, and Anna Hamre—were huge obstacles the team had to overcome.
"We have had a lot of injuries, but we kind of halted that a little bit," Brennan said. "We talked a lot about [the injuries] off the court, but on the court, we all definitely stepped up."
Head coach Ben Read said the team achieved some major goals throughout their season, but he wished they made it to playoffs.
"The major goal we were looking at was a winning record, which we did get," Read said. "We also wanted to have a record that was good enough to go ahead and get us into NEWMAC playoffs, which we obviously did not accomplish."
Emerson's final game ended with a 3-1 loss against regionally ranked Springfield College.
Read said even though there were many setbacks this season, the Lions always competed at the best of their abilities.
"At one point we had four people out, so it's really tough to go ahead and battle back from that, but looking back on it, we finished with a 15-14 record," Read said. "We were very competitive in every single NEWMAC game we played."
Read said the team surprised Springfield with their level of play despite the outcome of the matchup.
"On their senior day, we kind of stunned [Springfield College] a bit as well, winning the first set 27-25," Read said. "Those are minor victories, and we feel good about that. We wish we would have won, but we feel really good that we were able to take a set and make it competitive."
Read said games against Wheaton College and Massachusetts Institute of Technology positively stood out to him. The Lions were upended by Wheaton in a tight five-set matchup 3-2—however, Grace Tepper tied her career best against the Lyons for 20 kills in a single game.
Emerson also lost 3-1 to MIT in a competitive matchup, but Tepper shined with 10 kills and 11 digs, with teammate Fara Cohen close behind with 10 kills and 10 digs.
"15 wins is quite an achievement, so that right there is huge," Read said. "[We pushed] Wheaton College to five sets who were regionally ranked I think fifth or sixth in the region. We took nationally ranked MIT to four sets, and we stunned them in the first set and made it pretty competitive."
Read said the team always strived to get better and improve themselves.
"The effort this team had every day in practice—getting better, lifting as well—was huge," Read said. "It shows the mindset of our team that we want to keep getting better as individuals for the team and being the best we can be, and [the team's] going to work hard to go ahead and do it."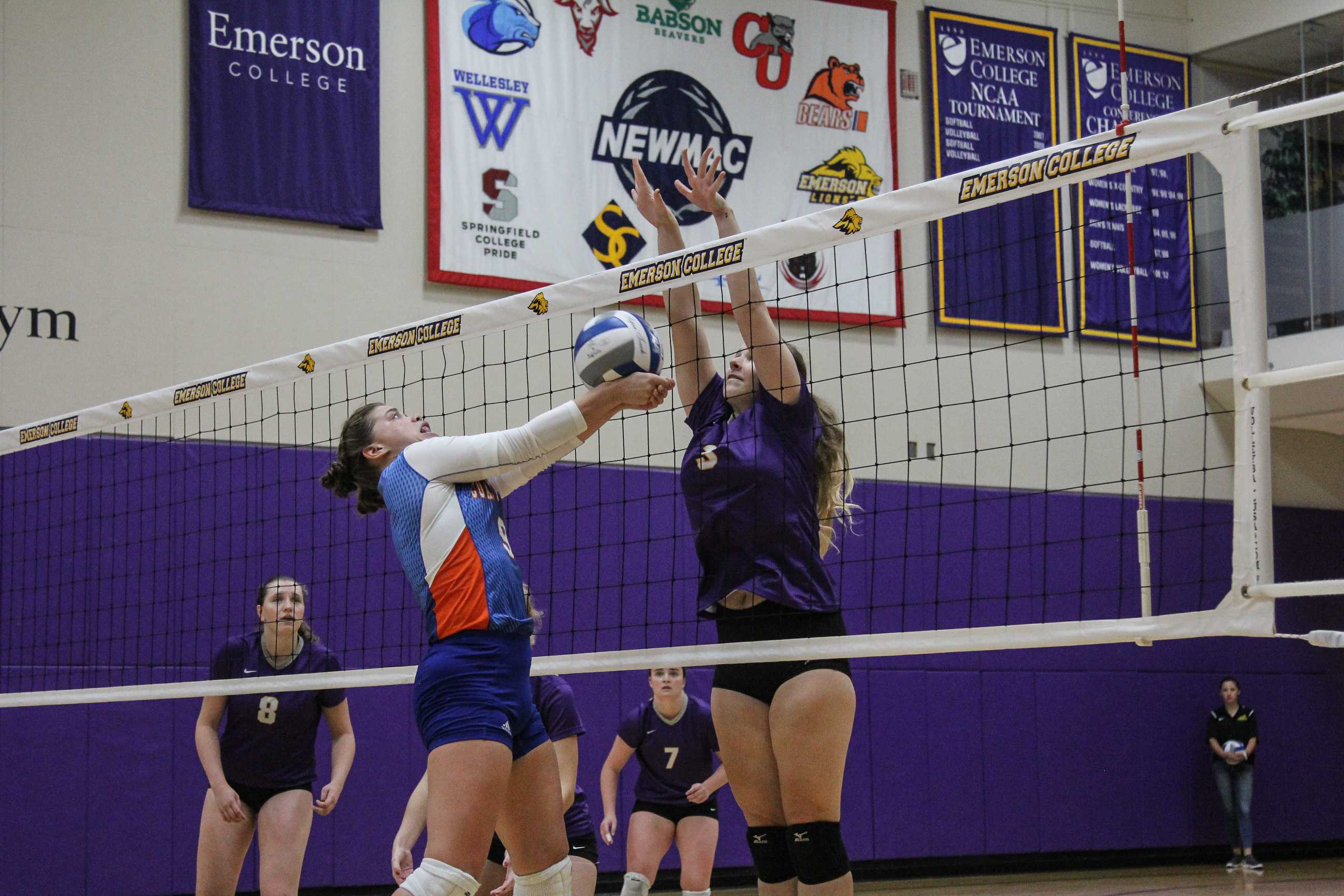 The three seniors leaving the team are setter Moira Brennan, middle blocker, Kelley Guerra, and outside hitter and defensive specialist Fara Cohen.
Freshman defensive specialist Lauren Quan said the seniors impacted the team in a positive way throughout the season.
"The seniors have created this awesome team culture that has really brought everybody together," Quan said. "Everybody is positive—everybody is kind and hardworking and aggressive and competitive while being a team at the same time."
Brennan said she is excited for the future of the team as there are good things to come.
"This was kind of a building year, and all the underclassmen, the freshmen—they're so good. And [the team] is just going to get better, especially with the new recruiting classes coming in," Brennan said. "They can really take names in the NEWMAC."
Brennan said, as a senior, she wants the future of the volleyball team to focus on having a close bond and enjoying each other's presence.
"I just hope that the girls continue to have fun and just focus on the team," Brennan said. "Winning sets and all, like that's fun, but when you're older you remember the team. Winning isn't as important."
Quan said in the future she hopes the team continues the team dynamic the seniors implemented her freshman year.
"As a team, I think our upcoming goal is to keep the same team culture that the seniors left and implicate it into next season and keep it going," Quan said.
Read says the goals for next year are still up for discussion, but he wants to make sure the team is all on board for the future.
"We want everyone to be on the same page—I don't want to just sit them down and say, 'Hey, these are my goals, this is what we want to accomplish,'" Read said. "We want to decide these things together because we are a team. We are going to work together to accomplish that."