Women's volleyball set to close out season after injuries
The women's volleyball team nears the end of a competitive season despite injuries to four key players.
With a 2-6 conference record in the New England Women's and Men's Athletic Conference, the Lions sit at 13-10 in their fall season. The team ranks eighth in conference standings, only one spot away from making the championship bracket.
After a 5-0 season start, the Lions lost six out of the next seven games, bringing them to a 6-6 record in the middle of their fall schedule. They added two victories following wins against Castleton University and University of Massachusetts Dartmouth on Saturday.
Head coach Ben Read said injuries took a large toll on the season.
"We've had a lot of injuries with starters out, and it affects the chemistry out on the court, so we haven't performed as well as we would have liked," Read said.
Sophomore outside hitter Grace Tepper said even through all the injuries, the team never stopped giving its best effort on the court.
"We work hard through it all. We work on things we need to fix, like how to improve our game despite all [the team's injuries]," Tepper said. "A lot of it is working on our mental focus. Finishing matches is something that we always talk about. It's really important."
Read said he doubts the possibility of making it into playoffs, but he's still motivated for the remainder of the season.
"Playoffs are out of the picture for us, I believe. Statistically, we might be in it, but looking at it, it's probably not going to happen," Read said. "We're committed to go ahead and get better every single day."
Young players shine bright
The four injured players on the team this season—such as star freshman Carolyn Vaimoso with a knee-injury—forced the team to throw young players onto the court against more experienced teams.
Read said he praised the new players on the team for stepping up to the plate and performing well.
"We've had some younger players get some very valuable playing time, and they have definitely improved," Read said.
Freshman libero Lauren Quan played as the team's defensive specialist this year with 254 digs.
She said her fellow teammates rose to the challenges they faced over the season.
"Everyone stepped up," Quan said. "We've been working super hard in practice, and it's showing on the court."
Other freshmen who stepped up to play this season include Anna Hamre, Grace Hutchinson, and Reina Garcia. Each played at least eleven games throughout the season.
Seniors' final push
The three seniors on the team—Kelley Guerra, Moira Brennan, and Fara Cohen—set the tone for the younger players this year. Read said the seniors serve as role models for their teammates.
"Our seniors have been very persistent throughout the year," Read said. "Our seniors want to leave our team at a good place."
Brennan said she enjoyed the chemistry of the team and the other seniors.
"It's been really fun out there, especially for the seniors," Brennan said. "It's a good team to end with."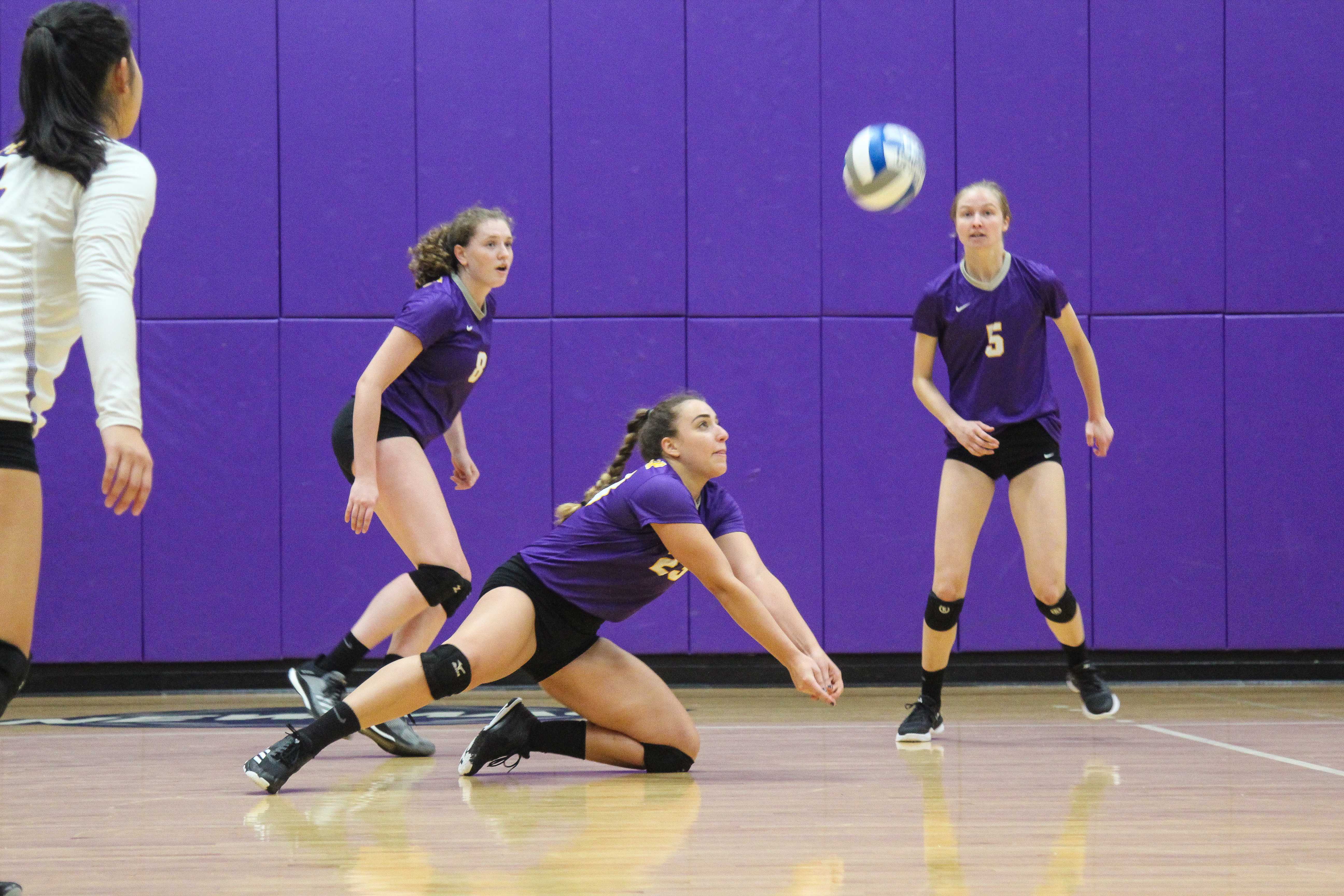 As the seniors gear up for the last stretch of their collegiate careers, Tepper said she feels unhappy to see them so close to the end.
"Honestly, we're sad to see a lot of seniors go," Tepper said. "We're going to have a blast while we have time and just do the best with what we have left."
The Lions will honor Brennan, Guerra, and Cohen on senior day before their matchup with Connecticut College on Oct. 20 at 2 p.m.
Lions Aim For Upsets
With only six games left in the Lions' season, the team hopes to overcome conference opponents Massachusetts Institute of Technology and Springfield College.
Read said he hopes to claim victories over remaining conference competition at the end of the season.
"We'd love to go out and win against [MIT and Springfield] and just make a statement going into next year," he said.
Quan said she could see the team using non-conference games to prepare for the two conference showdowns.
"We're going to need to work on staying consistent throughout the whole game," Quan said. "These next games are going to be a really big deal for us."
Read said he looks forward to the remainder of his team's season.
"We're gonna be the best that we can, and hopefully we can upset some NEWMAC teams in the process," Read said.
The Lions play their next game against Rivier University on Oct. 16 at 7 p.m. They face off against MIT in a home matchup on Oct. 23 at 7 p.m.