Tim Neverett '88 watched the Boston Red Sox from the bleachers as an Emerson student thirty years ago. Now Neverett's fandom drove him out of the stands and into the WEEI Red Sox Radio booth.
Before becoming a play-by-play commentator for WEEI in 2015 Neverett began in Minor League Baseball broadcasting for the Nashua Pirates at age 19.
Neverett worked in San Diego, Los Angeles, Las Vegas, Denver, and Pittsburgh after graduating with a mass communications degree. He returned to Boston to announce the Red Sox's ninth World Series victory.  
Neverett said he often imagined broadcasting games for his favorite team.
"I would spend a lot of time at Fenway Park as a kid and during my time at Emerson," Neverett said. "I would daydream about working up in the booth and, not only did that happen, but I got to call them winning the World Series."
The Red Sox won the best of seven series in five games over the Los Angeles Dodgers in the World Series this year. Neverett said he knew the Sox would take home the trophy after first baseman Steve Pearce's base-clearing double in game four that sealed the game and left them one win away from the title.
"I remember calling Pearce's double and thinking to myself, 'This thing's over,'" Neverett said. "Normally in baseball, anything can happen, but at that moment I knew it was over. The Red Sox were a much better team."
Neverett filled the "Waterfront Wanda" duck boat with the WEEI crew and paraded through Boston with the team three days after the Sox's victory.
"The parade was extremely special for me," Neverett said. "I've spent a lot of time walking up and down Boylston and Tremont streets, but I've never seen that many happy, cheering people on those streets before."
Neverett said he took on the responsibility of recruiting interns for WEEI once he joined the radio station. According to Neverett, most of the interns came from Northeastern University before he joined the crew. His broadcasting partner Joe Castiglione used to teach at Northeastern.
Neverett said he made the internship exclusive to Emerson students.
"I promise with the internship you're going to learn a lot more than you thought you would," Neverett said. "It's a-once-in-a-lifetime kind of thing and a serious commitment. On day one you walk in a with a million questions and leave with an education."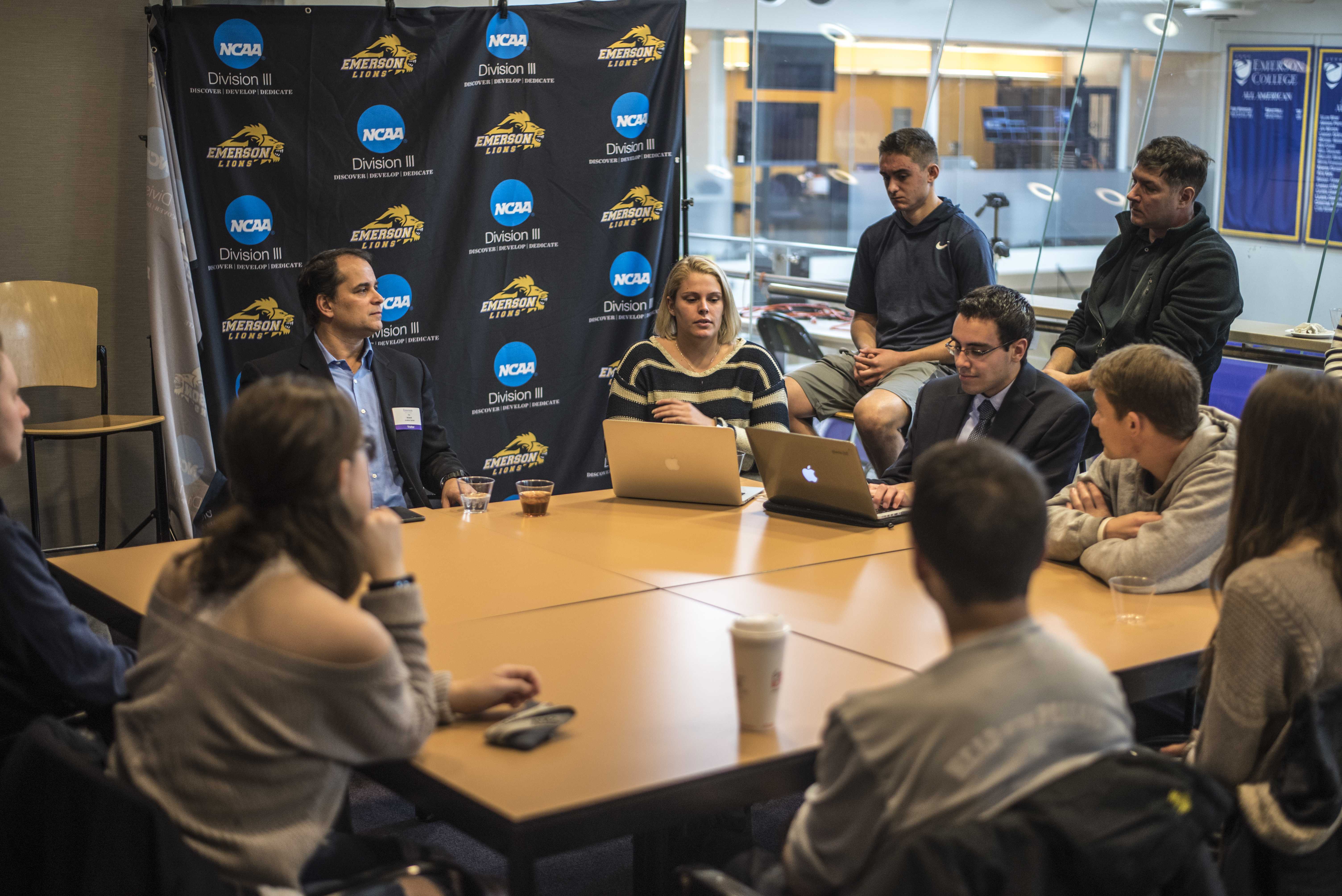 Jill Gearin '18 interned for WEEI this past season and will work as a broadcaster for the Visalia Rawhide of the MiLB in January. She said the opportunity helped launch her career.
"Without the internship, I wouldn't have my current job," Gearin said. "I was able to learn from Tim and Joe, and they helped me get a job in Nashua where I could build a broadcasting reel."
Castiglione, 36-year veteran broadcaster for the WEEI Red Sox Radio Network, said he called every game with Neverett since the network hired him.
"It was very easy to transition into working with Tim," Castiglione said. "He's a real pro, and we hit it off right away."
Neverett received the Heart of the Lion award on Oct. 20. In addition to the Tim Neverett '88 Radio Internship Neverett speaks to Emerson students annually and helped fund the baseball team's spring preseason trip to Florida.
Athletic Director Patricia Nicol said she considers Neverett the prototype alumnus.
"You hope that an Emerson graduate's college experience helped shape their personal and professional careers," Nicol said. "Tim has been very supportive of our students and student-athletes through his internship. He's been a tremendous alum, and we wanted to acknowledge his support."
Neverett said he enjoys assisting students in the position he once found himself in.
"You get to the point in your life where you want to give back, even if it's just your time," Neverett said. "Between the athletic and educational experience, if I get the chance to help someone, I'll do it. If I get a chance to recommend someone, it'll be an Emerson student. Every Emerson student should pass that on and take care of the next generation."
Sports Editor Kyle Bray did not edit this article due to a conflict of interest.