Analysis: After bracing for disaster, Emerson poised to escape pandemic financially viable
The past year, dominated by an unrelenting pandemic, has been marked by resounding loss. More than 500,000 have died in the U.S. alone—that toll's reverberation through families of those claimed by the virus may be a cost forever immeasurable. 
Measurable though, at least in part, is the financial decimation that has underscored the human loss, and may live on for years to come. COVID-19 has wreaked havoc on the U.S. economy, delivering unprecedented job loss and hammering industries of all sizes.  
To Emerson, it has presented perhaps the greatest financial challenge in its 141-year history. 
For an institution already sitting on shaky financial ground (Emerson's endowment comes in at around $180 million, which pales in comparison to other schools of its size), it appears administrators have, so far, successfully negotiated what could have been a monetary disaster. 
In June, President M. Lee Pelton offered a sobering prediction—administrators foresaw between $33 and $76 million—and up to $100 million—in pandemic-related losses over the upcoming fiscal year (June 2020 through June 2021). The losses would have been greater, he said, had the college gone online-only. 
It was a shocking reality check, and a reflection of an industry completely unprepared to survive a virus that requires educational flexibility and physical separation.
"Although demand for an Emerson education has never been greater… Emerson is not immune to the deleterious effects that the pandemic has had on the financial health of colleges across the country," Pelton wrote in a letter to faculty. 
The college had already incurred around $8 million in losses when they issued students a housing refund for spring 2020, according to recent financial statements, though those losses were offset by cost-cutting measures taken up in the summer. 
Now, administrators predict the total losses for fiscal year 2021 have dwindled to $30 million—still a significant hit, but perhaps a more manageable one. Vice President for Administration and Finance Paul Dworkis referred to the loss as "the best case scenario" in a November faculty and staff forum.
There's no telling if Emerson could have recovered from the worst case scenario.
College officials have not indicated what exactly makes up the $30 million in projected losses, but it's fair to point to a few main culprits: the massive effort to retrofit campus with plexiglass, the twice-weekly testing program that costs upwards of $5 million a semester, lost room and board costs from those studying online, and a loss in auxiliary services revenue (money the college earns through its theaters and other programs). 
"If [fiscal year 2020] were only remembered for the modest, yet meaningful, positive financial result we accomplished, it would belie the truly remarkable achievement of successfully navigating a once-in-a-century COVID-19 pandemic," Pelton wrote in his annual state of the college address in November. "The ups and downs, financially, of this past spring tested even the most disciplined approach and resulted in a stellar performance."
But navigating the pandemic has come at a steep price for community members, in the form of cost-cutting measures that have hit faculty and staff hard and left students with a higher bill. 
Staff forfeited annual salary increases as well as annual retirement contributions from the college over the summer after warnings from administrators of massive losses. Some staff members told The Beacon in December they hoped to receive those benefits back after the college reported a strong fiscal outlook, but administrators have indicated no such plans. 
Officials also hiked tuition by two percent for the 2020-21 academic year, though in communication to students, they repeatedly emphasized that it was less than the normal increase of four percent. The difference saved students roughly $2,500 on their annual bill. (Emerson relies heavily on tuition and room and board dollars, which make up 89 percent of their annual revenue.)
Still, Emerson avoided staff and faculty layoffs, which plagued institutions around the country that found themselves in multimillion dollar holes related to the pandemic. Boston University, for example, laid off 250 employees over the summer in response to $94 million in economic fallout.
"We've been guided by acting in a humane and fiscally responsible way, trying to distribute reductions as responsibly as possible, and avoiding cuts that would damage the institution and long term health, or the academic mission," Dworkis said at a faculty forum in June.
Leave a Comment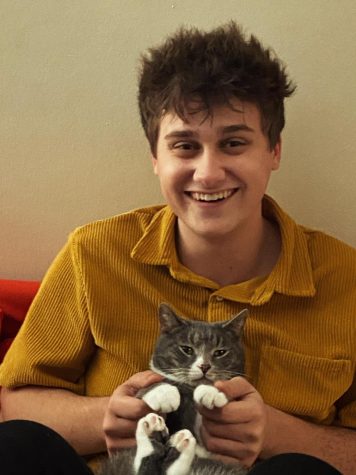 Andrew Brinker, Senior Investigative Reporter
Andrew Brinker graduated in 2022. He previously served as the paper's news editor, directing coverage of Emerson's response to the COVID-19 pandemic. He's also worked as The Beacon's Deputy Express Editor, Senior SGA reporter, and Assistant Enterprise Editor. Brinker is a working freelance journalist. He dearly loves his cat Mittens, learning to cook, soup dumplings, and walking the city of Boston.