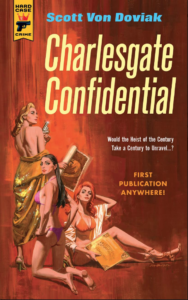 On March 17, 1990, art thieves slashed 13 paintings from the walls of the Isabella Stewart Gardner Museum. Although the paintings were never recovered, Scott Von Doviak '89 wrote a novel about a Beacon reporter cracking the case.
Charlesgate Confidential follows the art heist of the century, a Beacon reporter during his college days, and the same correspondent during his college reunion. Treasure hunters draw the reporter into a dangerous hunt for the missing masterpieces.
The mystery novel is available for pre-order but will be released on Sept. 18.
Doviak said he incorporated aspects of Boston history and his college life throughout the novel. The college reunion occurs inside the Charlesgate building, a former Emerson residence hall with a reputation for being haunted.
"[Charlesgate] was always a weird place to live," Doviak said. "It struck me in a way that I always wanted to write about it."
Emerson owned the supposedly haunted building between 1981 and the late 1990s. Doviak said while he never experienced paranormal activity, some students unofficially banned Ouija boards from the dorms.
Charles Ardai founded Hard Case Crime, the paperback crime-novel publisher that is releasing Charlesgate Confidential. He said while most books require four rounds of edits, Doviak's story required one or two rounds.
"Scott was a pleasure to work with," Ardai said. "He was just really agreeable, open-minded, and supportive … The editing process was about as seamless as any I can remember in the last 20-plus years."
Ardai said the mystery's plot, with three time periods interwoven in one narrative, made perfect sense from the very first draft.
"I kept waiting for something to go wrong because very few [initial] submissions pleased me from first line to last," Ardai said. "But literally [until] the last line of the afterword I was enjoying myself."
Ardai said he thought Doviak's use of non-fiction events enriched the mystery.
"If you go to the Gardner museum today you really will see empty frames where these masterpieces used to be, and nobody knows what happened to them," Ardai said. "In the same way that it's fun to walk around Italy with a copy of The Da Vinci Code under your arm, it's fun to know that Boston's a real place and these heists really did occur."
Charlesgate Confidential is Doviak's fourth published book but his first fiction work. He wrote three non-fiction books about Appalachian-American stereotype cinema, Stephen King films, and science-fiction movies inspired by The Terminator. He said his hometown in Maine was one hour away from Stephen King's childhood residence.  
"[I thought], 'This guy from right around here can actually do this and have this amazing career,'" Doviak said. "I devoured [his books] for years."
He said his curiosity towards niche movie genres stemmed from childhood. After watching movies from the drive-in era, Doviak said he noticed few people wrote about these films during the 2000s.
"I like to explore and write about lesser known things," Doviak said. "I didn't know the [building's history] for real. I just knew the stories people would tell, and half of them would turn out to be untrue."
Doviak works as a television critic for The A.V. Club, an entertainment website for pop-culture media.
He said he wrote his first ever movie review for the Berkeley Beacon, and after working in screenwriting upon graduation, he pursued a full-time career as a freelance writer.
Todd VanDerWerff, critic-at-large at Vox, worked as Doviak's editor at The A.V. Club for several years. He said Doviak approached works with a unique perspective.
"He was particularly good at dissecting a [television] episode and seeing how it would fit in the overall scheme," VanDerWerff said.
Doviak said he believes in honesty within criticism. He said he understands both sides of the table since his own books were reviewed. "As long as you're able to explain why and how you felt without making it any kind of personal attack, I think it's all fair game," Doviak said. "Once you put it out there, it's in the hands of other people to interpret it and say what they think."
Doviak said he recommends those interested in any kind of writing to start as soon as possible.
"Post [reviews] wherever you can, on your blog, or on whatever it might be," Doviak said. "The career is tough. Post clips and see where it takes you."