Review: The White Card gets a green light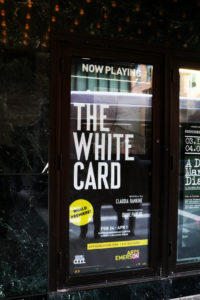 The minute you step into the white room, The White Card's set, constructed on the Paramount stage, you enter a mirror. The sleek chairs, the glass projectors, and everything around you reflects society's white privilege.
Esteemed poet, playwright, and editor Claudia Rankine uses a white art collector, his family, and an up-and-coming black artist to demonstrate modern racism bluntly and hauntingly. The White Card contains many of today's microaggressions and displays of ignorance by focusing on white blindness. It invites audience members to recognize the repercussions of ignoring institutionalized racism.
ArtsEmerson and the American Repertory Theater present the play with a cast of Broadway veterans. Although the remaining performances are sold out, Emerson students still can enter a lottery for rush tickets before each performance. The play runs until April 1.
The story concerns Charles (Daniel Gerroll), a white real estate tycoon, who invites Black artist Charlotte (Karen Pittman) to his New York City penthouse to procure one of her new works. Charles's wife Virginia (Patricia Kalember) and art dealer Eric (Jim Poulos) speak to Charlotte about Charles's other artworks, Charlotte's photography, and current events. Later, the couple's son, Alex (Colton Ryan), arrives after participating in a Black Lives Matter protest.
The play tackles racism head on, from Charlotte needing to educate Charles on his white privilege when he refuses to leave her art studio, to Virginia telling Charlotte not to pick up a plate because she isn't a maid. Virginia calls a Black Lives Matter protest a rally after being corrected many times prior. Although well-intentioned, Alex oversteps boundaries when faced with family trauma.
The extremely affluent setting and use of polarized characters like an overbearing mother and a millennial activist felt off-putting, but revealed disparaging social norms so blatantly I felt disgusted. Some aspects of the story felt like they needed more developing—like the family's tension with Alex's brother—but the play makes up for in clarity and pace what it loses in brevity.
The cast, directed by Diane Paulus, move across the stage seamlessly, as if they're in a verbal tennis match. As Charlotte tells a story of her own, Karen Pittman expresses multitudes through fake smiles. Charlotte transforms from an artist who focuses on Black murders to an artist who focuses on the concept of whiteness, and Pittman demonstrates Charlotte's conflict and revelation with pristine and gut-wrenching clearness.
Daniel Gerroll as Charles switched between twitching with anger and panicking with enlightenment within the course of seconds. I felt sick to my stomach at how realistically he portrayed a rejection of reality—both from genuine disgust and the fear I shared his ignorance. Colton Ryan as Alex showed a piercing frustration and vulnerability—even when climbing stairs mere inches away from audience members.
The set, designed by Riccardo Hernandez, transforms the audience from spectators to participants. The white box—an incredible twist on the standard black box venue—features white seats scaling upwards like risers on both sides of a rectangular stage. You can easily watch the reactions of audience members seated across from you.
Projectors show a news-clip montage on the walls above the audience during the play's only scene change. The montage includes examples of racist media and current events, like Fox News reporters disparaging world-renowned tennis player Serena Williams. Activist and Parkland shooting survivor Emma Gonzales's We Call BS speech also appeared while the crew assembled Charlotte's art studio.
The play held an optional "second act," a moderated discussion between audience members in small groups to discuss race as a whole. Half of the audience stayed to confer, but those who left didn't miss much. Although many people looked visibly relieved to discuss what they witnessed, more leadership should've been given from the moderators.
Although other groups were as large as six people, I formed a group with one other person. It was interesting to share our experiences and opinions, but our talk was too rushed to be fruitful. Moderators held an open forum with the whole room for groups to share what they spoke about afterwards, but it felt more like a class of students raising their hands than an open conversation.
The mostly white audience seemed to pressure Black and minority members to become educators during the discussions and the moderated talk that followed.
Still, I appreciated how they gave people time to reflect. I spoke to a friend about Act 1 for two hours. The play offered more than a painfully raw metaphor of our racial climate—it offered a spur to action and a plea for spectators to think.