Boloco reopens downtown locale after long hiatus
Boloco Modern Mexican will reopen its Boston Common location on Jan. 12, resuming dining at the Emerson staple for the first time in nine months.
The restaurant will return on Wednesday with limited weekday hours, from 11 a.m. to 4 p.m., according to the corporate office. Its doors were first shuttered on Mar. 18, after the first wave of the COVID-19 pandemic prompted Massachusetts Governor Charlie Baker to suspend dine-in services in the state. 
Despite the city of Boston's phased reopening allowing for restaurants to open since then, Boloco's Boylston St. location remained closed through the end of 2020 as the company navigated what they described as a "fragile" financial situation.
The beginning of the pandemic forced the New England chain to close all of its eight restaurants, which also included college-oriented locations at Berklee College of Music and Dartmouth College in New Hampshire. Despite reopening two locations by late summer, on Aug. 2, the Associated Press reported Boloco's revenue was down as much as 70 percent, and the company briefly considered merger or acquisition, according to a blog post from its founder and CEO, John Pepper.
The Boston Common location has served Emerson students burrito wraps, bowls, and salads since first opening in December 2008.
"I wasn't sure whether we'd go out of business forever," Pepper said. "In August, I didn't know if we would reopen."
Boloco has been planning to resume operations at the location since November. Despite the long closure, Pepper said that they would be bringing back much of the original staff, including manager Sandra Vargas.
"We've had a lot of people with our company for many, many years," Pepper said in an interview on Monday. "We're lucky that a lot of them are willing to come back."
Upon reopening, the restaurant will have limited seating—25 percent capacity—as well as a new menu designed to emphasize its "modern" Mexican cuisine.
"It's almost like opening a new restaurant at this point," Pepper said. "It's not just rice, beans, and cheese; it's flavors from all the different regions of Mexico and really global cuisine. It'll be interesting—we'll have some kinks to work out."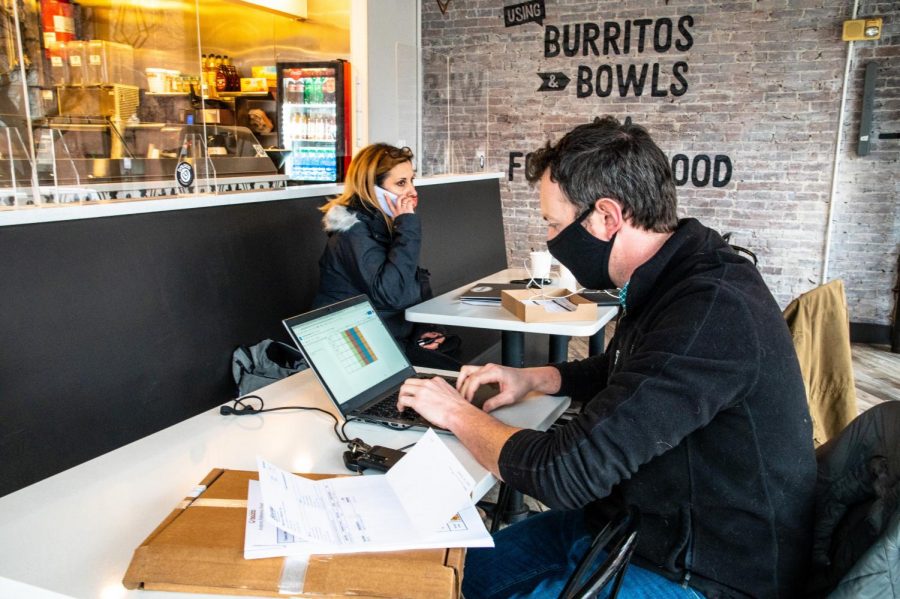 Pepper stressed that Jan. 12 would be a "soft reopening" and said Boloco plans to examine its business model further in two weeks, when Emerson's student population is slated to return. Nevertheless, he said that business was not expected to immediately take off.
"We will be slower," he said. "Sales won't be very high—they'll be down pretty significantly. But that's a really good time to try new things because you're not slammed; you can experiment and you can learn from what you're doing, and you can fix it fast. That's what we'll need to be doing for the next few weeks."
Boloco is a Certified B Corporation, a third-party status conferred on businesses that meet a level of "social sustainability" in their communities. B Corporations espouse a commitment to a "living wage", which Pepper said was part of Boloco's financial challenge.
"It's very hard for restaurants [to attain B Corp. status] because they do rely on the minimum wage to stay in business," Pepper said. "But we're really looking to set a new standard of 'how do we stop leaving people behind?'" 
Pepper said that, unlike larger restaurant chains, Boloco was heavily reliant on cooperation with its landlords and especially on the support of the student population in order to keep the lights on.
"For smaller businesses, if you don't have a lot of cash hanging around, it can get very dangerous very quickly," said Pepper. "So we're really grateful to be here again."