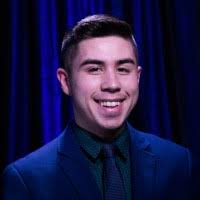 Maximo Aguilar Lawlor is a multimedia journalist attending Emerson College in Boston, MA. He is the Multimedia Managing Editor for The Berkeley Beacon and oversees all multimedia elements.
Currently published in 8 separate publications, Aguilar Lawlor has shared over 60 stories through print, photo, graphics and audio formats. He has bylines published in The Berkeley Beacon, West Valley View, The Peoria Times, Glendale Star, Raíz Magazine, WECB's Milk Crate and College Survival Guide. Aguilar Lawlor also launched and produced 25 episodes for the podcast, LEAD. SERVE. TRANSFORM.
Aguilar Lawlor joined The Beacon in the fall of 2020 with the intention to promote inclusive/responsible journalism, and in his managerial role, he hopes to further institutional change for The Beacon's future.
Email:
[email protected]
Maximo Aguilar Lawlor, Multimedia Managing Editor
Jan 11, 2021

Boloco reopens downtown locale after long hiatus

(Media)

Jan 07, 2021

Demonstrators march to Massachusetts State House to protest US Capitol siege

(Story/Media)

Nov 25, 2020

A look into the students' pandemic-era holiday plans and pronoun usage at Emerson

(Story)

Nov 18, 2020

Emerson community weighs in on the holidays, the president-elect, and new COVID-19 vaccine developments

(Story)

Nov 03, 2020

Emerson to house staff member on campus as part of election day precautions

(Story)

Nov 03, 2020

Voting initiatives, mail-in experiences, and a new Supreme Court justice: Election Day on campus

(Story)

Oct 27, 2020

Sanctions for breaking social distancing, Among Us overtakes campus life and a mid-semester student check in

(Story)

Oct 20, 2020

Bookstore sees significant delays, off-campus students and dance orgs press ahead during a COVID-era semester

(Story)

Oct 13, 2020

Examining dashboard discrepancies, school facilities, and Emerson Missed Connections

(Story)

Oct 06, 2020

Disrupted social lives, COVID sanctions, and altered orgs: Life on a pandemic-era campus

(Story)

Jan 29, 2019

Men's volleyball off to 1-1 start after double-header

(Story)

Dec 05, 2018

Women's basketball opens conference play with consecutive wins

(Story)

Nov 05, 2018

Women's volleyball looks to future after tough season

(Story)

Oct 29, 2018

Women's soccer to face off against Babson in NEWMAC quarterfinals

(Story)

Oct 16, 2018

Women's volleyball set to close out season after injuries

(Story)

Sep 15, 2018

Men's soccer drops conference opener to Clark

(Story)