Women's basketball opens conference play with consecutive wins
The women's basketball team started their season strong and intends to make a statement in the New England Women's and Men's Athletic Conference this year. 
Emerson placed sixth in the preseason coaches poll, just behind Worcester Polytechnic Institute. The Lions hold a 5-2 overall record and a 2-0 conference record with wins against  Wellesley College and Worcester Polytechnic Institute.
The Lions lost against Suffolk University and University of Massachusetts Boston so far this season.
Junior guard Quinn Madden explained the Lions came back from a 27-point deficit but lost68-62 in the game against Suffolk. The women's team also made a comeback against UMass Boston but lost 66-61, according to Madden.
"I think [these losses] show that we can hang with good teams," Madden said.
The Lions started the season strong on defense with an average of 37.7 rebounds per game and 9.3 steals per game.
Sophomore forward Sam Boyle said the team implemented a new defensive strategy for the 2018-19 season.
"We're implementing a different defensive mindset this year and focusing more on that," Boyle said. "[We're] hoping it translates into our offensive game by [making] better decisions and cleaning our play."
Head coach Bill Gould said the Lions will focus on strengthening the team's defense this season.
"The defense has been the biggest focus area that we really need to improve on, and I think they have done a [really] good job although we are still working on that and need to get better," Gould said.
Gould said the team is familiar with NEWMAC and created a game plan to prepare for the conference games coming up.
"We have a very veteran group, and they know the conference," Gould said. "They know the things that we maybe didn't do as well as we could have last year and what we need to improve on."
Madden said the team aims to make Emerson a threat to its fellow NEWMAC competitors.
"We want to compete harder than we did last year—we want to do more than we did last year," Madden said. "We have a lot of tough competition in our conference, and we want to make a name for Emerson."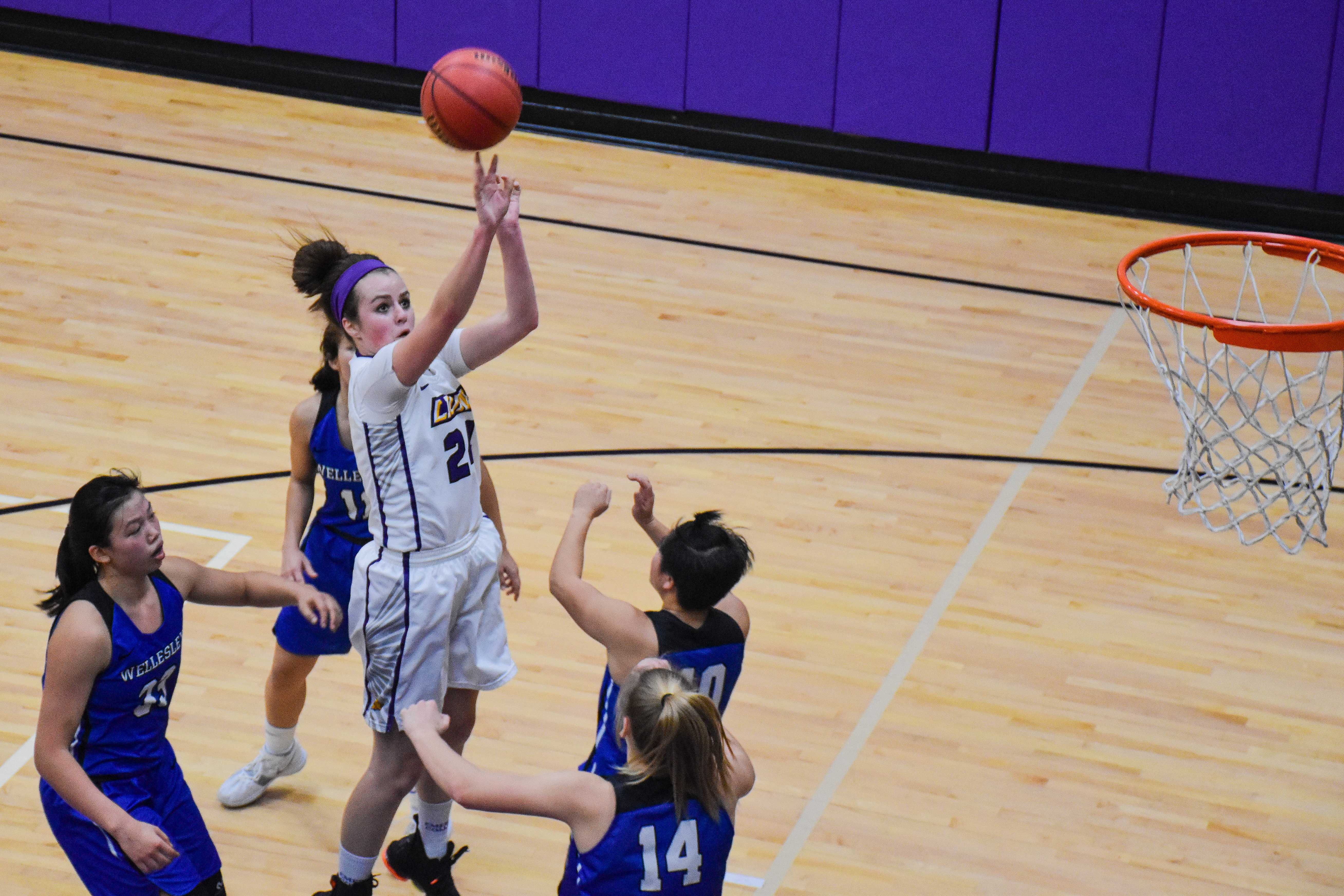 Gould said the coaching staff benefited the women's team this year.
"We have a really good staff that have been very, very helpful, so we get a lot of experience and a lot of different viewpoints," Gould said. 
The women's basketball team approached the game with a different attitude in previous seasons, according to Madden.
"We have had a pretty big culture change this year," Madden said. "In the preseason we did great changing that by doing conditioning and going hard in pick-up."
Gould added that the team has a strong bond with each other.
"The group dynamic is really positive and really energetic and engaged with each other," Gould said. "They're supportive, and they hold each other accountable. It's like the cliché that you hear about what teams should be—I feel like we are that."
The NEWMAC recognized junior guard Natalie Clydesdale as the NEWMAC Women's Basketball Offensive Athlete of the Week. Clydesdale shot 66.7 percent on the court to gain 16 points for the Lions in the game against Wentworth Institute of Technology.
Boyle also shined this season with an average of 11.7 points per game and 46 total rebounds.
Gould praised his players for showing the dedication to become a better team this season and for stepping up to the plate.
"Everybody is really doing well and doing what we are asking them to do," Gould said. "They've either met or exceeded the expectations that we had for them coming in."
Boyle said that the team agreed to work towards their goals for the season.
"We want higher goals this year and in order to have those higher goals you have to put in the work for it, and Emerson is a very academic, demanding school," Boyle said. "It's basically dedicating all your off time to the sport, and we had to make sure that everyone was in the same mindset to work hard and reach our goals."
The Lions sit first in the NEWMAC standings just above Coast Guard Academy.
Gould said he believes his team can take the conference trophy home in the spring.
"Our goal is to win the NEWMAC championship, and I feel like we have a very good shot," Gould said. "We've never done it, but it's something that I believe we can do. I 100 percent believe that we can beat every team in this conference."
The Lions play next in a conference matchup at home against Smith College on Dec. 8 at 1:00 p.m.