COVID-19 variants detected in United States, and Massachusetts loosens reopening restrictions
Today on The 172 Review, host Sophia Boyce interviews Senior Investigative Reporter, Andrew Brinker, on the transmissible COVID-19 variants spreading throughout the U.S., and the beacon's Multimedia Managing Editor, Maximo Aguilar Lawlor, interviews Emerson students and staff on Massachusetts' decision to loosen reopening restrictions for struggling businesses.
Sophia Boyce, Audio Reporter
Sophia Boyce covers the happenings on Emerson's campus for the 172 Review Podcast. She looks at the experiences at Emerson compared to her friends at Universities around the country. Boyce covers anything from video games to Instagram pages to politics.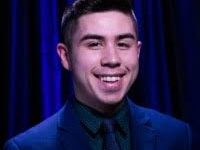 Maximo Aguilar Lawlor, Multimedia Managing Editor
Maximo Aguilar Lawlor is a multimedia journalist attending Emerson College in Boston, MA. He is the Multimedia Managing Editor for The Berkeley Beacon and oversees all multimedia elements.

Currently published in 8 separate publications, Aguilar Lawlor has shared over 60 stories through print, photo, graphics and audio formats. He has bylines published in The Berkeley Beacon, West Valley View, The Peoria Times, Glendale Star, Raíz Magazine, WECB's...