Lambert's Marketplace, new dining partner, faces complications at Board Bucks launch
Lambert's Marketplace experienced a slew of technical difficulties as the convenience store and sandwich shop transitioned to accepting Emerson's Board Bucks last week.
The locale was announced as an Emerson Dining partner on Jan. 25. It is the newest local business to offer Board Bucks services for Emerson students, joining locations such as El Jefe's Taqueria, Tatte Bakery & Cafe, and Blaze Pizza—which accepted Board Bucks during the fall but was not officially announced as a dining partner until January.
Lambert's has stood on the corner of Tremont St. and Temple Pl. for fourteen years, serving both the Emerson and Suffolk student populations as well as the general downtown community. While the establishment has accepted ECCash for about a decade, Hany Gad, a former employee who bought the location four years ago, said he initiated the process of becoming a dining partner at the behest of a student.
"He came in and tried to use his [Emerson ID]," Gad said. "It didn't work, but we figured out he was trying to use Board Bucks. So I reached out to the school and said, 'Can we activate it here?'"
Within a few weeks, the semiannual Emerson Dining Newsletter officially announced Lambert's as a new Board Bucks location.
However, the transition to accepting the college's currency was rocky after it became apparent that the Lambert's registers were unable to properly read Emerson ID cards. Gad eventually determined that UGryd, the third-party vendor contracted by Emerson to control the software behind Board Bucks, was the root of the problem.
"When you're using your Board Bucks, you're swiping it through a machine," Jordan Mackenzie, customer experience coordinator for campus services, said in an interview. "That device is controlled by that third party. We [at Emerson Business Services] are on the back end, shaking hands and making sure that all goes smoothly, but in terms of customer support, [business partners] would work with them."
After Mackenzie's office was made aware of the issue, she notified UGryd, who then reached out to Lambert's. As of Feb. 4, Gad said the issue had been resolved, praising the college for its support—which he said was "99.9999 percent" responsible for the resolution.
"They didn't just help me alone, they helped the students," he said. "If they help you all, they help me."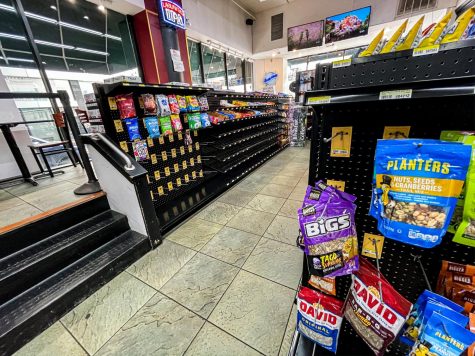 The decision to extend Board Bucks services to Lambert's Marketplace is part of the Emerson Dining Alliance initiative, which has been working to bolster the college's partnerships with local eateries since fall 2020.
"All of that was in an effort to create more resources on campus while working within the guidelines of OneEmerson," Mackenzie said. "It's an incentive to offer our students a controlled meal price and make sure they're giving the goods to our community—which [Lambert's is]."
Mackenzie noted Lambert's fulfills the chief requirement to be considered as a Board Bucks partner: offering a full meal—an entree, side, and drink—for a "controlled" price.
"You can get a sandwich, a bag of chips, and a drink over there for $10," she said. "That's similar to the on-campus cost—and that's really the requirement."
Lambert's meal offerings also include soups and salads, but the establishment also functions as a convenience store, in a similar fashion to the Max's C Store; barring alcohol, cigarettes, and lottery tickets, students are able to use their Board Bucks to purchase anything in the store.
"We have all this variety of items that students can come in and grab, be it coffee, ice cream, chips, snacks, groceries for the dorm," Gad said. "Anything, we have it—and at an affordable price."
However, Gad stressed that the sandwiches—which feature unconventional, Boston-themed names like the Salem Street (classic Italian sub) and Boylston Street (chicken salad sub)—are the foremost attraction for Emerson students.
"Our sandwiches are different than others—ours are better," he said, laughing.